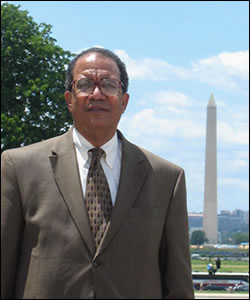 "Sonny's Corner" is a regular column in Prairie Fire, featuring commentary on civil rights and justice issues. Our friend and Omaha colleague, Joseph P. "Sonny" Foster, died suddenly at age 54 in August 2005. He left an uncompleted agenda, as did many of our civil rights and justice mentors and heroes. We shall attempt to move forward on that unfinished agenda through this column.
We are proud to celebrate the 40th anniversary of the signing of the Education Amendments of 1972, a portion of which is commonly referred to as Title IX. As Ms. Petersen so eloquently sets out, it opened a door for women athletes to perform at levels and locations not previously available to them. It is regrettable that 40 years later there are still isolated pockets of resistance to the letter and spirit of Title IX.
I recently walked through the University of Nebraska's sports facilities for women and observed the ease with which the players worked out, played and showered. It was so different when I played volleyball for the NU team in the '70s.
When I played, Title IX had only recently been passed. In 1972—seventh grade for me—teachers informed us that the school would be offering volleyball as a sport for girls. I'd never heard of volleyball, but many of us were interested. The teachers warned us that if you were a cheerleader, you had to make a choice between cheerleading and volleyball—most of us stayed on the cheerleading squad. After all, what did we know about sports back then? The announcement came during the football season—NO ONE was crazy enough to quit cheering for the football team to play volleyball. But then basketball season rolled around and several of us quit the squad in order to play basketball.
When I played, there was no money for recruiting for women's sports. Coaches asked players to travel on their own dollar to check out the college. My dad drove me out to Nebraska to meet the recently hired women's volleyball coach, Terry Pettit. He was a poet, not an athlete, but had previously coached volleyball. After showing us the facilities (including the locker room they used for physical education classes in Mabel Lee Hall, which was, by the way, much nicer than the real locker room we were supposed to use in the Coliseum), Coach Pettit drove us to several parks to give us a sense of the town. The coach didn't have an entertainment budget, so we ate dinner at his family home. As a young coach with a small baby, he and his wife were not used to the ravenous appetites of "athletes." I still laugh when I remember that my dad and I ran through Burger King on our way back to the hotel to fill up.
When I played, there was still a wide divide between the pay for professors and the meager salary of coaches. The academics begrudged every dollar spent on sports in their educational institutions, and coaches had little patience with the academic "namby pambys." When I played, women were still "secondary units." While universities were forced to offer sports for women, they certainly didn't have to—and didn't—like it. Those involved in male sports would openly ask us what we were looking for by wanting to play in college. After all, no one was ever going to come to our games! And, by the way, wouldn't it adversely affect our fertility later on? Were we really willing to take that chance?
(When I played in high school, girls were regularly allowed to skip physical exercise classes during the week of their period because it was "too hard on the female system.")
When I played in college, we were assigned a small, makeshift locker room in the coliseum where we practiced. It had four lockers for the 15 female players on the team and a shower that appeared to have been built in 1920 and rarely used or cleaned since then. In my four years of college volleyball, I don't know that anyone ever actually used that room. Instead, we put on our uniforms and/or practice attire in our dorm rooms or apartments and walked or drove to the coliseum to play.
When I played, the away team had no locker room. Instead, they closed off the women's bathroom with a sign over the door announcing "Visiting Team Locker Room." Of course, it couldn't be locked; so we had to warn the players and coaches to take their valuables with them up to the court or risk losing them altogether!
When I played, we were not issued practice clothes, so we wore what we had. Most of us had only a couple of pairs of shorts and a couple of T-shirts in our wardrobes. By week's end we could smell ourselves and each other from a court away.
When I played, we were part of the Big 8, and our volleyball team won the conference championship in each of the four years I played. Because we were women and expected to become housewives after graduation, no one seemed to know what to give us in recognition of our achievement. The first year they gave us Big 8 watches. Call me cynical, but I felt sure that the award committee believed that no woman would want to wear any kind of ring except an engagement or wedding ring. In year two they gave us Big 8 blankets, no doubt believing that would be the most practical gift possible for "young women." If only I had kept that blanket pristine. Instead, my roommate (former All American Terri Kanouse) and I both took our blankets out regularly for picnics with our boyfriends, and we literally wore them out over the next couple of years. In years three and four the award committee ran out of "good" ideas and defaulted to what they knew. We received rings.
When I played, we had only a handful of fans. We had to arrive early to our matches, as it was our job to set up the spectators' chairs and the standards to ensure that the nets were the right height. Those of us with boyfriends enlisted their help in setting up and in populating our fan section.
When I played, there was a freshman team. Our coach came from the men's national team. His name was Russ Rose. A believer in diving onto our stomachs to lift the ball, Russ taught us to dive the first day of practice. By the end of that week, several girls had to report to the training room for stitches in their chins. By the end of the first month we were doing dives on our way to practice, down the dorm halls, in the cafeteria and out of the elevator. We became diving maniacs!
When I played, we traveled everywhere by passenger van. In order to get to the away games on time, we had to leave by Wednesday or Thursday many times to make tournaments or games on Saturday. Because the professors were feuding with the athletic dept., they were not particularly kind-hearted in working with us to make up tests and homework. We all signed up to take our hardest classes during the spring. During the volleyball season, our chances of passing those classes were low, even for academically gifted players.
When I played, we also played in tournaments in the off-season, although there was no budget for those games. Instead, we drove in various players' parents' cars to the tournaments and took sleeping bags for our overnight stays, usually in churches or other public venues. John Walton ran the off-season tournament schedule in Lincoln. I remember that there were a significant number of noncollege teams from all over the region in every tournament. Even though there were often several college teams in tournaments, no one could confidently predict that one of the college teams would win. Increasingly, I noticed extremely competitive women of all ages in tournament play. I felt sure their intensity was rooted in their belief that they had missed their own opportunity to play during college and felt they had something to prove.
Today I walk through the weight room, the locker room with televisions and laundry service and spacious individual lockers for each player, labeled with their names. These women can, and do, use the medical and training services of some of the best doctors, trainers and therapists in the state. I wonder if they have any idea of what college volleyball in my time was like. In my time women athletes and their supporters fought long and hard against a male-dominated athletic system that wasn't interested in change. Remember that the name of the sport of "GOLF" began as an acronym for "Gentlemen Only, Ladies Forbidden." I celebrate Title IX because it forced systemic change to give Nebraska University volleyball a chance to become the great sport it is today.