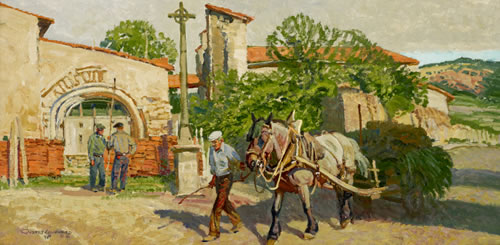 "It is only from life that you can observe the harmonious concert of light and shadow—the interplay of color and value; and the wonderful ever-changing character of nature."1 —Robert Lougheed
Robert E. Lougheed (1910–1982) from Ontario, Canada, is one of the greatest painters to have devoted his life to art of the landscape, animals and people of North America. A highly skilled and prolific artist, Lougheed was the recipient of numerous national awards. His work spans the genres of commercial illustration, wildlife, western and agrarian art. Traditionally historians have sought to classify Lougheed as either a wildlife artist or a western artist.
Lougheed was part of the second major wave of East Coast painters to settle near the Sangre de Cristo Mountains and bring worldwide recognition to fine-art portrayals of cowboys, Indians, Spanish culture, wildlife and heroic vistas.2 He became closely involved in the Cowboy Artists of America group just shortly after its founding. He was an exemplary model for the newly evolving genre of Western Art. Past exhibition surveys of Lougheed's work most highly prized the western scenes. Other subjects painted on location, at any number of places throughout the Americas, have historically served as foundational references for the more desirable "horse-and-cowboy" genre. With Bone Creek Museum of Agrarian Art's focus on art and artists of the land, Robert Lougheed ranks among some of the finest the museum has exhibited. The agrarian art genre is critical to comprehending American art history in its entirety. A connection to the land resonates with the historical evolution of the American people. When one considers the personal backgrounds and motivations of those who initially came to America, struggled and prospered at the work of their hands, and moved westward to pursue exploration and freedom, agrarianism is an overt reality. Artists have expressed this ever-present agrarian theme through the centuries.
As a commercial artist, Robert Lougheed understood the importance of the learning process availed to him in illustration. He also felt an earnest drive to be set free from the demands of editors. Illustrations such as "Canada Passing Geese" are a polished image and prove his intimate knowledge of horses and skill of technique. Simultaneously Lougheed was committed to making time to paint for himself. Even as a young artist, he recognized this urgency within himself. Without fail, Lougheed devoted an impressive six months out of every year to fine art. Fruitful commercial ventures furnished him the chance to live frugally and store his income for the months of traveling. Additionally Lougheed was given great opportunities to travel on commercial assignments. One might say that some of the greatest fortunes in his life came from those experiences. Lougheed always made the time to find the subjects that most interested him. "Bull and Horse Team at the Barn" is one such result of responding to the landscape while on assignment. He would often reference these onsite paintings, sketches and studies for future illustrations and personal paintings.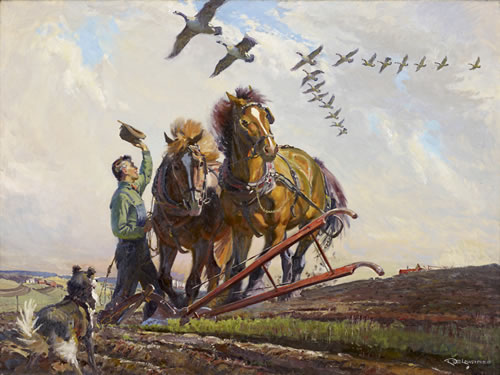 Lougheed went to New York in 1935 with the intention of studying at the Arts Students League. Instead he was invited to study privately with Frank Vincent DuMond, highly regarded as one of the top three art teachers in America. "I studied with him for seven years," wrote Lougheed, "He was there at the tail end of the impressionist's time and talked of them to me. I worship him as much as the impressionists. It became a part of my soul."3 From his Paris training DuMond became steeped in the principles of impressionistic realism. This period emphasized a heightened attention of the viewer on the central interest of the composition, a representational object. The point of interest held the highest level of detail, while surrounding objects receded through an atmospheric treatment. He emphasized color value and a unified simplicity of composition.
DuMond's instruction reinforced his knowledge from previous courses but more importantly enlightened his understanding of what he had taught himself as a young child. Lougheed's philosophies were not unlike many other finely trained American painters, particularly the importance of painting from life, regardless of subject matter. Whether an artist desired to learn portraiture, still life or landscape, the admonition of instructor Frank Vincent DuMond was to paint from life. Lougheed remarked, "Essentially I am an outdoor painter. Much work must be done in the studio, of course, but, from my point of view, the foundation of all worthwhile painting is the work done directly from nature—the only real source of inspiration."4
In one of his last interviews, Lougheed could not recall exactly when he started drawing. He just remembered that he always had, even before he could write. At about age 12, he was curious about the possibility of becoming an artist for life. The notion seemed natural. The more he observed and drew what he saw, the better he developed his keen ability to see. On one occasion while taking a break beside the barn, waiting for his father and brother to unload the hay, Lougheed noticed the underside of a white horse appeared green because of the properties of reflected light shining the green of the grass up onto the horse. This was a wondrous revelation for young Bob. It was instances such as these that capture the emotional thrill of discovery that sustained Lougheed throughout his career.
Regardless of the weather conditions or attractiveness of other distractions that less diligent artists would find themselves entangled in, Lougheed was engrossed with his craft. "Only by observing animals and landscapes in winter weather can [he] accurately and realistically interpret these moods on canvas."5 For him, the life he made was one of steady devotion to portraying deep truths of nature that only an observant artist can subtly confer.
With an average of 200 paintings a year, Lougheed had created a legacy of art difficult to surpass. It is not merely the vast number of paintings produced but the quality with which each one was given special privilege. Lougheed did not waver from his instincts. He did not cater to the whim of an ever-changing popular art market. He continued the legacy of his family farm by honoring his father's ingenuity with his own. Lougheed's devotion to a countless number of fields, farms and herds symbolized his heritage, and universally, the way of life for us all. "Perhaps because of his tie to the land, Lougheed never left the real thing. He rejected enthrallment to a camera or to photographs."6 He remained deeply committed to remaining sensitive to the spirit of creativity and imagination enlivened by his encounter with the natural world. The deep hope of Lougheed was that the results of his efforts would be enjoyed and appreciated by everyone, from an art novice to an experienced collector.
Two years before his passing, he and his wife traveled to France and then to England the following summer. As if he knew his time was short, he completed 44 paintings in 30 days in the village and area surrounding Chadrat, southwest of Paris. In England he finished a remarkable 77 paintings in 44 days. He remarked that he found there, in scenes like "The Village of Chanonat," in those quiet villages the reminiscent landscape of his homeland in Canada. "There [in Quebec] an artist doesn't have to invent anything. The charm and the subjects that go into a painting are all present. The old barns have lines that move in the rhythm of the landscape, the rugged stone buildings, the villages—Oh, the villages! The road winds past the little slanted-roofed houses and up towards the church on the hill."7 Reliving all of his life experiences through the scenery of France, he remarked, "I came away with the feeling that I was right all of these years…"8 Despite pressures and hardships, his investment in the art of the land and its wildlife had been returned as a full and satisfied life he could be proud of.
Endnotes
1. David M. Smith, "Robert Lougheed Artist of the Outdoors," Lougheed Studio archives at Claggett Rey Gallery.
2. Todd Wlikinson, "Robert Lougheed Remembered," "Southwest Art," October 2002, www.southwestart.com/articles-interviews/featured-artists/robert_lougheed_painter_late_painter (accessed March 8, 2012).
4. Don Hedgpeth, "Robert Lougheed: Follow the Sun" (Vail: Diamond Trail Press, 2010), 108.
5. David M. Smith, "Robert Lougheed Artist of the Outdoors."
6. Ginger K. Renner, "Robert Lougheed Retrospective Exhibition," The Arizona Bank, 1987.
7. Jill Warren and David M. Smith, "An Artist's View of Quebec," "The Beaver," Spring 1981.
8. Pam Hait, "The Courtly Cowboy," 31.
"Robert Lougheed: Before Cowboys, Fields of the Heart" runs through Aug. 26, 2012. A full exhibition catalog is available at www.bonecreek.org.