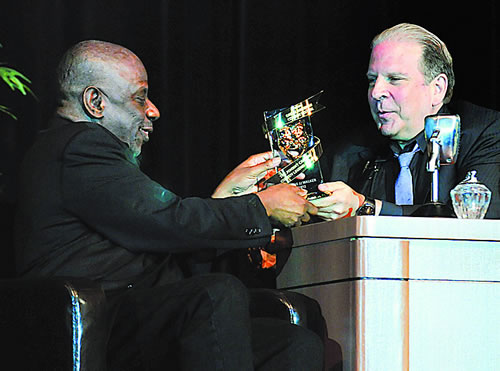 The Viaero Great American Comedy Festival laid claim to Norfolk for a fifth time June 13–17 this year. The remarkable event, built around the childhood home of Johnny Carson, has legs, and they don't wobble.
Jimmie "J.J." Walker was there at the Saturday night finale to claim the Johnny Carson Legend of Comedy award, slinging eyewitness insights into the brutal backstage world of big-time TV comedy. After a smooth set of stand-up comedy in front of the crowd of more than 1,000 at the Johnny Carson Theatre, Walker sat down with festival Executive Producer and David Letterman warm-up guy Eddie Brill of New York to preview some of what might be revealed with the release of Walker's memoir "Dyn-O-Mite!: Good Times, Bad Times, Our Times."
Brill's live on-stage interviews of Legend winners are now part of the whole festival experience. But none has matched Walker for candor or raw revelation. He brought back his early days in comedy clubs with Jay Leno, David Letterman and Jeff Altman as they all dreamed of getting the nod from Johnny Carson and a chance at the big time. Walker's stories synced with what regular Letterman viewers might hear from other performers, but he went further, shedding light on Leno's character lapses, in particular. Good and surprising stuff in Norfolk, Neb., on a warm Saturday night!
The crowd was relaxed after Paula Poundstone's masterful comedy as master of ceremonies for the final competition of the festival. She presented herself chatting from the stage with audience members but slowly spun a web of laughter that bound the entire audience into a community of good humor. By the end of her performance we shared a unique set of jokes just for us. It was as if the class cut-up took over the lesson or a madcap aunt came to babysit. Poundstone is quite possibly the warmest comic entertainer I've ever seen and certainly one of the most talented improvisers.
Along the way, Ms. Poundstone introduced eight up-and-coming comedians, all finalists, from six cities—New York to Ludlow, Ky. They had been selected from 20 who had auditioned throughout 2011–12 to appear in Norfolk. Each performed about six minutes and was rated by three judges from the world of professional comedy on (1) poise, (2) originality, (3) audience response and (4) material. For $30, it's an unmatched entertainment bargain and it's right here in Nebraska every year.
Pete Lee of New York was judged top of the festival. He appeared on NBC's "Last Comic Standing" and has a "Comedy Central Special" to his credit. Probably best known in Nebraska for running on a treadmill for four hours on the Todd and Tyler radio show, his comic highlights are online for review and are highly recommended.
Other Highlights
✦ Connoisseurs of comedy will be pleased to note that Jake Johannsen hosted the Friday night semifinal comedy presentations along with last year's festival winner Ryan Hamilton. Johannsen, the apparently unassuming comedian with Midwestern roots, is a direct link to "The Tonight Show" and makes frequent comedy appearances on "The Late Show with David Letterman." He was in great form, topically on point, and I now have an autographed T-shirt.
✦ I made a visit to the Elkhorn Valley Museum, permanent repository of all things Johnny Carson. I'm told that when the Smithsonian inquired about items for America's collection, it was turned down. Carson left his awards and memorabilia to this museum, and they will not be moved.
✦ It's quite an immersion. There are hundreds of hours of clips from Carson's "The Tonight Show" available with earphones for personal viewing in a seating area as specified by Carson.
✦ If you go, do not miss the tableau of a replica Carson standing before a home-fashioned signature multihued curtain, first created in the Norfolk home of an ardent fan and later transferred to the museum. An antique TV camera completes the scene where faux Johnny will forever deliver his monologue. Enjoy the photos of many of the big-name entertainers who have headlined the Great American Comedy Festival stepping onto the set to stand beside the recreated comedy legend.
Nuts and Bolts
Officially the Viaero Great American Comedy Festival (Viaero is a wireless provider serving the Norfolk and Columbus area), the festival is designed to feed Norfolk, and Norfolk feeds the festival. It's my impression that the first five years have been a growth and learning experience.
This comedy festival is probably held in the smallest and least-known town of any in the world. A reasonable Internet search won't disprove the assertion. Hundreds of comedy festivals are held each year, many in New York, San Francisco and Boston, and at least one each in places like Houston, Portland, even Fargo. I would have put Aspen in that list but according to a June 15 article in the Wall Street Journal, "the once prestigious U.S. Comedy Arts Festival in Aspen, Colo., degenerated into a Las Vegas event and eventually went bust."
Not much chance of that in Norfolk. Ne-braska's festival falls into a special type, the location of which is the hometown of a supreme comedian. In Norfolk, it's Johnny Carson. In Jamestown, N.Y., it's Lucille Ball and Lucy Fest, founded in 1991. There's something charming, homemade and decidedly un-Vegas about these two, including the sheltering presence of the deceased stars' family. Lucie Arnaz, daughter of Lucille Ball and Desi Arnaz, for instance, will perform at Lucy Fest in this, its 31st year.
In 2008 Dick Carson, Johnny Carson's younger brother, was a very real presence at the opening in Norfolk. Last year the Carson family allowed the festival to name its Legend of Comedy award after the still-beloved television performer. According to the Norfolk Daily News, this year a donation from the John W. Carson Foundation, still with direct family oversight, was made to the Nebraska Cultural Endowment with a stipulation that a portion of the annual earnings be earmarked to support the festival.
Whatever the festival bottom line may be, from its earliest days as a gleam in Daily News' Editor Kent Warneke's eye along with the work of volunteer Executive Director Lori Williams and a host of faithful community volunteers, the festival has taken a sleek visual leap forward in its fifth year with the addition of a professional producer, Rik Cannon of St. Louis.
And, in a smart marketing move, the festival formed a partnership with Omaha Performing Arts to put the 20 vetted comedians into the Holland Center and in front of a metropolitan audience. No doubt this ruined the now standard visiting black comedians' Norfolk joke: "I met your black guy. He had just one thing to say to me: 'Help!'" Yes, year after year, it works.
Image Credit: Norfolk Daily News