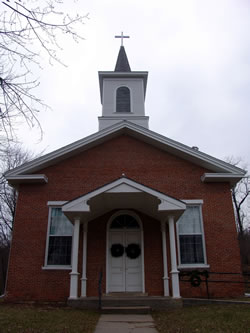 I am a summer visitor in Brownville, Neb., so I feel it my duty to share with you what I did not expect to find when I arrived here a month ago: driving off I-29 onto US 136 and into the village proper is an American version of Lark Rise to Candleford, that being my first impression of Brownville's pristine homes, lawns and gardens. Home to the River Inn Resort, the Village Theatre and the Robert W. Furnas House Museum, as well as many other impressive aesthetic and historic venues for lodging, the performing arts and historical interpretations of the American frontier and the U.S. railroad system, Brownville's history aligns well with that of my permanent residence in Fort Smith, Ark. A recent visit to the Methodist Church, built in 1857, affirms not only spirituality but also architectural simplicity. Learning that Willa Cather had ties to Brownville after traveling here in 1894 to research and write a piece in honor of its 40th anniversary further cements my interest in this area for its literary connections. I could go on, but, honestly, the list of associations is quite extensive. I am simply amazed that this small community has a cultural center rivaling that of much larger towns, so I write today to share my first impressions of this beautiful area and to encourage you to visit.
I teach rhetoric and writing at the University of Arkansas - Fort Smith, and, every summer, when and where feasible, I travel. While visiting an area, I harvest artifacts as "text" I can use in my classrooms. My office shelves, along with books for which in my estimation there are no suitable substitutions, contain playbills from a fine production of Mary Shelley's "Frankenstein," performed in May 2001 at the Bishop Auckland Town Hall by Hull Truck Theatre, Hull, England; pamphlets archived from a summer excursion both to the Laura Ingalls Wilder Home and Museum located just outside of Mansfield, Mo., and to the Ingalls Homestead in De Smet, S.D.; and facsimile copies of war correspondence collected just last summer on a trip to Brunswick, Maine, from the Joshua L. Chamberlain Museum, once home to the Civil War general and long-time president of Bowdoin College. Long-standing traditions form the back story for places of historical relevance, traditions I find personally meaningful. For me, though, their larger and more practical importance has become one of transferring those traditions back to my classrooms and to my students who, for the most part, have not traveled as much I would like—yet. These living materials become fodder in my students' hands for decoding meaning and learning how to better their own communication skills, so in my usual fashion, I am collecting brochures for Brownville's area events for explication in my classroom.
To my delight, I have found a full complement of summer events scheduled and in full swing here, and I plan to take every advantage of them. At Brownville's cultural center, there is the Village Theatre, a thriving theatre arts program, which this summer is offering comedy, mystery and musical productions. Whiskey Run Creek Vineyard and Winery is sponsoring a summer concert series of bands that will perform on Friday nights. On June 8 my husband and I enjoyed Skylark, an excellent jazz and pop band out of Lincoln, from 7:30 to 9:30 p.m. Along with a bottle of WRCs De Chaunac, a dry red purchased on-site, we relaxed into the evening on the winery's lawn surrounded by the woodlands that mark the village from the larger Brownville community of area fields and farms. In July there begins another concert series that includes performances ranging from Robert Bonfiglio, Delta Blues singer, July 15, to Andrew Tyson, First Place winner of the Young Concert Artists International Auditions and the 2011 Brownville Concert Series Performance prize, Aug. 23.
In the Brownville United States Post Office a faded photocopy of "Brownville Through the Years," authored by Allison Hayes, is displayed in the outer office, the original of which I have been told is shelved in the Brownville Historical Society's library. This text gives me pause as it contains textual and photographic evidence of Brownville as a once-thriving hub of border-town activity, similar to my students' understanding about Fort Smith, the environment for Judge Parker's court and, more recently, the setting for the Coen Brothers film "True Grit," based on Charles Portis's 1968 frontier novel. The "Brownville Through the Years" town history sits open to a different page every time I go into the post office, and I wonder if it is someone's duty to turn the page daily or if there are other English teachers who are similarly situated in Brownville this summer who find its local history compelling, along with an offer a month ago for "free garden seeds to good homes." I confess I sifted through that box of seeds long enough to gather up a generous portion for my brother-in-law and myself. That was a friendly community offering, one I haven't seen in any other post office except for the stack of lovely small white envelopes I picked up one summer in Ecclefechan, Scotland.
Reader, you might reasonably ask, "What do Ecclefechan, Scotland, and Brownville, Neb., share," or, more to the point, "what do they have to do with writing instruction?" I believe that teaching students to write means raising their awareness about using their own texts as tools for effective communication, thereby making their lives more meaningful, their opportunities more accessible and their goals more attainable. Writers create connections between groups, agendas and ideologies, and written texts contribute to that fragile tissue we call memory. To work effectively, writers gather intellectual material from life experience, the process one early 20th-century writer described as "a living business."1 I traveled to Ecclefechan in 2000 to visit the birthplace and resting spot of Thomas Carlyle before visiting later that summer the home he and his wife, Jane Welsh Carlyle, had made in Victorian London. That trip was made intentionally to bolster my understanding of Victorian ideologies, but, practically, into the stash those envelopes went. Indeed, they are now long gone, used up in the teaching of how to write a simple thank-you note when someone has gone out of her way to be gracious, along with what I consider a healthy dose of anecdotal evidence supporting the personal and professional benefits of travelling to Scotland. I just can't help myself. By the way, the Brownville Post Office keeps a well-stocked brochure display of literature, including A Journey Worth Your Time and Money; a 2012 Calendar of Events, Map and General Information and the 1854 Didier Log Cabin: Before… [and] After…; and try the Lyceum Bookstore and Café, as well, which is a lovely restaurant displaying art from area artists and offering affordably priced used books.
I came to Brownville to join my husband and to spend my summer quietly, reading and writing, and the Deer Run Suite Bed and Breakfast, owned and operated by Freeman and Sandra Bertelsen, has become my home away from home. Being in this place in my life, I am reminded of MacLachlan's "Sarah, Plain and Tall."Sarah falls in love with her new life far from home, surprising herself as much as Jacob, Anna or Caleb in her newfound role of wife and mother. Her response to the prairie, to Maggie's gifts of zinnias, marigolds and wild feverfew, is as much a part of the story as anything else, and I know at summer's end, I will miss Brownville's profusion of wild Shasta daisies upon my return to Arkansas. However, I appreciate better now Sarah's discovery of the Great Plains having seen the gentle rolling hills of Nebraska.
It's worth your time to visit Brownville, but do check out the Events page at www.brownville-ne.com to determine days and hours of operation for area events and locations of interest before you visit.
Endnote
1. Arthur Quiller-Couch, "Preface," "On the Art of Writing" (Cambridge: Cambridge University Press, 1916).
Founded in 1854 and located on the banks of the Missouri River, Brownville is 10 minutes west of I-29, taking Exit 110, on U.S. 136, and is easily reached from Omaha and Lincoln, Neb., and Kansas City and St. Joseph, Mo. Brownville has been designated a Preserve America Community and is a National Register Historic District.
Image Credits:  Nora Tallmon