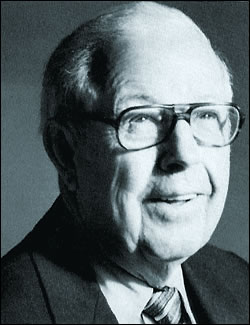 The Polk Progress was a Nebraska treasure that ceased publication in late 1989 after 82 years as a weekly newspaper. From 1955 until its last issue, the editor and publisher was the late Norris Alfred. In its last few months, the Progress had 900 subscribers in 45 states. Alfred was a remarkable Nebraskan with an uncanny eye for connecting the present with the future. Prairie Fire has collaborated with the Alfred family, the University of Nebraska School of Journalism and the Nebraska State Historical Society to locate and archive many of Norris's writings. We are capitalizing on our good fortune to present many of the Norris Alfred writings to our readership. We believe that his observations are as fresh and relevant to today's world as they were when originally written.
Unpublished Journal
March 31, 1992
In defense of "Slower Is Better" I have been critical of the speed at which we live. We have developed a need to hurry, hurry, hurry. In connection with bird-watching I have written (and stayed within the speed limit) that at 55 mph we don't see the bird in the bush nor the hawk soaring high in the sky. I thought of that when reading Ian Frazier's piece about the Great Plains in "Nebraska Humanities," a periodical of the Nebraska Humanities Council. At 500 to 600 mph and 30,000 feet up, he missed much more than the bird in the bush.
He missed the bush; the dramatic appearance of a huge cottonwood tree, trying to fill the immeasurable space between ground and sky. Seen from 30,000 feet up, the tree, if seen at all, is a green speck to the eye of the commercial jet passenger.
From 30,000 feet up he missed the feel of the Plains; the expansiveness of a 360-degree horizon that encourages expansive thought. From 30,000 feet up he missed the lay of the land; the visual realization of distance that mocks your arrival at a destination with more distance.
Being buffeted by a wind of the Great Plains is to experience the strength of a thousand-mile sweep of air freed of the Rocky Mountains' barrier range. A Californian, visiting Polk relatives in wintertime and experiencing a blizzard, stated: "I'll take a California earthquake instead."
What he did see was the circles of green made by pivots irrigating crops. He didn't have the experience to connect the abandoned farmhouses and the irrigation pivots. The pivots are one of the reasons for the empty farmsteads…