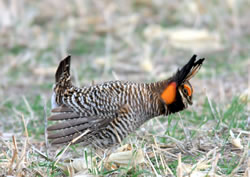 Nebraska's first Prairie Chicken Festival took place the weekend of April 20 in the Sandhills near the Calamus Reservoir north of Burwell.
The event—hosted by Calamus Outfitters and the Gracie Creek Landowners and sponsored by Audubon Nebraska, The Nature Conservancy, the Nebraska Bird Partnership and the World Wildlife Fund—was organized to celebrate prairie chickens, sharp-tailed grouse and the beauty of the locale they inhabit.
Other important purposes were recognizing successful efforts to preserve and conserve the area's uniqueness and presenting threats to that uniqueness. The festival's program included field activities, birding excursions and speakers addressing such topics as prairie chicken habitat and its management, conservation policy, citizen science, conservation programs and the possible impact of pending legislation.
The festival represented another of my attempts to learn about and experience Nebraska's natural beauty following prairie walking in June, a weekend at the Niobrara Valley Preserve in October and watching sandhill cranes on the Platte in March. From my perspective as a long-time Nebraska resident who, until retiring in 2011, had not experienced, much less appreciated, any of these activities, the festival was a success; it brought home the fragile nature of the Nebraska's natural resources and added to my "firsts."
The festival began Friday afternoon with registration and continued with an evening program featuring a Native American dancer and storyteller, a folklorist and a presentation on lek behavior.
Saturday morning found me in a converted school bus blind next to a prairie chicken lek before six a.m., trying to stay warm in 40-degree temperature and a north breeze coming through the bus's open windows. Fortunately the chill was soon replaced by the "booming" of nine male prairie chickens. Beside calls, the males constantly inflated their orange throat sacs, jumped, danced, threatened each other and protected their territory in failed efforts to woo the lone hen.
Break-out sessions and two presentations, one on the importance of the 2012 Farm Bill in protecting grasslands and the other an overview of the Gracie Creek landowners project to increase habitat, followed breakfast. My break-out choices were "Grazing Management for Prairie Chickens" and "Important Birding Areas."
Two one-and-one-half-hour field activities filled the afternoon.
"Birding around the Calamus" allowed me to add these species to my identified birds list (following a Friday afternoon sighting of a bald eagle): Franklin's gull, double-crested cormorant, eastern blue bird, blue-winged teal, American white pelican, turkey vulture and burrowing owl.
My second afternoon activity, the ranch tour, was enjoyable and educational. Highlights were observing the positive impact of pasture burning, learning methods of cedar tree removal and a cedar tree-cutting demonstration. More new birds for me from the tour included a great horned owl, red-tailed hawk and a sharp-tailed grouse. Deer and a coyote were also seen.
A third activity, a hike featuring Gracie Creek, was also offered.
Michael Forsberg delivered Saturday night's very well-received keynote address featuring slide and video presentations of his work on sandhill cranes, the Great Plains and current projects —a PBS documentary on the Great Plains and the Platte River Basin Time Lapse Project, which uses time-lapse photography to document water flows and use in the Platte River watershed.
Waking up at 3:30 a.m. Saturday, seeing a sharp-tailed grouse on the ranch tour and forecasted conditions even cooler than Saturday had me questioning whether I wanted to get up early again Sunday to make the 5:30 a.m. departure for the grouse lek.
However, hours of uninterrupted sleep had me anxious for the "Sharpies," the festival's last event, and I was in line early for a spot in another converted school bus blind for grouse viewing. The grouse arrived about the same time we did, and for more than an hour we watched 12 males and three hens.
Though some of the grouse's actions are similar to those of prairie chickens, the grouse were much more animated. Their activity seemed somehow orchestrated and choreographed with feet and feathers in rapid movement at 15-second intervals. Every bird seemed to start and stop at the same time, just, as others observed, like wind-up toys.
Returning from the grouse lek provided one final opportunity to observe deer, turkeys and scattered prairie chickens and left me looking forward to next year's festival scheduled for April 5–7, 2013.
I plan to be there. So should you!
Image Credit: Paul A. Johnsgard