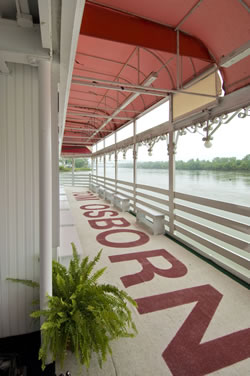 The beauty of the Nebraska Passport program is that it exposes visitors and natives to the state's tourism opportunities, including scenic parks, unique culture, colorful history, aquatic adventures and stunning golf courses.
The program does this by highlighting destinations throughout Nebraska. For 2012, these attractions are organized into 10 special-interest tours: culinary, culture, family fun, festivals, golf, GROW Nebraska, parks, unique accommodations, water adventure and wineries. Travelers can pick up a Passport at any of the participating attractions and earn prizes by collecting stamps at the designated stops before Sept. 30.
But the program does more than offer great vacation ideas and prizes; it creates economic benefits for Nebraska by increasing travel in the state and generating revenue not only at the featured sites but also at nearby attractions, hotels, restaurants and gas stations.
More than 70 percent of past Passport participants, who responded to a recent survey, said they spent at least three nights away from home while taking part in the program. One-third of the respondents spent five or more nights away from home. Those nights not only produce revenue but generate lodging taxes, which in turn provide revenue that allows the state to promote tourism and attract visitors. Many Nebraska counties and cities also collect lodging taxes to help promote local tourism and develop attractions.
An overwhelming majority of participants said they got involved in the Passport program so they could visit new places. And 94 percent of them said they visited at least one Nebraska attraction they otherwise might not have visited because it was a Passport stop.
As for nonresident travelers who visit Nebraska attractions or events, they average a half-day longer in the state and spend an additional $104 for each attraction or event visited. That is significant, as each dollar spent by tourists in Nebraska is respent in the state to produce an additional $1.70 in business and income, creating an overall economic impact of $2.70.
Accordingly, this year's Passport program has been buoyed by an extensive advertising campaign that includes promotion via newspapers, magazines, television, radio, Internet and a partnership with the Cornhusker State Games. The advertising campaign, along with a new public relations approach, was designed to increase the program's profile and public awareness.
Previously the program has been unveiled during "See Nebraska Week" in early May. This year the stops were announced and publicized in February so participants could begin planning their vacations earlier. Several Nebraska newspapers and television stations ran feature stories on the program, which led to a waiting list for the Passports before they were even printed.
The spike in interest already is being realized at this year's Passport stops.
Bader Memorial Park near Chapman credits the Passport program with increasing the park's exposure, said Park Director Pat Carlson, and its inclusion on the Parks Tour along with well-known locations such as Arbor Lodge State Historical Park and Lake McConaughy also boosts Bader Park's profile.
Susie Wissmann, owner of Master's Hand Candle Company and Serendipity Chocolate Factory in Tekamah, said her shop's involvement in the Passport program led to a feature story on KETV (the ABC affiliate in Omaha) and to its selection of one of the top 100 places to visit in Nebraska by the Omaha World-Herald. The shop has been so busy that Wissmann hired two additional employees.
Wissmann's success is representative of a robust tourism economy's impact on the state. As it stands, travel spending supports more than 45,600 jobs in the Nebraska. More stories like Wissmann's could lead to even greater job creation—further cementing tourism as the state's third-largest earner of revenue from outside the state behind only agriculture and manufacturing.
How the Passport Works
Pick up a Passport at participating attractions. Collect stamps at Passport stops between now and Sept. 30. There are two places for stamps—one next to the attraction name in the passport itself (that's for you to keep) and one on the prize-entry sheet tucked in the back (that's what you'll redeem for prizes).
After your travels are completed and you've collected your stamps, claim your prize(s). Mail the prize-entry sheet to

Nebraska Division of Travel and Tourism
ATTN: 2012 Nebraska Passport
P.O. Box 98907
Lincoln, NE 68509
Prizes
Each completed tour: 2012 Nebraska Passport T-shirt
25 stamps: $25 GROW Nebraska gift card
40 stamps: Canon Powershot digital camera
A grand-prize drawing for an Apple iPad valued at $800 will take place in October 2012. Your name will be entered into the drawing once at each prize level and once more if you share your experience online at NebraskaPassport.com.
Note: The Prairie Vine Winery in Mitchell has closed and is no longer a part of the 2012 Passport program. All participants submitting a prize-entry sheet will receive credit for the Prairie Vine stamp.
Be sure to check NebraskaPassport.com for hours and stop updates.