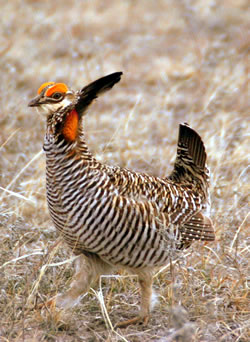 May and June in the Sandhills are inspiring yet dangerous in their promises. As the grass renews itself from winter's grasp, it is accompanied by a host of like-minded friends who undergo the subtle miracle of resurrection. Puccoons and beardtongue enliven the greening hills with bunches of delicate yellow and blue flowers. Turtles emerge from their sand-lined solaces while snakes lick up the fresh scents. The deer exchange gray coats for sheens of red and brown while they chase the tender shoots and listen to excited yips of young coyotes. Grasshopper sparrows and meadowlarks sing of the promises of sun, rain and grass; or are they shouting a warning that the latter two may not last?
The prairie chickens and grouse are no exception to nature's course. Since the end of "lek season," we had been anxiously awaiting the first glimpse of successful hatches. After watching the dutiful and exhaustive mating displays daily for over a month, we start to miss the sight of these feathered friends of ours. While walking to work (through a pasture to Calamus Outfitters) the first week of June, my dog flushed a prairie chicken that was hidden from view not far from my path. Instead of flying the distance, she quickly dropped back to the grass, giving a nice performance of injury while trying to lead us astray. I carefully searched the area where she had initially been discovered, hoping to find a nest, chicks or any sign of a hatch. After several minutes I finally gave up the search and allowed the concerned mother to return. I'm sure several sets of tiny eyes were upon me as I walked on.
Since then, we have seen evidence of more hatches, giving us the hope of a successful survival rate for both the prairie chickens and grouse this year. I can't help but muse what birds are hidden under the wind-blown carpet that we will come to know next spring on the leks. As sure as spring, they will be there, dancing their promise. And we will once again bear witness to their tenacious spirit, lasting determination and joyful celebration of new beginnings.
It is our desire that the Nebraska Prairie Chicken festival will celebrate these grassland bird species as well as the environment, culture and people they find themselves amidst. Next year's festival is still in the planning stage; however, many excellent presenters are putting the festival on their schedules, additional birding excursions are being mapped and new activities are being explored. Of course, the stars will continue to be the birds themselves, amongst the backdrop of grass and sky as their creator intended. We thank everyone for helping make the 2012 festival a success and look forward to hosting the event next year.
Image Credit: Paul A. Johnsgard