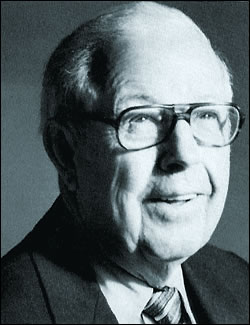 The Polk Progress was a Nebraska treasure that ceased publication in late 1989 after 82 years as a weekly newspaper. From 1955 until its last issue, the editor and publisher was the late Norris Alfred. In its last few months, the Progress had 900 subscribers in 45 states. Alfred was a remarkable Nebraskan with an uncanny eye for connecting the present with the future. Prairie Fire has collaborated with the Alfred family, the University of Nebraska School of Journalism and the Nebraska State Historical Society to locate and archive many of Norris's writings. We are capitalizing on our good fortune to present many of the Norris Alfred writings to our readership. We believe that his observations are as fresh and relevant to today's world as they were when originally written.
Unpublished Journal
March 14, 1992
Years ago, so many I have lost count, I attended a Prairie Plains Resource Institute meeting where I was one of several speakers. One of the goals of the institute was to save as much of the original prairie and its flora as they could. There are only patches of it left in impossible places for tractor and plow to reach.
At that meeting I saw some sculptured furniture that grabbed my attention. I asked Bill Whitney who had made it. He said: "Ed Dadey, a friend who lives near Marquette in a complex of barns." I was determined to meet him. I did, though I don't remember if it was at that meeting or later. Ed and Jane Dadey and I became good friends. A friendship that continues to this day.
Ed had moved five barns onto an area of pasture on his father's farm. Four of the barns he is still working at putting together… The fifth barn is (or perhaps I should say "was") to be converted into a house. It still is only a barn inside of which a foundation has been laid of cement blocks. Meanwhile most of his time is spent on the four-barn complex, which will eventually be three stories high. There's a basement under it that I have never seen. One time I asked Ed, "When do you plan to have this building finished?" He replied, "I don't know. After all, it took 300 years to build a cathedral in Europe."
Ed and Jane have a living space in the four-barn complex and several work areas for computers, printing, welding, woodworking, quilting, weaving, designing and making sculpture of wood, metal and stone.
I told Ed, "You're doing all the things I thought of doing and never did." He is a computer expert. In fact, whatever he attempts, he soon becomes an expert at doing, using or improving.
Jane is an artist and teacher. She teaches in the elementary school in Marquette and works in soft sculpture and quilting. Lately she has been caging rocks. The cages are made of wood and the bigger ones of metal holding bigger and heavier rocks. With rocks holding center stage in her sculpting, she has expanded her talents. Rocks, metal and wood cannot be described as soft sculpture.
She had designed and Ed had welded together a metal cage for holding rocks. The rocks were chunks of limestone with sharp edges. I suggested glacial rocks that had been rounded by ice age glaciers would be an improvement over the flat, sharp-edged pieces of limestone. Jane agreed, but where could glacial round rocks be found in Nebraska?
I remember a Nebraskan who was willing to swear on a stack of Bibles, dictionaries or books of fiction that any rock found in Nebraska had to be a meteorite. "There ain't no glacial rocks in Nebraska." I called the University of Nebraska-Lincoln and asked a geologist if glacial rocks could be found in Nebraska. He said one of the ice age glaciers went as far south and west into Nebraska as York County, which has a mutual boundary with Polk County. The geologist suggested looking in Lancaster County, east of Seward County, for glacial rocks. He added: "Most of the rocks are pinkish. Search along fence lines where farmers are likely to put them."
The first town in Lancaster County, while driving east on Highway 54, is Malcolm. Jane and I stopped there. (Ed didn't want to spend an entire day looking for rocks.) Malcolm is about the size of Polk but lacks a concentrated business section. This is probably due to being near Lincoln. Jane and I stopped in what appeared to be a general merchandise store that also served coffee. Three local farmers were seated at a table drinking coffee, and I asked them if they knew where we could find rocks. They must have thought that an odd question because they gave us a startled look. Here was an old man and young lady with long, flowing hair asking about rocks and where to find them, and they smiled at the idea anyone would want rocks. I told them it was for an art project the lady was creating. In the farming population of the Midwest, scant prairie is reserved for artists. When Polkites ask me what I'm doing since I retired, I say, "Writing." They say, "Yes. But what are you DOING?" I could add: "Thinking about painting," but that wouldn't register either. Finally, one of them mentioned a farmer named Behrens who had a pile of glacial rocks that he had gathered off his fields and piled in the pasture. A PILE of rocks! That sounded good. He gave us directions to the farm, about three miles from Malcolm. At the farm, Mr. Behrens gave us permission to take as many rocks as we wanted. I think he would have been pleased if we had taken the whole pile. He directed us to a farm trail that led to the pile. There was one fairly deep and steeply angled gully that the trail crossed, but when we got over the rise, there was a huge pile of rocks, which I later estimated to be 25 feet high and 50 feet wide. It was a supermarket of rocks! They were of all sizes, rounded, and colored. Most did have a pinkish tinge. Jane and I filled her small car with rocks until I thought of that steep incline we would have to conquer with a small car loaded with rocks. We decided to quit piling more rocks into the car.
Jane's small car made it up the steep incline, and the car and two rock hounds traveled happily back to what Ed's father christened the "Marquette Mall" home of the five barns. We were back home before noon. Ed might have regretted he didn't go along, but if he had, he would have had to hold some rocks in his lap.