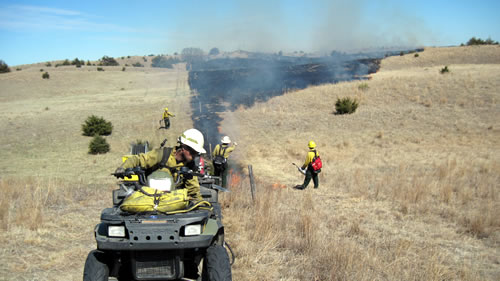 Jeremy Bailey just can't stay away from Nebraska.
For the third consecutive year Bailey, who works for The Nature Conservancy as its fire training and networks coordinator, left his home in Salt Lake City to spend a long, smoky month in the Cornhusker State. His mission: demonstrating safe preparation, planning and execution of successful controlled burns through fire training exchanges.
The idea for the training exchanges was born in 2008, when a federal agency fire training coordinator asked conservancy staff for ideas to address a persistent and widespread shortage of qualified fire personnel. The conservancy had its own concerns about lack of fire taking a toll on native plants and animals and was looking for ways to get more fire on the ground. In response, a novel program was developed to provide training and learning opportunities for fire professionals while bringing fire back to landscapes that need it most. These two- to three-week events include daily burning as conditions permit and give trainees a concentrated dose of prescribed fire experience as well as exposure to new people, places and techniques.
In March Bailey was joined by 55 people from around the U.S.—Nebraska, Iowa, Indiana, Utah, Colorado, California, New Mexico, Arizona, Oregon, Idaho, Ohio and Massachusetts—and as far away as South Africa. Their first assignments were in the Niobrara Valley, and later they worked in the Platte and Loup River basins. Participants included trainees from federal, state and county agencies; volunteer fire departments; conservation organizations; private contractors and university students.
Why Nebraska?
Finding the right weather conditions for controlled burns in Nebraska is no easy feat, and this year was no different. So why not have all the exchanges in, say, Texas, where in many places you can burn most of the year?
One reason is that Bailey found real enthusiasm for the exchanges among Nebraska's conservation practitioners and landowners. For the first part of the exchange, 4,500 acres were burned in the Niobrara Valley—at Hutton Niobrara Ranch Wildlife Sanctuary in Bassett, on private ranches in Rock County, at the conservancy's Niobrara Valley Preserve and at the Plum Creek Wildlife Management Area. "In fire, it is important to pool strengths, resources and experience to ensure goals are met and to keep costs down," said Bailey. The Nebraska Natural Legacy Project, the Nebraska Game and Parks Commission, the Northern Prairies Land Trust, the Niobrara Valley Prescribed Fire Association, the Nebraska Prescribed Burn Task Force, the Natural Resources Conservation Service, the Fire Learning Network and The Nature Conservancy all contributed time, expertise and money to make the exchange a success.
"We worked a lot of long hard days. It was tiring, stressful; you must constantly be vigilant about the weather… I don't know why I like it," said Chris Rundstrom, Niobrara Valley Preserve manager for The Nature Conservancy and one of the exchange's trainers. "The payoff—healthier grasslands, helping landowners reach their goals and experiential learning of fire know-how—is definitely worth it."
Another reason for returning to Nebraska is that acceptance and use of controlled burning as a grassland management tool has increased substantially in recent years among private landowners, driven largely by the rapid encroachment of eastern red cedars into pastures and subsequent loss of livestock forage. For example, the participants worked side by side with five Rock County ranchers and the Niobrara Valley Prescribed Fire Association to complete a burn on around 1,400 acres. "The trainers and participants had a wealth of knowledge, and combined with the practical knowledge we have here, learning went both ways. It went off very, very well," said Lance Kuck, vice president of the Niobrara Valley Prescribed Fire Association.
Next Stop, Gothenburg
Time in the Monsanto classroom ahead of burns held March 20–31 in the Platte and Loup River basins allowed for more information exchange.
Trainee Carly Cowell, regional ecologist with South African National Parks, explained that similar land-management challenges brought her to Nebraska. "We, too, have exotic plants that we need to manage. If we go more than eight or so years without fire, we start to lose native species," said Cowell.
On this leg of the exchange participants burned 4,500 acres around Gothenburg, Ord and Grand Island. The Fire Learning Network, Nebraska Natural Legacy Project, Natural Resources Districts, the Nebraska Prescribed Burn Task Force, the Natural Resources Conservation Service, the Loess Canyon Rangeland Alliance and The Nature Conservancy collaborated in this landscape, which offered a unique set of challenges. "Central Loess Hills topography is nearly impossible to burn if you have to fight it; if you work with it, it's a tremendous help," said John Ortmann, prescribed burn coordinator for the Lower Loup Natural Resources District.
Fortunately, fence and property lines didn't present the kinds of obstacles found in other communities. The Loess Canyons Rangeland Alliance, formed in 2002, is considered by Bailey to be "one of the best examples of organization and professionalism" in the country for controlled burns. "Plant and animal communities don't stop at property lines, and when we have groups of neighbors working together, we can do a lot more," said Bailey. The alliance organizes its landowner members, invests in fire equipment and training and works with local fire departments on larger, safer burns.
Burn Lines Help Bottom Lines
Scott Stout, Loess Canyon Rangeland Alliance vice president, landowner and burn boss, did not grow up seeing fire as an acceptable thing on the ranch. After his first burn in 2008, however, he saw firsthand its economic benefits. "With land prices high, and the cost of renting increasing, it's very important to get that cedar mortality," he said.
When the cedars get thick, cattle can't work around them. "Ranchers report losing about 50 percent of grazing capacity over the last 40 years," said Doug Whisenhunt, state prescribed burn/grazing specialist for the Natural Resources Conservation Service.
A lot of the same things bother conservationists. Once wildfire suppression became widespread, grasslands changed. Shrubs and trees often take over, driving away grassland birds. Even forests and woodlands suffer an overgrowth of understory vegetation without the benefit of thinning-by-fire. It all adds up to less habitat for wildlife.
Sparking Big Change
It is estimated that around 40 million acres of controlled burns are needed in the Great Plains. In order for this work to be done safely, capacity simply must be built. A similar exchange was held in Iowa's Loess Hills region in April.
This was the first training exchange in the Loess Hills, an area of the Great Plains that stretches just north of Sioux City south for about 200 linear miles. Thirty-eight participants worked to burn just short of 1,800 acres. The Loess Hills landscape—and Iowa in general—is more fragmented, which makes burn units smaller and controlled burns more of a challenge.
"It is worth the effort," said Kyle Lapham, Loess Hills fire coordinator. "This is an area that has places of intact prairie and oak woodlands, providing habitat for over 49 grassland species of special concern. Fire is critical in these areas. We are fortunate that many Loess Hills landowners agree.
It's all part of a larger strategy of the Great Plains Fire Learning Network to ramp up burning across the entire region.
"Community-based approaches like those in Nebraska represent our best chance to improve natural areas that are threatened by too much, not enough or the wrong kind of fire," said Bailey. "The most rewarding part of my job is seeing those places where men and women have chosen to use fire… It transforms unhealthy lands to healthy ones and protects communities. These are the places and practices that we will pass on to the next generation."