In part one of the Prairie Fire series, "Got Drugs?," the societal challenge of unwanted and expired medications was examined and one solution, the Drug Enforcement Administration's (DEA) national drug take-back initiative that occurred across the country on April 28, was described. Part two of the series dug deeper into this shared community challenge with a detailed discussion of the ramifications of waste pharmaceuticals in our water systems and the consequent environmental contamination that can result from improper disposal. Part three closely examines prescription drug abuse and prevention.
Prescription drug abuse is the intentional use of a medication without a prescription, in a way other than as prescribed or for the experience or feeling it causes. Although prescription drugs can be very effective in treating symptoms, each can pose serious health risks when not used properly.
Prescription drugs are now the second most common class of drugs abused after marijuana among adolescents. In 2010 10.1 percent of youth aged 12 to 17 reported current use (past 30 days) of illicit drugs, with 7.4 percent of adolescents reporting current marijuana use and 3 percent reporting current nonmedical use of prescription drugs. Prescription drug abuse is on the rise, with 20 percent of teens saying they have taken a prescription drug without a doctor's prescription.
The most commonly abused prescription drugs are opioids, depressants and stimulants. Opioids can be highly addictive as these substances act on the same receptors as heroin. People who abuse them sometimes alter the route of administration (e.g., snorting or injecting) to intensify the effect; some even report moving from prescription opioids to heroin. It is estimated that about 1.9 million people in the U.S. meet abuse or dependence criteria for prescription opioids. Abuse of opioids, alone or with alcohol or other drugs, can depress respiration and lead to death. Unintentional overdose deaths involving prescription opioids have quadrupled since 1999.
Central nervous system depressants are used to treat anxiety and sleep problem and can be associated with addiction and dangerous withdrawal symptoms. These drugs are addictive, and discontinuing use without a physician's guidance can bring about severe withdrawal symptoms, including life-threatening seizures. High doses can cause severe respiratory distress, and the risk of injury or death is even higher when combined with other medications or alcohol. Stimulants, which are often used to treat attention deficit hyperactivity disorder (ADHD) and narcolepsy, can cause side effects such as psychosis, seizures and cardiovascular complications, and carry the risk of addiction. Nonmedical use of prescription drugs has been associated with an increased number of emergency department (ED) visits. The federal Drug Abuse Warning Network estimated that the number of ED visits for the nonmedical use of opioid analgesics increased 111 percent (from 144,600 to 305,900 visits) between 2004–08. Oxycodone, hydrocodone and methadone were the most common prescription drugs involved in these ED visits.
One possible reason prescription drug abuse is so common is the mistaken belief that prescription drugs are safer and less addictive than street drugs. In reality prescription drugs are only safe for the individual who actually has a prescription for them. Another misconception is that taking drugs without a prescription or sharing them with a friend is not illegal because these drugs are prescribed by doctors. However, taking drugs without a prescription or sharing them with a friend is, in fact, against the law.
Another reason young people misuse or abuse prescription drugs is easy accessibility, whether that is simply having access to leftover prescription medications or obtaining them from another person. According to the Nebraska Regional Poison Center, 55 percent of prescription drugs come from a friend or relative for free, only 17.3 percent come from a doctor, 11.4 percent are bought from a friend or relative, 4.8 percent were taken from a friend or relative without their consent and 4.4 percent were purchased from a dealer. These alarming statistics show that over half of the known prescription drug poisonings are not prescribed to the individual taking the medicine.
By following the four recommendations below, each of us can help prevent prescription drug abuse:
Use prescription painkillers only as directed by your doctor.
Do not sell or share with others.
Be sure to store prescription painkillers out of reach and in a locked place.
Dispose of unused and expired prescription painkillers properly.
Parents can take an inventory of prescription drugs and then restrict access to these products. Unused and/or expired prescription medications can properly be disposed of at community take-away events and ongoing pharmacy take-back programs. In addition, by opening the lines of communication with their youth about prescription drug use and misuse, parents can establish clear expectations and disapproval of use. The youths' perceptions of how their parents feel about the misuse of prescription medications can have a great impact on their choices to use or abuse these drugs. With children and teens at home, it is also important for families to keep the Poison Center's phone number in an easily accessible place for the whole family (1-800-222-1222). In case of ingestion, they will be able to give the best guidance. In 2011 the Poison Center handled nearly 38,000 calls, 84 percent of which were regarding unintentional poisoning.
The Drug Enforcement Administration (DEA) hosted a nationwide medication take-back day in April 2012. Lincoln, Nebraska, provided six drop-off locations, with other locations all around the state. Law enforcement collected over 800 pounds of unwanted and expired medications from the event in Lincoln alone and 5,400 in Nebraska. Below is a chart showing the general increase in the amount of drugs collected at these DEA Take-Back Days nationally: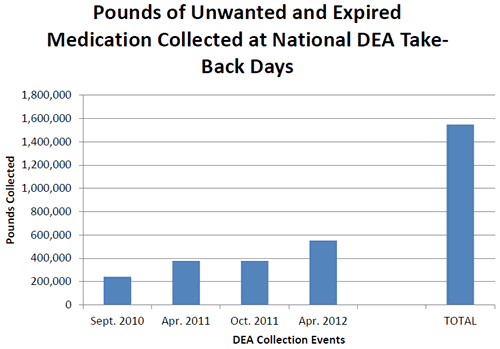 With numbers of participants growing each time, the DEA will likely continue to host these national Take-Back Days biannually until community take-back programs are established. So far, the DEA has taken nearly 1.5 million pounds of drugs out of the homes of families, protecting public health and the environment. The next event will likely be held in the fall of 2012. Stay tuned to www.dea.gov for more information regarding future event dates and locations. And look for more information about the work of the Nebraska MEDS Coalition, www.nebraskameds.org. Again, this group of concerned Nebraska stakeholders is working together to construct a long-term solution for the safe and legal disposal of unwanted and expired consumer medications.