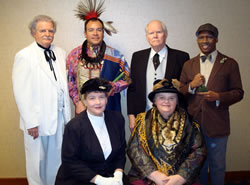 Before the Internet, before television, before radio, before any electronic media or I.T. revolution, Americans flocked together to interact—in person!—and listen to speakers on a variety of issues of public interest in what was known as chautauqua (pronounced "shuh-TAWK-wuh").
As Daniel Lewis explains in his essay on chautauqua in the "Encyclopedia of the Great Plains" (David J. Wishart, ed.), the term "chautauqua" originates from educational seminars held beginning in 1874 at a site near Chautauqua Lake in southwestern New York State, with organizers hoping to "bring education and intellectual stimulation to their communities." This adult education chautauqua format became a movement that Theodore Roosevelt is widely quoted as calling "The most American thing in America."
It did not take long for the chautauqua concept to make its way to the Great Plains. Traveling "circuit" or "tent" chautauquas in the late 19th and early 20th centuries brought the world to rural communities in Nebraska, combining programs of political oratory and lectures about health, science and the humanities with entertainment such as opera singers and Shakespearean stage performances. Audiences heard about national issues and discussed their views with their neighbors. For many rural Nebraskans chautauqua week became the most important week of the year.
Just imagine for a moment the energy humming through a crowd gathered under the big chautauqua tent to hear great orators and public figures like Teddy Roosevelt, Helen Keller, Mark Twain, Clarence Darrow, George Norris and the most popular chautauquan of them all, William Jennings Bryan, who presented his "Prince of Peace" speech more than 3,000 times across the country. It was a cultural phenomenon that would have been marvelous to behold, before it eventually succumbed to the advent of radio and other technological communications tools that have been shaping how humans interact ever since.
The Nebraska Humanities Council (NHC) along with sister humanities councils from other Great Plains states rekindled the chautauqua tradition beginning in 1984 with modern chautauquas that use this public forum and discussion format to focus on particular historical eras or themes in a way that is both entertaining and informative. Similar to those traveling chautauquas of the past, the NHC traditionally has brought the humanities-based, modern chautauqua programs to rural communities that often do not have regular access to the humanities or cultural activities.
For the past 28 years communities all across the state have joined with the NHC to use chautauqua to explore a variety of historical themes that have helped define who we are as Nebraskans and Americans. People have flocked to the big chautauqua tent to enjoy encounters with great historical figures such as Thomas Jefferson, Mari Sandoz, Abigail Adams, Alexander Hamilton, Thomas Paine, Frederick Douglas, Nathaniel Hawthorne, Walt Whitman, W.E.B. Dubois, Mark Twain, Jane Addams, Theodore Roosevelt, Booker T. Washington, Sacagawea, William Clark, William Jennings Bryan, George Norris, FDR, Zora Neale Hurston, Will Rogers and many others. The audiences "travel back in time" to listen to and interact with these historical figures, and then return to the present to engage with the scholars portraying these figures. Ultimately they walk away with a richer understanding of an important era in our past, how it relates to where we are now and lessons toward building a better future.
In 2012 the Nebraska Humanities Council is thrilled to partner with Homestead National Monument of America and the community of Beatrice to present a new Chautauqua, "Free Land? 1862 and the Shaping of Modern America," in conjunction with the 150th anniversary of the Homestead Act, the Pacific Railway Act and the Morrill Act, three interrelated pieces of legislation passed within six weeks of each other in 1862 that greatly influenced the development of Nebraska, the Great Plains and the nation.
"Free" Land?
Often the exclamation on the handbills that promoted the availability of land for homesteading was "Free Land!" One of the purposes of this chautauqua is to ask the central question: was this land really free? Grounded in humanities scholarship, the "Free Land" Chautauqua will engage audiences in thoughtful explorations of the broad and lasting impacts of these legislative acts. Taken together, these three important pieces of legislation passed by the wartime Republican Congress sketched the blueprint both for the future of the Great Plains and for the United States. Republicans imagined that the Great Plains would be turned into a prosperous region through the efforts of the common man and small farmer. Educated at state institutions and provided access to markets for their goods through railroad construction by a publically owned company, they would create an agricultural bounty that would increase their wealth, provide for social mobility and contribute to national prosperity for all. While not all of the elements of their vision developed as planned, it is undeniable that through the legislation of 1862, the Great Plains was irrevocably changed by the generations of people who have called it home. (See Timothy R. Mahoney's cover essay "Legacy of 1862 Legislation Continues" in the April 2012 issue of the Nebraska Humanities Council newsletter and Richard Edwards' essay on "The Making of the Great Plains" in the March 2012 issue of Prairie Fire).
The "Free Land" Chautauqua will help dispel the often-romanticized visions we have of pioneer life and draw attention to the struggles many residents of the Great Plains faced and the hard-fought gains they achieved. Many took great risks on the opportunities made possible through the 1862 legislation, and it was often a very difficult life. Our society likes to focus on successes, but in the case of homesteading, the failures were just as prevalent. The conditions were harsh, and many of the new residents in the Great Plains were, as recent immigrants, also adjusting to life in a new country. Of the more than 270 million acres successfully homesteaded through the Homestead Act, Nebraska ranks second in a state-by-state comparison with over 22 million acres. This chautauqua will connect us with those who came before and nurture a sense of place and appreciation for how these acts helped shape modern America.
The Cast
Each historic figure selected for the "Free Land" Chautauqua provides a voice and perspective that contributes to the overall story and our understanding of the influences of the 1862 legislation. All six of the historic figures presented during Chautauqua will offer brief previews of their performances during the 150th Anniversary National Signature event at Homestead National Monument on Sunday, May 20. Each evening following, a different chautauquan will be featured under the big tent:
Mark Twain, humorist and author who wrote on culture and politics, will serve as moderator each evening and will be portrayed by Warren Brown;
Grenville Dodge, a U.S. Army general and chief engineer for the Union Pacific Railroad, will be portrayed by Patrick E. McGinnis on Monday, May 21;
George Washington Carver, a noted inventor, botanist, former slave and homesteader, will be portrayed by Paxton Williams on Tuesday May 22;
Standing Bear, a Ponca chief who was involved in the 1879 court case that was the first step in establishing basic civil rights for Native Americans, will be portrayed by Taylor Keen on Wednesday, May 23;
Laura Ingalls Wilder, homesteader and author of the beloved "Little House" books, will be portrayed by Karen Vuranch on Thursday May 24;
Willa Cather, Pulitzer Prize-winning author from Nebraska, will be portrayed by Betty Jean Steinshouer on Friday May 25.
Along with evening presentations under the big tent, the "Free Land" Chautauqua will also include: "Homestead Express" events in Lincoln May 19–20 with Lincoln Children's Zoo, Lincoln Children's Museum, Lincoln Libraries, Michael Forsberg Gallery, Nebraska History Museum, Pioneer Park Nature Center, Sheldon Museum of Art and others; A Youth Chautauqua Camp for students grades 4th–8th that will develop skills in reading, library and Internet research, writing, interpretation and performance; Scholar Workshops for adults (at Beatrice Public Library) and youth (at the Homestead National Monument education center); the 1862 Homestead Act document signed by Abraham Lincoln will be traveling from the National Archives in Washington, D.C., to Homestead National Monument for public viewing April 25–May 28 and a Solomon Butcher photograph exhibition will be presented by Main Street Beatrice in partnership with the Museum of Nebraska Art. Visit www.nebraskachautauqua.org for the full schedule.
The "Free Land" Chautauqua is a great opportunity for all of us to connect with an important part of our heritage as Nebraskans. Thanks to a new grant awarded by the National Endowment for the Humanities, the Nebraska Humanities Council will be able to bring this chautauqua to six additional Nebraska communities over the next three years. But first, come to Beatrice and Homestead National Monument May 20–25 and get a taste of what it was like under the big chautauqua tent a hundred years ago!