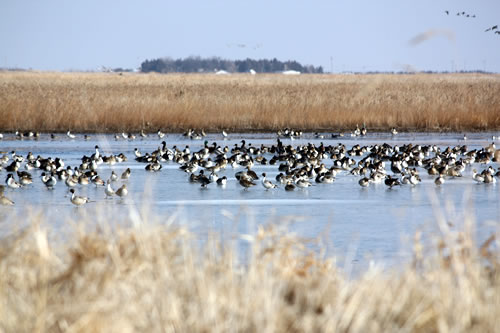 In the waning days of winter, weeks before the soil sends up its first green shoots, the skies over south-central Nebraska herald the season of new life. No single description is sufficient for the Rainwater Basin's springtime migration; every day and every place is different. Dark tendrils streak the sky high above Kearney County one afternoon as ducks and geese stream northward from their wintering grounds. The next morning hundreds of mallards might mill about open water at Funk Waterfowl Production Area, the drakes' green heads iridescent in the sunlight. Miles away, 10,000 northern pintails rise from a wetland in a brown-and-white mass, briefly blotting out the sky. Days later flurries of snow geese—like localized blizzards—swirl here and there over Clay County cornfields. Other days, other places, a mile too far east or west, an hour too early or too late … the birds might seem to be gone.
Springtime in the Rainwater Basin holds many surprises, but one thing is fairly certain: if not for the dedication and cooperative efforts of farmers, cattle producers and wetland and wildlife biologists throughout North America's Central Flyway, including the Rainwater Basin, the scenes from this migration route would be much different. We might all feel that we had arrived too late.
In the mid-1980s the populations of many North American duck species were not simply falling but plummeting. In just a decade the estimated number of mallards dropped by over 37 percent; northern pintails declined by more than one-half.
The reason for vanishing waterfowl was vanishing habitat. Habitat loss, especially wetland loss, was a nationwide phenomenon. Conditions in the Rainwater Basin don't tell the whole story, but provide one illustration. The 160-mile-wide region south of the Platte River once contained over 4,000 wetlands in the shallow depressions amid rolling plains. By 1965, according to surveys by the Nebraska Game and Parks Commission (NGPC), all but 18 percent of Rainwater Basin wetlands had been lost —mostly converted to agriculture production. A second survey in 1983 found the number of wetlands was nearly cut in half again—to less than 10 percent of the original number—in less than two decades.
Virtually all the remaining wetlands were degraded by drains, ditches, siltation and weeds. Most held water in just a small fraction of their original footprints.
Similar habitat losses had occurred on ducks' breeding grounds in the Sandhills, Dakotas and the Canadian Plains. It was an international problem that demanded an international response. In 1986 the U.S. Department of the Interior and Canada's Environment Ministry jointly published the North American Waterfowl Management Plan (known to wildlife biologists as NAWMP, pronounced "nay-womp").
NAWMP's goal was to restore duck populations to the 1970s levels and protect goose populations as well by halting and reversing the accelerating loss of wetlands. The plan recommended programs and financial incentives to encourage private landowners, especially farmers and ranchers, to conserve soil, water and wetlands.
NAWMP also recommended creation of "joint ventures": public-private partnerships to fund and implement conservation in their respective regions. And it designated "Waterfowl Habitat Areas of Major Concern," including Nebraska's Rainwater Basin.
"That was huge for us," recalls Dick Gersib, who was then wetland specialist for NGPC and part of an interagency team that had worked for years to demonstrate the importance of Rainwater Basin wetlands. Among the challenges the Rainwater Basin team faced were numerous unknowns: no reliable records of Rainwater Basin waterfowl numbers before the 1970s; no data on how waterfowl used the area and the Rainwater Basin itself was largely unknown, outside Nebraska and within. Many wetlands were all but invisible to nonscientists. Although most "semipermanent" wetlands held water for much of the year, two other classes—seasonal and temporary wetlands—were, as their names suggest, flooded for far shorter periods, if at all.
Another challenge was lack of funding. The NGPC and the U.S. Fish and Wildlife Service (USFWS) had both begun to acquire local wetland areas from willing sellers; however, both agencies lacked the financial resources to turn degraded wetlands back into productive migration habitat.
The NAWMP designation brought recognition, the potential for funding and hope for protecting habitat. It also brought the Environmental Protection Agency (EPA), which proposed to protect semipermanent and seasonal Rainwater Basin wetlands by designating them "unsuitable for fill." The problem: temporary wetlands would be unprotected, although their small size made them the easiest wetland type to drain or fill, and therefore the most vulnerable.
Gersib and his colleagues argued that temporary wetlands were essential, too. "Migrating birds need two things," he says. "Readily abundant and available food, and large, secure areas where they can loaf and turn that food into fat." The EPA gave the Rainwater Basin team two years to demonstrate that the region's temporary wetlands were indispensable to providing those two things.
It was a tall order with a short due date. The team developed a "time-activity budget study" to record waterfowl behavior on a variety of Rainwater Basin wetlands throughout the migration period.
"We literally sat in a truck for 12 hours a day with the window halfway down in snow, rain, sleet—it didn't matter—watching birds," says Gersib. "It was probably the highlight of our careers."
Gersib monitored eastern Rainwater Basin wetlands; Kenny Dinan, an Omaha native on his first assignment for USFWS in Grand Island, took the west.
"What a good introduction to the basins," Dinan recalls. "From sunrise till dark, watching the critters and documenting what they were doing."
Speaking into tape recorders, they recorded individual duck's activities at 10-second intervals—feeding, loafing, courtship, feeding, feeding—from dawn to dusk, six days a week for six straight weeks in 1986 and again in 1987.
The outcome? Their results persuaded the EPA that temporary wetlands were indeed essential duck habitat, especially for feeding.
"The Rainwater Basin functions as a complex," says Gersib. "You can't just take one piece of the puzzle and treat it like it's not important."
In addition to convincing the EPA, Gersib and Dinan's findings pointed to an opportunity, through creation of a Joint Venture, to raise the awareness and financial support that would help protect Rainwater Basin habitat. Soon, the Rainwater Basin biologists formed a team to draft a Concept Plan, requesting that the NAWMP committee name a new Joint Venture.
Meanwhile, changes were afoot in the Central Flyway and beyond.
Beginning in the 1970s and continuing through the '80s, outbreaks of avian cholera killed hundreds of thousands of waterfowl in the Rainwater Basin, illustrating one hazard of overcrowded migration habitat. At the same time, the migration patterns of snow geese, once rare in the Central Flyway, were shifting westward. The birds' springtime numbers in the Rainwater Basin rose exponentially. They increased crowding in the region's wetlands but also increased the drama of the migration spectacle.
"They were the X-factor," says Gersib. "We foresaw the potential problem from an avian cholera standpoint, but we also saw it as an opportunity to raise the focus on the Rainwater Basin area."
Far from the Central Flyway federal government agencies were developing methods to increase conservation on farm land. The 1985 Farm Bill barred agriculture producers from receiving U.S. Department of Agriculture program benefits if they destroyed wetlands on their land. The Wetlands Reserve Program (WRP), created in the 1990 Farm Bill, offered financial incentives to private landowners who voluntarily restored and protected their wetlands. WRP would later become a linchpin in Rainwater Basin habitat protection. The USFWS introduced a separate program, the Partners for Fish and Wildlife in 1987, to provide technical and financial assistance to landowners for voluntary habitat improvement.
It seemed the necessary pieces were falling into place. The Rainwater Basin team submitted their Joint Venture application to the NAWMP committee in early 1990, just weeks before ducks and geese began once again to fill the region's skies and waters, demonstrating their dependence on Rainwater Basin habitat.