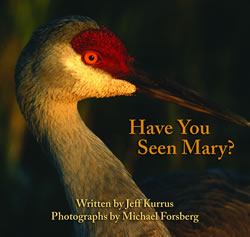 "Have You Seen Mary?"
Author: Jeff Kurrus with introduction by Keanna Leonard
Publisher: University of Nebraska Press
When our son was 9, our family visited the Platte River Valley to see the sandhill crane migration. He was perhaps a little too young and the weather a lot too cold for him to enjoy the magnitude of the experience. He was more interested in returning to the hotel swimming pool than bracing against the piercing wind while watching thousands of birds fly overhead. Perhaps if we'd had access to a book like "Have You Seen Mary?" he would have better understood and appreciated the natural spectacle he was witnessing.
"Have You Seen Mary?" is the fictional story of one sandhill crane's search for his lost mate during spring migration. It is the first book by Jeff Kurrus, who is the associate editor of "NEBRASKAland" magazine, and it features the unparalleled photography of internationally acclaimed wildlife photographer Michael Forsberg.
This educational children's book is also part love story and part coffee-table book. In fact, a tighter definition of the intended audience may have made the book even stronger. Both my son, now 12, and I agreed the book could have been written as three different books: a children's picture book, an educational story for older children and a photography book for adults. Instead, all three are merged into one book.
My son enjoyed the story and surprised me with his comment that the "brilliant photography really brought the story to life." Indeed, few people have captured the flight and life of the sandhill cranes like Forsberg. Kurrus's deft touch at pairing images and words is demonstrated on every page. If you have seen the cranes and tried to shoot your own photos, you should own this book simply to relive the experience via the vibrant photos from a true artist's lens.
In the story, John and Mary return to Nebraska—as they do each year—during their long journey after wintering in the south. They are separated when a predator appears and thousands of birds take flight. As John begins his relentless search for his mate, the reader learns about crane behavior, crane habitat and migratory habits. Kurrus's imagined crane dialogue rings true and is reminiscent of talking animal films that children love.
My son noted that the story was tinged with sadness as John flies to the power lines, where hundreds of cranes are killed each year, hoping not to find Mary there. The photo of a dead crane, though not gratuitous, was a bit startling and presents a stark contrast to an earlier page that employs a traditional picture-book counting technique: "He asked one deer. Next he asked two ducks. Finally he asked three whoopers." But this is just a slight blip in an earnest book that imparts societal lessons reminding readers of the uniqueness of each individual, as well as conservation lessons about the hardships humans cause other species.
Best of all, the book humanizes the sandhill cranes and makes their struggles and triumphs accessible to children. It also highlights the beauty of Nebraska and the Central Flyway, tempting those unfamiliar with the scenery and migration to get out an explore a portion of the state that—thanks to the cranes—takes center stage every late winter and early spring.
Before embarking, though, take time to read the introduction by Keanna Leonard of the Iain Nicolson Audubon Center at Rowe Sanctuary. It clarifies some of the technical birder language found in the text and provides context for adults, who may be learning about the cranes along with their children.
Then, go experience the real thing together.