By Julie Hagemeier and Ian Borden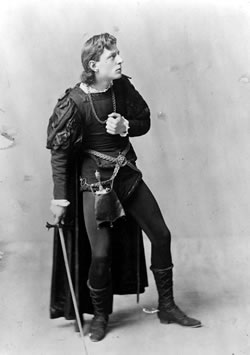 Have you ever been sitting in the audience of a play or film and wondered about how the actors can get kicked, take punches, swordfight and fall down stairs without getting injured? The answer to that is one word: training!
Actors of all ages, trained in the art of violence, learn to make those moments on stage seem real without really being punched or having a sword run through them. In February and March, the Johnny Carson School of Theatre and Film at the University of Nebraska-Lincoln will showcase its expertise in stage combat in its production of "The Three Musketeers" and through hosting the annual "The Lincoln Assassination" Stage Combat Workshop.
Ian Borden, director of the production and coordinator of the workshop, said, "Doing 'The Three Musketeers' is a perfect marriage of play and theater program because the Johnny Carson School of Theatre and Film is the only university in the country with three Certified Teachers of Stage Combat as part of its faculty. That makes us rare indeed. Many of our students are branching into careers depicting stage violence or doing stunts for movies and television. We also host the annual 'Lincoln Assassination' Stage Combat Workshop, which brings in additional instructors and students from across the country." One of those instructors is Fight Master David Boushey, who founded SAFD, the Society of American Fight Directors, an "internationally recognized nonprofit organization dedicated to promoting safety and fostering excellence in the art of stage combat." SAFD has sanctioned "The Lincoln Assassination."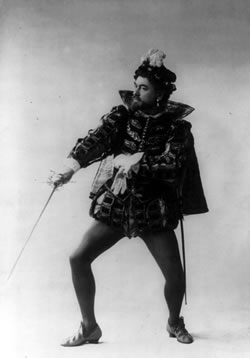 The SAFD makes Skills Proficiency Tests available on required techniques so that performers can become "certified" actor/combatants. This lets directors, choreographers and producers know that the actor has been "tested while performing a staged fight and … [has] performed the minimum required moves safely and with an element of theatrical commitment." This assists the actors in the casting process since directors and fight choreographers prefer to utilize people with a certain level of proficiency in stage combat. Performers are able to recertify and can also achieve the level of advanced actor/combatant. There is an additional training process for those who are interested in working toward a certification as a Teacher or Fight Director. Only SAFD Certified Teachers, Fight Directors and Fight Masters are allowed to train students in these skills proficiency tests.
Borden continued, "'The Three Musketeers' is, of course, filled with fighting, but stage combat is incredibly important to all aspects of theater. The base of every drama is some form of conflict, and violence is conflict in its purest form.
"We often forget that stage violence is more than sword fighting, but plays are filled with lots of smaller moments of violence. Knowing how to fall, punch, get kicked or pull hair is incredibly important in keeping the actors safe. Too often we hear of incidents on stage where somebody was injured doing something as simple as a slap, only to discover that the actors hadn't been trained and a specialist in Stage Combat hadn't been brought in to do the choreography.
"What these incidents highlight is that stage combat is a necessary aspect of theatrical craft, and when executed correctly, violence becomes art!"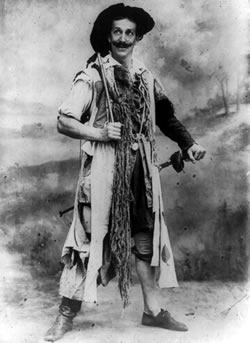 As Borden pointed out, the safety of the performer is first and foremost. Actors training in combat learn about zones or lines of attack, which make it seem real enough yet keeping the fist or weapon far enough away to achieve safety. They also learn the technique of "the knap," which is the sound you hear when (supposed) contact is made. They will also learn about "the attack," "the parry" and "the lunge," all moves in the sequence of the fight.
There are two areas of training, armed and unarmed. Armed combat training teaches skills in rapier, dagger, broadsword and quarterstaff ,to name a few. Some of the workshop titles from 2010's "Lincoln Assassination" were "The big blade! Broadsword," "Two Hands Full of Death!—the basics of fighting with rapier and dagger" and "Class 1: Bang! Bang! You're NOT dead!—techniques handling and firing revolvers and semiautomatics." Unarmed combat training teaches techniques in slaps, punches, kicks and falling, among other nonweapons skills.
"The Lincoln Assassination," March 24–25, with testing on March 26, is open to anyone who wishes training. Fee for the entire weekend is $100. For more information, go to carsonsschool.unl.edu and click on "Lincoln Assassination." Borden can be reached by email at iborden2[at]unl[dot]edu.
University of Nebraska-Lincoln actors will showcase their fight skills in the production of Ken Ludwig's adaptation of Alexandre Dumas' "The Three Musketeers," a fast-paced and witty adaptation of the timeless swashbuckling tale, rife with heroism, romance and adventure. During the audition process, potential cast members were required to create a short demonstration of their movement skills. Yes, even the women are required to have these skills. Dumas, himself a practicing fencer, wrote the 17th-century story of D'Artagnan and his travels to Paris to join the Musketeers in 1844. Celebrated contemporary playwright Ken Ludwig adapted the work in 2006 for The Bristol Old Vic Theatre in England.
Performances are Feb. 23–25, 29 and March 1–3 at 7:30 p.m. in the Howell Theatre, 12th and R streets. Tickets may be obtained by contacting the ticket office at the Lied Center for Performing Arts, (402) 472-4747 or online at unltheatretickets.com.
Photographs courtesy of Prints and Photographs Division, Library of Congress