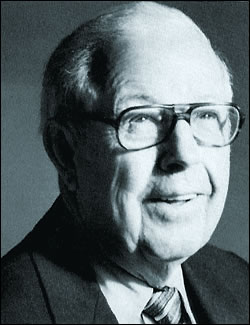 The Polk Progress was a Nebraska treasure that ceased publication in late 1989 after 82 years as a weekly newspaper. From 1955 until its last issue, the editor and publisher was the late Norris Alfred. In its last few months, the Progress had 900 subscribers in 45 states. Alfred was a remarkable Nebraskan with an uncanny eye for connecting the present with the future. Prairie Fire has collaborated with the Alfred family, the University of Nebraska School of Journalism and the Nebraska State Historical Society to locate and archive many of Norris's writings. We are capitalizing on our good fortune to present many of the Norris Alfred writings to our readership. We believe that his observations are as fresh and relevant to today's world as they were when originally written.
Unpublished Journal
Jan. 10, 1992
The weather is warmer and dryer—an open winter is how the winter of 1991–92 is being described, though there is still most of January and all of February and March before this winter can accurately be described as open. Most of the moisture, to date, has come as rain and welcomed. The big snows came the last of October and first of November. The Polkites figured on a closed winter. Predicting is a chancy occupation when it comes to weather and length of life. Predicting is a mental exercise to forego surprises. The only surprise from this mental exercise is the occasional accuracy of the prediction.
Grandma Blasé was a Polk resident who lived to be 90 and more years old before succumbing to the inevitable. During the last decade of her life, she would only subscribe to the weekly Polk Progress for six months instead of a full year, though it cost her a dollar more on a per-year basis. She didn't know whether she would live a full year. She was willing to risk continuing breathing for six months.
During what proved to be her final six months subscription, the accuracy of her prediction was a surprise to me. She died the same week her subscription did.
Unpublished Journal
Jan. 11, 1992
Temperature readings topped 50 degrees for a delightfully warm and calm, full of sunshine day. Predictions were for a change tomorrow. Lee Morris and I spent most of the day looking for birds and only found a few. I don't know how many miles we covered. We started out from the Morris farm, after a Shirley-cooked breakfast, and traveled part of the Platte River birding road; checked a section of a stream that flows from the fairgrounds at Central City, through the city and discovered most of it was dry. We were near Nebraska Christian High School when Lee saw the administration building, which has a church appearance. The building, in height and bulk, dominates the other buildings of the high school.
At one time it was the campus of Nebraska Central College where I attended, along with several other Polk High School graduates, for one year, 1932–33. We drove between Polk and Central City daily. The college courses must not have cost dearly because none of us had a surplus of cash. I think there were six of us who split the car expenses. I told Lee I had attended the college and even played college football, which was the prime reason I wanted to attend. I had regretted graduating from Polk High School in 1931 because I wouldn't be able to play football and basketball. Here was an opportunity to continue playing.
Lee couldn't believe it was a high school building and, perhaps, it houses church services on Sunday, since religion is stressed with the word "Christian" in the title. This was in protest to U.S. Supreme Court rulings declaring the practice of a specific religion or teaching of same in public, tax-supported schools is unconstitutional. Nebraska Christian High School is a private educational institution.
Lee and I didn't find any birds to list in Central City and we drove to Grand Island where his son, Steve, another bird-watcher, had reported seeing all four species of geese that migrate through or to Nebraska: Canadas, snows, blues and white-fronted. We only saw Canadas. Two immature bald eagles was the highlight of that trip. Steve's feeders hosted house finches.
I told Lee that the first of the sandhill cranes will be coming to Platte in about four weeks, and I plan more than one trip to see them this year. I now have time to do more bird-watching, if I can recover my energy and strength after this long spell of illness.