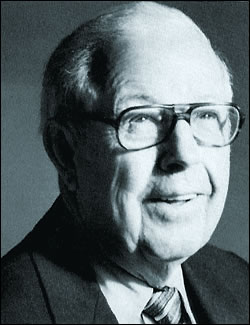 The Polk Progress was a Nebraska treasure that ceased publication in late 1989 after 82 years as a weekly newspaper. From 1955 until its last issue, the editor and publisher was the late Norris Alfred. In its last few months, the Progress had 900 subscribers in 45 states. Alfred was a remarkable Nebraskan with an uncanny eye for connecting the present with the future. Prairie Fire has collaborated with the Alfred family, the University of Nebraska School of Journalism and the Nebraska State Historical Society to locate and archive many of Norris's writings. We are capitalizing on our good fortune to present many of the Norris Alfred writings to our readership. We believe that his observations are as fresh and relevant to today's world as they were when originally written.
Unpublished Journal
Jan. 8, 1992
The weather has been stormy Jan. 7 and 8. Most of the moisture came as rain on the 7th. Today started out warm and then a north gale brought a sifting of snow and freezing temperature—a January thaw preceded a January freeze. Today is a day for staying inside and looking out. Inside the print shop the chores are now cleaning the presses, organizing material, ridding it of the remains of children's toys and sorting through adult's tools. Some of them are Linotype tools; others are for makeup and lock-up of forms to be printed. Tools are adult's toys. Barb cleaned until 2:30 in the afternoon and then asked what else she should do. I told her to go home and come back Friday, Jan. 10. The realization was beginning to hit me that these familiar machines and tools were once treasured as necessary 40 years ago and are now useless and worthless. But the tools: Hammond Glider Saw, paper cutter with a 30-inch blade (built in 1875), Mustang Mailer (a 19th-century contraption that still worked for addressing each week's issue), two metal ice cream parlor chairs with new seats installed by my brother Orrin, on one of his many trips to Polk to clean the Linotypes—a 1913 Model 5 and a 1927 Model 14 with auxiliary.
Memories and memories and memories; that's the insistent result of 30-plus years of weekly newspaper publishing and hilarious happenings recalled. Such as twin sisters celebrating their 80th (I think) birthdays. One of the twins would never declare her age. Her twin sister would. They had a joint celebration and, afterwards, separate parties. Both sent in write-ups of their separate parties. Edith, the one who preferred to be ageless, asked when she called to add more names to her story, and I told her her sister had mailed in a write-up of her party: "Did she tell her age" I said she hadn't. "I don't want my age known," Edith declared. The rumor was current that she had already installed a tombstone, where she will be interred, that doesn't date birth.
Unpublished Journal
Jan. 9, 1992
I didn't understand Edith's secretiveness about when she was born. I helped her more than once from her car to the post office door, understanding she was no longer young, and she always thanked me. I'm certain she understands her lack of immortality but continues to resist her transience, as another member of her peer group, John Ed Carlson, did, until death ended all doubt about what happens to life.
John Ed Carlson was a bachelor farm owner. He owned several farms that he rented and was rumored to be wealthy, and that wealth may have prompted the conviction he was too rich to die. I just don't know all the details. There are many examples of wealth destroying our humanity.
John Ed became ill. A doctor examined him and immediately put him in the hospital. John Ed told a brother, Andy, who visited him, that it was a waste of money to be in the hospital. He had no intentions of dying. Andy said, "John, you're a tough one. You'll live to be a hundred." John Ed was figuring on a longer life than that.
Andy left, telling John Ed, "I'll be back tomorrow." That night John Ed died. The next morning, when Andy learned of the death, he reacted with: "I just visited him yesterday. His death sure surprised me. I'll bet it surprised John, too."