USDA Rural Development is a relatively small agency within the Department of Agriculture and of the federal government. But its impact on rural America is mighty. Since Nebraska Rural Development became a separate agency in 1996, nearly $2 billion has been invested in the rural communities, businesses and families in this state.
The Department of Agriculture was reorganized under the Federal Crop Insurance Reform and Department of Agriculture Reorganization Act of 1994. Under that Act, USDA Rural Development was created to administer the former Farmers Home Administration's nonfarm financial programs for rural housing, community facilities, water and waste disposal and rural businesses. The former Rural Electrification Administration's utility programs were also consolidated within Rural Development.
Today, Rural Development is the venture capitalist for rural America, built on the legacy of the Depression-era agencies begun 70 years ago. We are helping to develop the technological infrastructure that will enable rural America to compete in the 21st century domestically and globally. We are committed to helping improve the economy and quality of life in rural America. Rural Development has a national $86 billion dollar loan portfolio, and we will administer nearly $16 billion in program loans, loan guarantees and grants through our programs.
These dollars have produced homeowners, facilities that enrich rural communities, safe and clean water and wastewater infrastructure and business creation, expansion, construction and refinancing.
USDA Rural Development creates and sustains job opportunities and supports entrepreneurs from the micro-enterprise level to large-scale manufacturing and biorefineries so those who live in rural communities don't have to commute to larger cities in order to support their families and pay their mortgages.
Many ask the question, what is rural? For most of our programs, "rural" is communities with populations of 20,000 and under but includes Columbus and Norfolk. For our business programs the population goes up to 50,000.
Building from the Ground Up
We like to say that our Rural Development programs help build communities from the ground up. A great illustration of how Rural Development can help build and revitalize a community lies in Pawnee City, in southeast Nebraska. USDA Rural Development has invested nearly $10 million over the years for a myriad of projects. 
More than $4 million was invested in a wastewater mechanical treatment plant that brought the system into compliance with state regulatory guidelines. And more than $2.9 million upgraded the city's municipal water system that serves more than 1,000 residents, guaranteeing a continuous supply of safe, clean drinking water to the rural residents.
The Pawnee County Rural Water District (RWD) No. 1 received nearly $1.6 million that allowed for the continued delivery of potable water to the residents through the development of two new wells, new water transmission mains and other distribution improvements.
Nearly $1 million was provided to the Pawnee County Memorial Hospital to renovate the hospital and to develop a new medical clinic, bringing greater health services to Pawnee City and the surrounding areas.
The Pawnee City Historical Society and Museum, Inc. utilized a Rural Development $9,000 grant to assist in the construction of a facility to display their historical resources.
And residents of Pawnee City and its surrounding rural area are eligible for the housing loans and loan guarantees that allow potential homeowners to purchase housing with no down payment and up to 100 percent financing.
A 10-bin recycling trailer was purchased with the assistance of USDA Rural Development funds of $8,000, leveraged with $6,555 from the City. The $14,555 recycling trailer has established a stable, sustainable recycling connection for all the citizens. This was a community effort that heavily involved the city staff and the Pawnee City Student Council leaders. It shows what a close-knit community can accomplish.
Pawnee City Mayor Duane Westing said, "This is like a dream come true. The recycling trailer is something we have been working on for at least two years. Some of the youth who first started this in motion have graduated, but others have continued to pursue this green dream. We are excited that this joint effort between our city and school and Rural Development has become a reality."
The most recent major project was the nearly $890,000 Pawnee City Public Library that serves more than 1,000 rural residents. The Pawnee City Public Library Foundation utilized an American Recovery and Reinvestment Act (ARRA) Rural Development loan of $160,000 and a $172,000 ARRA grant to assist in purchasing the land that is home to the new library. Funding also was used for associated construction costs, costs for plans and design, construction engineering and legal fees.
The library brought not only the space needed to fulfill the needs of the patrons of the library but also brought the needed technology of this era. Pawnee City's young people were actively involved in this project, too. They helped form a line stretching from the old Carnegie Library to the new, passing books along to stack on the shelves of the new facility. They participated in the ribbon-cutting ceremonies in late August, providing music and plenty of cheers for their bright new library.
Partnering with other funding sources also helps Rural Development expand the scope of the projects it can help. The Pawnee City Library Foundation contributed $203,000, and another $350,000 was obtained from a Community Development Block Grant, a U.S. Housing and Urban Development program administered by the Nebraska Department of Economic Development.
Vice President of the Pawnee City Library Foundation Dorothy Willis said, "The Library Foundation is grateful to its partners in helping fund our wonderful new library. A good library is a central part of a vital community and we are excited about the potential for Pawnee City."
Helping Businesses Weather the Recession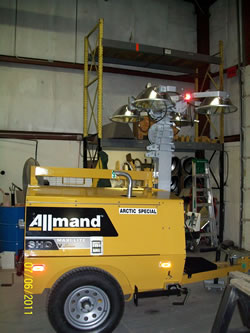 The recession has devastated some of America's rural communities, with jobless rates reaching well above 25 percent in the hardest-hit parts of the country. Nebraska hasn't been as devastated as some because of a robust agricultural economy and manufacturers who have weathered the storm with innovative marketing and product development.
A good example is Allmand Brothers, Inc., of Holdrege, in south-central Nebraska, a leading manufacturer of a wide variety of portable light towers and stands, jobsite heaters and compact tractor loader backhoes.
International sales are a significant part of this company, established in 1938, and accounted for 35–40 percent of its business. The downturn in the economy had noticeably affected sales in 2009, following the trend for manufacturing companies nationwide. Allmand Brothers started implementing a strategic plan that would allow it to operate more efficiently and effectively.
One strategy involved restructuring existing debt in order to increase cash flow. At the time of the USDA Rural Development funding request, the workforce had been reduced to 120 employees. USDA Rural Development was able to assist with a $7 million guaranteed loan through its Business and Industry Guaranteed Loan Program. The 90 percent guarantee was made available through American Recovery and Reinvestment Act (ARRA) funds to the Bruning State Bank of Holdrege. The guaranteed loan restructured the debt by providing extended terms to fit the business's financing needs, improving cash flow and reducing interest payments by half.
The restructuring has allowed Allmand Brothers, Inc. to increase cash flow, and it now has a total of 218 employees. The company continues to be one of the largest employers in Holdrege and offers competitive wages and full benefit packages to its employees. Allmand Brothers, Inc. also added new equipment to its production line, allowing it to bring back previously outsourced jobs and to increase its bottom line. Allmand Brothers now has international sales at 15 percent because its domestic sales have increased substantially. The company will continue its strategy of developing its domestic sales model after its very successful international sales model.
Allmand Bros, Inc. saw the downturn in the economy as an opportunity to reevaluate its business and sought input from employees in determining its long-term strategies. It has been a "team" effort and the company is seeing the success of its strategic changes.
White House Business Council Focuses on Economic Benefit
Economic development in rural areas faces a complex set of problems, including lack of access to small-business loans, local banks struggling to comply with federal regulations and a relatively high cost to bring telecommunications infrastructure up to modern urban standards, according to Dallas Tonsager, undersecretary for Rural Development for the USDA. He has been meeting with small-business leaders from rural America to gather input on how the Obama administration can work with businesses and community leaders to improve rural economic conditions and create jobs.
The White House Business Council's goal is to develop a strategy to make sure federal investment in rural communities provides the maximum possible economic benefit. In the last three years Nebraska Rural Development has invested about $779 million, including nearly $320 million in mortgage loans and loan guarantees.
In addition, Rural Development also invested more than $110.1 million to rural Nebraska communities to help fund the construction of several hospitals, health care clinics and other community facilities. Much of that money came from one-time federal economic stimulus funds.
The nearly $2 billion that has been invested in rural Nebraska since 1996 has largely been in the form of loans and loan guarantees to housing and community facilities that have a long, useful life, sometimes as long as 40 years. Nebraska Rural Development currently has a portfolio under management of about $1.025 billion, with just 67 full-time equivalent employees to oversee that investment.
With an expected 10 to 15 percent reduction in USDA administrative support funds and staff for the coming year, USDA Rural Development will have to figure out how to do more with less.
But we expect that our funding will actually increase for community facilities and for our rural housing loan guarantee program. And that's good news for rural Nebraska, its communities, businesses and residents.