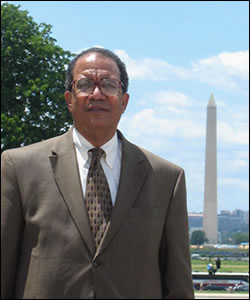 "Sonny's Corner" is a regular column in Prairie Fire, featuring commentary on civil rights and justice issues. Our friend and Omaha colleague, Joseph P. "Sonny" Foster, died suddenly at age 54 in August 2005. He left an uncompleted agenda, as did many of our civil rights and justice mentors and heroes. We shall attempt to move forward on that unfinished agenda through this column.
I recently thought about Grace Abbott's progressive legacy, especially for immigrants to the United States, when a young black man approached me in a Lincoln, Neb. library this fall and asked if he could use my cell phone. He wasn't able to get a connection in the library on his, and so I dialed the number and handed him my BlackBerry. He spoke to his friend in an unfamiliar language, and when he handed back my phone, I asked what language he has been speaking.
He replied "Dinka," and added that he was originally from southern Sudan. While images played in my mind of the horrors he must have faced if he were one of "the lost boys," we talked about his experiences here during the 10 years he had lived in the U.S. A graduate in history and political science from the University of Nebraska-Kearney after first attending Southeast Community College, he spoke proudly of his job with Lincoln Literacy, driving its van to bring families to their classes. I complimented him on his English and asked him if he had ever thought about high school teaching, thinking that he would be an extraordinary role model in Lincoln's increasingly diverse public schools. He smiled and said that he wasn't sure if he would be a good teacher and that to do so would require that he go back to school again when he needed to earn some money.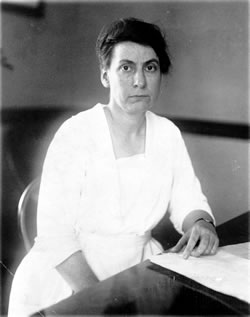 After talking with Boniface (saint, he explained; pope, I added), I decided that he was what Grace Abbott had in mind when, nearly a century ago, she spoke of immigrants "enriching our national life."
Grace Abbott was chief of the U.S. Children's Bureau under four presidents, two Republicans and two Democrats, from 1921–34; before that she was the inaugural director of the Immigrants' Protective League from 1908–17. She was the first American to be sent to represent the U.S. at a committee of the League of Nations (Advisory Commission on Traffic in Women and Children) in 1922. She was the first woman in American history to be nominated for a presidential cabinet post, although she wasn't appointed. She was a member of FDR's Council on Economic Security in the early 1930s, where she was instrumental in developing the first Social Security legislation.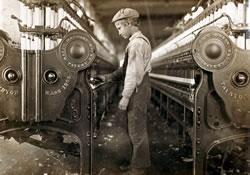 Grace Abbott's social activism and her political involvement were nurtured while growing up in Grand Island. Her mother, Elizabeth, was a Quaker whose family had been active during the abolitionist movement in Illinois—their home had been part of the Underground Railroad. In Nebraska, Elizabeth Abbott was involved in the women's suffrage movement, and Susan B. Anthony stayed in their home during the Nebraska campaign for the vote. Grace Abbott's father, O. A. Abbott, was the first attorney in Hall County, active in the state Republican Party and Nebraska's first lieutenant governor, elected in 1877.
After teaching in Broken Bow and Grand Island and studying at the University of Nebraska, in 1907 Grace Abbott followed her sister Edith to the University of Chicago for graduate study. Edith, who had taken a Ph.D. in economics from the U of C and studied at Oxford University, founded the University of Chicago's renowned School of Social Service Administration, which produced much of the research that informed the work of Hull House and other national reform efforts. Edith Abbott became the first woman dean of a graduate college at a major university at Chicago. Both sisters were part of the extraordinary group of reformers that Jane Addams pulled together at Hull House in Chicago, as it became a national leader in social reform for children, immigrants, urban poor and women. It was from Hull House that Grace Abbott was to begin her work on behalf of immigrants and children.
About the time that Grace Abbott arrived in Chicago, a wave of new immigrants was flooding the city. A quarter-century earlier, three out of every four immigrants had come from northern and western Europe—German, Irish and Scandinavian. But by the turn of the century, more than half were coming from southern and eastern Europe—they were Slavic, Italian, Jewish, Hungarian, Greek. They looked different, and their languages and customs were strange. As Chicago grew rapidly and became heavily industrialized, the new immigrants were blamed for many of the city's social ills—urban crowding and conflict, poverty and crime, vice and political corruption.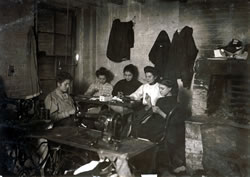 In 1908, Jane Addams recruited Grace Abbott to head up a new organization to respond to "the immigrant problem" in Chicago: the Immigrants' Protective League. Its purpose was to identify and then counteract the conditions that got immigrants into serious problems.
Abbot developed a strategy to both protect and provide direct services for individual immigrants and families who were in trouble, and then use the courts, government regulatory authority and other state and city entities to change the conditions creating the problems. To do this, she tried to identify the immediate problems that seemed to promise the best possibilities for changing the external conditions that created difficulties for immigrants.
One example of how this strategy worked was banking. Many immigrants were often victims of unchartered "immigrant banks." With no regulation of private banking in Illinois, anyone could set himself up as a banker and receive money from immigrants for safekeeping or for transmission abroad to their families. Legitimate, established banks often didn't have clerks who could speak the native languages of the new immigrants, and conventional banking hours made it inconvenient or impossible for immigrants who worked long hours to do their banking in trustworthy institutions. Some of the immigrant banks were honest and were responding to a need that established banks could not or would not meet. But many unscrupulous private banks exploited the foreigner by failing to transmit the money abroad, charging excessive fees or stealing the immigrant's savings.
On an individual level, the Immigrants' Protective League sometimes was successful in retrieving an immigrant's savings. But it was very difficult to prosecute fraud in transmission of funds to a foreign country because the witnesses to the fraud were in "the old country" and the Illinois courts would not accept as evidence cables or affidavits sent from outside the United States. To address this, Hull House set up its own postal substation so that immigrants could send home their hard-earned money and know that it would get there.
To change the external conditions, however, immigrants needed reform in banking laws. In 1913 Grace Abbott presented a report to the Illinois Bankers' Association that recommended the regulation of all private banks as well as the licensing and inspection of all agents in the foreign exchange business. The Bankers' Association in Chicago accepted her recommendations, but the membership of the more conservative statewide association voted against any kind of regulation. Even the failure of a large number of private banks two years later (some of whose depositors were native-born Americans) failed to get the state legislature to take action. Exploitation continued to be a problem. Finally, a new banking law passed by the Illinois legislature in 1917 contained some of the provisions suggested by the league, especially those relating to safeguarding money sent abroad.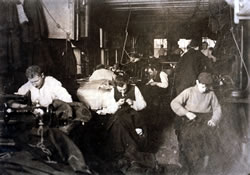 Grace Abbott believed that she would be much more effective if she saw the problem at its source by understanding the immigrants' life in their native land. In 1911 the league granted her a three-month leave of absence to visit the countries of origin for most of the new immigrants in Chicago. She spent most of her time in the Austro-Hungarian Empire visiting labor exchanges, factories, schools, churches, hospitals, prisons and reform schools in cities and remote villages.
She returned convinced that poverty and class structure made "peasants into immigrants" and came to realize in a new way what powerful demands the immigrants encountered when they left their villages of Central Europe and entered the teeming industrial confusion of Chicago. In an effort to survive, many of their values had to be discarded for a new form of American behavior that had no counterpart in the simpler environment of their native land.
Her visit to Europe also gave Grace Abbott an admiration for the strength of the people she met. Upon her return she told the league's board members:
I felt as I went about in Austria and Hungary and saw so much in the national habits and institutions to admire that we must insist that the Hungarian, Bohemian, Pole or Croatian American is not doing his duty to America unless he makes a Bohemian, Polish, or Hungarian contribution to American life… A great means of enriching our national life is lost if we give those who are coming from the various nations of Europe the impression that we desire to neglect all but the Anglo-Saxon element in our population. (Lela Costin, "Two Sisters for Social Justice: A Biography of Grace and Edith Abbott," University of Illinois Press, 1983, pp. 83–84h)
Abbott came to believe that the international nature of American society created by its immigrant population positioned the United States to take a new leadership in addressing the world's problems. As hyper-nationalism gripped the west and the U.S. entered World War I in 1917 (Abbott was opposed to U.S. involvement), she envisioned her country's potential for "a national life which is founded on democratic internationalism." Sounding very much like contemporary 21st-century global thinkers, she believed that the U.S. could:
use both at home and in our international relationship the possibilities which are ours because we are of so many races and are related, by the closest of ties, to all the world… As never before we are realizing the international aspects of what have seemed to be merely national or local problems. It remains to be seen whether we will use our national international resources in their solution. (John Sorensen and Judith Sealander, eds., "The Grace Abbott Reader," University of Nebraska Press, p. 24)
This was a radical departure from the American norm. A major thrust of public education was to "Americanize" immigrant children, and most Americans didn't think that the new immigrants would enrich American life. U.S. Senator Henry Cabot Lodge, for example, argued that the new immigrants threatened "a great and perilous change in the very fabric of our race." Cabot proposed a literacy test to keep the new immigrants out. In 1912 Abbott went to Washington and testified before the House Committee on Immigration and Naturalization regarding further restriction of immigration. Congress subsequently enacted a literacy test, but President Taft, a Republican, vetoed it. According to Julius Rosenwald, founder of Sears Roebuck and a friend of the president, it was Grace Abbott's testimony that persuaded Taft to veto the literacy restriction.
The push for the literacy test as a means to restrict undesirables' immigration continued, and Abbott would return to Washington to fight it. In 1914 Congress passed it again, and President Wilson, a Democrat, vetoed it. Finally in 1917 Congress passed it, and although Wilson again vetoed it, there were enough votes for an override and a test of literacy for immigrants' entry into the United States became law. The nationalism occasioned by the U.S. entry into World War I had eroded concern for immigrants, and the protest against the new law was minimal.
The beginning of World War I in Europe brought immigration to the U.S. almost to a halt, and the jingoism developing in the country even before America got into the conflict meant that the financial support for the Immigrants' Protective League (which had always functioned on a hand-to-mouth basis) also declined. When Julia Lathrop, head of the U.S. Children's Bureau, recruited Abbott to come to Washington in 1916 to administer the first federal child-labor law, the league granted her a leave to take the new appointment, and a new national phase of Grace Abbott's work began.
The second part of this article, "Grace Abbott as Progressive Crusader for America's Children," will be in the January 2012 issue of Prairie Fire.
Images courtesy of Prints and Photographs Division, Library of Congress.