Between August 2010 and August 2011, the Joslyn Institute for Sustainable Communities staged four community conversation conferences on "Nebraska's Environment and Sustainability (CCNES)." With the assistance and partnership of Creighton University, the University of Nebraska-Lincoln, Central Community College, and Western Community College, the conference venues were Omaha, Lincoln, Grand Island and Scottsbluff. More than 600 Nebraskans participated in the CCNES, either in personal conversations at the four sites or in the online pre- and post-electronic conversations. Each conference focused on facilitated discussions of five essential Nebraska resources: Food, Water, Energy, Materials and Land.
The CCNES events were designed to foster lively conversations in which people are compelled to speak up and listen well as they engage with one another to expand understanding, examine assumptions, explore new thinking and generate innovative ideas for solutions and focused action. Drawing from open-space technology approaches, participants were invited to create their own agendas within parameters of stated meeting purpose and navigation guidelines.
Over the next three months, Prairie Fire will publish a series of three reports on "what we heard" and how these opinions and conversations may affect the future of Nebraska. This first report will cover conversations on Water and Food, the second on Energy and Materials and the third on Land and Policy Recommendations.
Water
Background to the Conversation on Water
Water is essential to the sustainability of all life on the planet. Without access to a sufficient supply of clean water, human civilization and even human life itself is impossible. Human activity in Nebraska relies on a combination of surface- and groundwater sources. Surface water is obtained from nine major watersheds in Nebraska, while the High Plains (Ogallala) Aquifer serves as the source for an estimated 2.145 billion acre-feet of water, the second largest source of potable water on Earth.
Water use in Nebraska grew substantially from 1990 to 2005. In 1990 8,940 million gallons per day (mgd) were withdrawn from surface- and groundwater sources in Nebraska. Of that total, roughly 54 percent was from groundwater sources. Over the next 15 years, the amount of water use would increase, as would the percentage of that water supplied by Nebraska's groundwater resources. In 1995 59 percent of 10,500 mgd was obtained from groundwater. By 2000 the total water use had risen to 12,300 mgd and 62.4 percent of that was provided by groundwater sources. In 2005 total water use had climbed slightly to 12,600 mgd and the percentage of that provided by groundwater had fallen slightly to 61.2 percent.
In 2000 roughly 78 percent of all water withdrawn for use in Nebraska was used for groundwater irrigation. Another 14.5 percent was used for surface-water irrigation. Water used for industry, public supply, mining and livestock made up less than 8 percent of all the water used in Nebraska. By 2005 81 percent of water withdrawn for use in Nebraska was used for groundwater irrigation. Surface-water irrigation had dropped to 13 percent of the total. All other uses combined accounted for roughly 6 percent of the water used in Nebraska in 2005.
By 2003 the total available groundwater in the Nebraska portion of the High Plains Aquifer had been reduced by only 11.4 million acre-feet, or slightly more than half of 1 percent of the total amount. However, the declines are not uniform. Some areas have seen little or no decline in the depth to the water table, while others, in Box Butte County, for example, have seen declines of 40 to 50 feet.
Summary of the Conversations on Water
The conversations on water left a lasting impression on CCNES participants, given that they learned, in the course of their conversations, that understanding water (groundwater, surface water, water rights and trusts, the economics of water, water quality and water law) in the state of Nebraska requires persistence and patience. As participants discovered, a commitment to understanding our water resources would require a series of lessons in the sciences. In the CCNES conversations, participants demonstrated some understanding and clarity on the basics in this regard. What surprised participants and presented the most significant challenge for understanding water in Nebraska was the complex web of regulatory agencies whose primary work is to address water issues. The number of state and federal agencies charged with the task of water testing, water measurement and enforcement of water policy is staggering and complicated.
As the conversations demonstrated, issues related to water require understanding the roles such agencies play in protecting water resources in Nebraska. Participants in the CCNES would repeatedly confer with our water resource specialists to clarify how and when water policies are put into practice and enforced. In short, an overarching theme of the conversations on water was the repeated attempt to clarify who is responsible for what and to what extent do agencies coordinate their efforts. This theme accompanied the typical discussions of quality and quantity, but the conversations afforded an opportunity to get beyond oversimplification and explore the vast array of ways in which water is measured and managed, used and conserved, sourced and sold, tested and treated.
Perhaps from the perspective of water scientists, policy makers and lawyers, the system of agencies working on water issues is complex but, ultimately, understandable. However, from the perspective of the average Nebraskan, or at least the Nebraskans who attended the CCNES, the likelihood of Nebraskans influencing water policy remains low because the learning curve for understanding water issues is so steep and the sources and types of information on water are so numerous.
Water Conversation Themes
Relationship of Ground Water and Surface Water Challenges
Participants began to appreciate the complex relationship of groundwater and surface-water challenges in Nebraska, e.g, the contrasting levels of annual precipitation averages ranging from 30 inches in eastern Nebraska regions to 12 inches in the Panhandle regions, and the flow of water in rivers and streams in the central and eastern regions fed by the snowpack of the Rocky Mountains of Colorado and Wyoming.
As crop irrigation needs for water continue to grow, understanding the science of the relationship between ground- and surface-water supplies and use is a growing sustainability concern, e.g., while laws are in place to govern the connection between the two, implementing the laws is proving to be a challenge for state and local authorities, given the complexity of understanding the science and history by legislators and enforcement bodies in relation to the demands for water among farmers, ranchers and municipalities.
What state/local policy changes and voluntary responsibility/participation changes need to occur for Nebraska residents to better understand—and respond—to water quantity and quality concerns related to the connection between groundwater and surface water use?
For example:
Development of a statewide water plan to guide the understanding of relationships between ground- and surface-water challenges. The need to outline criteria of use and conservation, and the definition of authority and decisions to manage practices that will conserve and sustain critical water resources for production, growth and development
Continued science to advance scientific understanding and recommended practices
Translation of science to laymen terms for common understanding among water users and water-use policy makers
Continue to offer forums for educating the public
Institution of and upholding existing policies that restrict irrigation and well drilling to match recharge capabilities
Continue to meter and enforce regulation while monitoring regulation adequacy
Water Costs/Quality/Contamination
Participants explored issues of water quality, recognizing for the most part that they enjoy abundant, low-cost, uncontaminated water. However, some participants raised questions about each issue, e.g., to what extent does the use of chemicals in pesticides and nitrates in fertilizer threaten water quality and availability for drinking? At what point does the cost of treating contaminated water for public consumption become an unsustainable expenditure? Why is water considered "free" to agricultural uses? Are policies in place to sustain water quality in our state?
Many participants also noted that the growing debate regarding the XL Pipeline routed through the Ogallala Aquifer suggests a growing public awareness of, and concern for, the need to protect and sustain the quality of water of the aquifer upon which the Nebraska economy relies. Though some geologists and others in the conversations who were more knowledgeable than most about the potential for leakage were not convinced it is a major problem.
What state/local policy changes and voluntary responsibility/participation changes need to occur for Nebraska residents to conserve water quality?
Policy to restrict chemical use by farmers
Education of public needed to better understand water quality issues in Nebraska—including natural muddying of water during floods and summer algae in eastern Nebraska lakes impacting wildlife
Public, and legislative, opposition to proposed XL Pipeline route
Water Use/Conservation
In addition to irrigation use and recharging concerns, participants examined their own water-use practices. They recognized that, as stewards of Nebraska's unique water resources, they hold responsibility for limiting their personal use of water, including private lawn irrigation and fertilizing, as well as other home practices that may use greater amounts of water than necessary. They also discussed concerns with the quantity of water required for agricultural irrigation, the making of ethanol and engagement in fracking practices (hydraulic fracturing, the practice of pumping high-pressure water into natural gas reserves deep underground to break up the rock, needed to access the gas).
What state/local policy changes and voluntary responsibility/participation changes need to occur for Nebraska residents to conserve water use?
Given the economic implications of the ethanol and fracking industries, participants questioned the likelihood of water-use policy restrictions in these cases
Many committed to actions to reduce personal consumption of water and suggested policy makers consider additional policy restrictions
Promotion of water conservation education is encouraged, e.g., University of Nebraska-Lincoln and Project WET (Worldwide Water Education) workbook, "Discover the Waters of Nebraska," developed for students in grades four to six (information at http://ianrnews.unl .edu/static/1101190.shtml) and materials from the Groundwater Foundation.
Flooding
Participants became more aware of flooding issues related to the Platte River Basin and the extent to which farming and development narrows the channel of the historically wide and shallow river, making it more susceptible to flooding during times of Rocky Mountain snowmelt and significant precipitation. Spring 2011 events and discussions around the flooding on the Missouri River have also heightened awareness of the potential "natural" hazards associated with climate change and some of man's futile efforts to control watersheds and rivers.
Intentional Recharge and Flood Control Projects
Participants also explored the impact of Intentional Recharge Projects, instituted in the early 1900s, on surface-water irrigation supply and flood control. There is more to be said about this; however, suffice it to say that these discussions resulted in full appreciation of the complexity of long-term water management practices and their impacts on landowners, communities, economic development plans and all living ecosystems.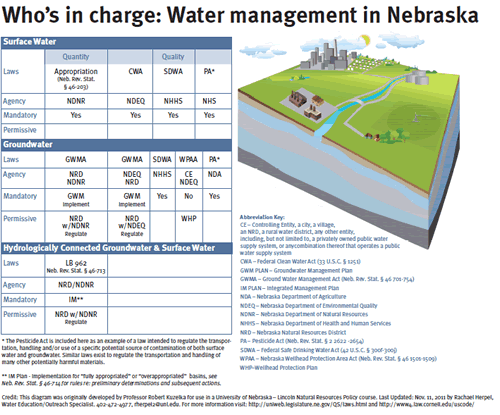 Food
Background to the Conversation on Food
Agriculture is the overwhelmingly dominant use of the Nebraska landscape. Ninety-three percent of Nebraska's land area, or roughly 45 million acres, is used for agriculture. Nearly 23 million acres are used for range and pastureland, while over 21 million acres are in cropland. Nebraska ranks first in the United States in the commercial red meat production with over 7 billion pounds produced in 2009. It ranks first in acres of irrigated land, over 8.5 million in 2007, second in pinto bean and proso millet production and third in corn production. Cash receipts from Nebraska's farms totaled more than $17 billion in 2008. Agricultural exports from Nebraska totaled nearly $6 billion in 2000. Agriculture not only has a huge impact on Nebraska's landscape but on its economy as well.
Alternative agriculture practices are a small but growing part of Nebraska's agricultural landscape. In 2002 there were 105 farms and 26,668 acres of certified organic agricultural land in Nebraska. By 2008 there were 162 certified organic farms with slightly more than 146,000 acres of certified organic agricultural land. Of that amount, approximately 76,000 acres were in cropland and 70,000 acres were in pasture and rangeland. In 2008 organic product sales in Nebraska totaled $48.6 million.
Summary of Conversations on Food and Food Systems
The conversations on food can be understood in terms of the tensions between the capacity to produce the quantity of food necessary for a given market (local or global) and quality, the desire to improve the quality of food produced in terms of nutritional value, as well as desirability with minimal environmental impact. The tension between capacity and quality was evident in conversations, for example, that juxtapose Nebraska's agrarian roots with dissatisfaction in the challenges posed by commodity crop farming practices, especially among urban participants.
Nebraska citizens lament the lack of community-wide access to locally grown produce even in the face of difficult questions about how such produce could be produced for the numbers of citizens that live in the cities. A call for more opportunities for small-scale producers combined with the development of local and regional distribution systems was a constant theme of the CCNES, especially in the larger communities.
Advocacy for these improvements was met with reasonable questions about feasibility and economic viability. In rural/agrarian circumstances, farmers and ranchers pressed the position that larger-scale production and already existing large-scale distribution systems provide the most promising opportunity for economic viability.
Even when consensus was established about the need to produce local, fresh, organic food, the realities and constraints of contemporary production policies, federal policies and nationally and internationally based food distribution systems presented the participants with difficult challenges for putting more sustainable practices into place.
Food Conversation Themes
Food Transportation
Participants noted that food travels an average of 1,500 miles to get to our plates here in Nebraska. They asked: "Does this make sense, given that food production occurs right here in our region and often locally grown products are shipped out to return to local markets?"
Participants explored energy costs (dollars, energy consumption and carbon dioxide emissions) for local transportation compared to the long-haul transportation to processing and distribution centers and back to our local grocery stores. They wondered: "Are the environmental costs reflected in the prices we pay for processed, shipped food we buy in the supermarkets? As food consumers, do we ask ourselves about supporting local growers, seeking optimal nutrition for dollars spent and sustainable impact of our choices—or do we just continue shopping and eating the way we do because it is easier?" Some noted that many industries have vested interests in maintaining the status quo, from transportation companies to food processors to supermarket chains.
What state/local policy changes and voluntary responsibility/participation changes need to occur to begin to shift out-of-state transportation practices – that still make economic sense to NE food producers?
Education regarding the net energy costs of food industry practices requiring long-haul transportation
Policy changes that would equate subsidies (as long as subsidies continue to exist) to local organic producers on equity with commodity producers
Require definitive labeling for production locations
Local Private, Community and Urban Gardening/Farming Enterprises
Participants explored interest/value and dilemmas associated with local private, community and urban gardening/farming. They noted a significant increase of farmer's markets, in season, throughout the state.
Interest/values include:
Immediate economic support of local growers
Nutritional value of consuming unprocessed food
Health value of consuming food free of pesticides
Buyers (and producers) learning to preserve produce for year-round consumption
Teaching children "where food comes from" and the skills of gardening
Generating interest in nutritional food consumption, thereby reducing trend of childhood obesity
Local grocery stores that are buying/selling locally grown produce
Local restaurants that are creating menus around locally produced/acquired food
Building interest and demand for local produce that will contribute to the long-term economic viability for local food production/markets
Dilemmas include:
Labor/time intensive work needed to maintain/sustain local produce gardens/farms
Availability of land, and production methods, for community/urban gardens and year-round farms
Sustained economic viability of local food production sufficient to provide livable wage/family incomes versus voluntary community service or supplemental incomes at best
What state/local policy changes and voluntary responsibility/participation changes need to occur to begin to shift locally grown food consumption practices needed to support local growers?
GMOs
Genetically engineered seed is a proven way to increase production. For example, pre-engineered "Roundup Ready" seeds used for high-production, minimal-tilled yields make short-term economic sense for commodity farmers. Yet, participants wondered: "What are the long-term effects of genetically modified seeds from a sustainability perspective?" The answers are inconclusive; however, industries selling the seeds continue to sell their optimum yield promises and tie producers to strict use and patent contracts.
Food Commodity Farming
Conversations about food commodity farming generated, perhaps, the most unanswered questions in the food resource conversations, though conversation participants included ranchers and farmers, as well as small town and mid-to-large urban community dwellers.
Participants noted that the current farm economy system is highly subsidized; some advocated for more transparency in commodity food production economics and practices. Others noted that "bankers understand corn, beans and cattle." Financing viability mandates optimal production per acre, which encourages use of potentially harmful pesticides and herbicides. Further, participants claimed it is difficult to get financing for new and different crops given that there is no track record of economic success in Nebraska.
What state/local policy changes and voluntary responsibility/participation changes need to occur to begin to shift the commodity farming practices to become more sustainable?
Some participants noted "big ag" is becoming defensive and is resistant to government telling them what to do (i.e., changes in policy)
Others noted that "government support programs for commodity farmers need to change" (though they didn't indicate exactly how)
Nebraskans are very aware of the commitment this state makes to commodities food production, of the valuable role Nebraska's farmers and ranchers play in feeding the country and the world, and of the cultural importance agriculture holds to all citizens of the state. The challenge that faces all of us is finding ways to increase opportunities for local production, for strengthening regional distribution and minimizing energy consumption and other environmental consequences so that Nebraskans can more easily sell food to Nebraskans, while also continue to support one of the critical economic pillars of the state, agriculture.
Clearly everyone understands the extent to which agribusiness is the lifeblood of the Nebraska economy; large-scale production of grains and livestock in Nebraska contributes to the global food supply. Landowners are seen to have the right to produce and distribute their crops within the established methods and (economic) systems that prevail. Nonetheless, participants asked themselves and each other: "Are those methods and systems sustainable? Do they provide the best nutritional quality of food possible in the national and international marketplaces? What are the local environmental and community costs of commodity farming? Can the agribusiness economy be sustained if commodity farmers/ranchers and processors take environmental, water and energy costs into account?"
The CCNES Conversation Forum is still available on the web at www.conversations.nslw.org. Please log on to add your voice to the conversation about Nebraska's future.
The CCNES conferences were sponsored by the Nebraska Environmental Trust Fund, the Nebraska Investment Finance Authority, the Nebraska Department of Environmental Quality, the Lincoln Electric System and the Nebraska Humanities Council. Assistance with the writing of this article has been generously provided by JISC staff Katie Torpy and Diane Wanek, conference facilitators Mary Ferdig and Jay Leighter and resource specialists Nathan Morgan, James Goeke, Dan Snow and James Crandall.