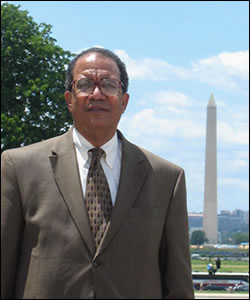 "Sonny's Corner" is a regular column in Prairie Fire, featuring commentary on civil rights and justice issues. Our friend and Omaha colleague, Joseph P. "Sonny" Foster, died suddenly at age 54 in August 2005. He left an uncompleted agenda, as did many of our civil rights and justice mentors and heroes. We shall attempt to move forward on that unfinished agenda through this column.
I would like to share the story of Wilda Chue Stephenson, who passed away at the age of 86. As I am getting older—past 55 years old—I am starting to read the obituaries. Wilda was a wonderful woman who engaged in many conversations with me about the struggles that she experienced as an African-American living in Omaha. Decades ago I was involved in anti-apartheid work against the government of South Africa. There was this South African Episcopalian minister, Sipo E. Mzimela, who was invited to Omaha to speak about disinvestment and help educate the folks on why the U.S. and companies should join in this struggle for disinvestments. So many Americans were in support of investing in that regime because of the high return on their dollars in that country. He also authored a book called "Apartheid, South African Naziism." The book was a comparison analysis of the Nazi government in Germany and the South African system of apartheid.
Wilda and her husband were members of Calvin Presbyterian church on North 24th Street. They had one of the most progressive ministers in the community, Rev. William Johnson. He was so good at doing social justice work that, during one community event where Sen. Ernie Chambers spoke to the church audience, Sen. Chambers said, "Rev. Johnson, you are too good to be a Christian." Wilda, being the wonderful person that she was, invited my wife and I to her house with Rev. Dr. (he had a real Ph.D.) Mzimela for breakfast before church services. To her home on 25th Street behind OIC, she had invited a slew of folks who were members of that church, and some of them were part of the Negro elite. One person that I noted was Larry King Jr. and his family. There were some other folks I did not know. What was amazing to me, as I told my wife, was that they were all "colored" or light skin blacks. Rev. Dr. Mzimela and my wife and I were the only regular dark-skinned Africans (Wilda's spouse also had dark skin). Nevertheless, all of the guests were extremely light skinned. This is one of the first times that I was stuck by the color caste system in the United States. My mother had told me about similar communities in other towns in the South, where Negroes were passing or playing that sell-out game. In Washington, D.C., there were similar caste-type groups in existence.
The obituary in the Omaha Star on Oct. 22, 2009, talked about many of Wilda Stephenson's accomplishments. However, what was notable was that after graduation from the University of Nebraska-Lincoln, she had to go to other states in order to secure employment. The article said that she held clerical positions at Wilberforce University, Virginia State College and with the federal government in Washington, D.C. It was only in the early 1950s that she returned to Omaha and got a teaching job in the Omaha Public Schools, in spite of being a graduate of the school district and the University of Nebraska-Lincoln. She was one of the first African-Americans to teach at Central High School. Many people are not aware that the superintendent at that time, Harry Burke, who the school in west Omaha is named after, was an ardent segregationist. He publicly stated that he would not hire black people to teach in the school district, and he was able to keep that promise for many years. I suspect that other superintendents held such notions, looking at the few number of African-American educators working for the Omaha Public Schools, which people used to refer to as "Plantation Schools" under the segregation policy.
Nevertheless, some folks have a difficult time talking about repartition and payback once the amount of monetary wages and lost opportunities African-Americans experienced in this apartheid community is clearly documented.