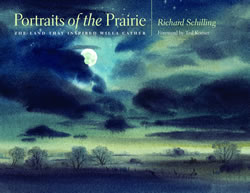 Watercolor is an adventure. It is a painting medium based on the overlayering of colors resulting in new colors and transparency. The technique is fraught with danger due to accidental happenings that result in abstract paint formations. It requires years of practice to tame these surprises. With some luck a water colorist might one day claim, "I planned it that way." Richard Schilling's new book, "Portrait of the Prairie: The Land That inspired Willa Cather," shows an abundance of these qualities. It is quite obvious that he has paid his dues. This handsome volume containing 71 paintings and dozens of black-and-white illustrations is now available from the University of Nebraska Press.
An added treat is the foreword by Ted Kooser, who writes about Dick Schilling, "I liked him at once and admired his humility in the face of a project that proposed to lean himself up against the towering accomplishment of one of our greatest American authors."
In America's history of illustration, Nebraska can claim artists known for magazine and book illustration, teaching, literary and artistic achievements. These include John Falter, Robert Henri, Dale Nichols, Wright Morris, Terence Duren and Dwight Kirsch, who Schilling had classes with as a young boy. Schilling's work resembles in many ways my hero, Grant Reynard from my hometown of Grand Island, Neb. Reynard was born there in 1887, studied at the Chicago Art Institute and was a student of Harvey Dunn. He was the art editor of "Redbook" and did illustrations for "Redbook," the "Saturday Evening Post," "Colliers" and the "Ford Times." In 1928 he met Willa Cather, and in his essay "Advice to a Young Artist" in the "Prairie Schooner," 1972, he writes that Willa Cather encouraged him to draw and paint scenes of his Nebraska childhood. On return visits to Nebraska he drew and painted farm scenes, grain elevators and railroad stations. It was a turning point in his career, and from then on he created only for himself and not an audience. He painted and sketched only for pleasure and did so until he died in 1968.
Before Reynard died he returned to Grand Island to speak before the Grand Island Sketch Club. As a small boy, I went to the meeting, but I was turned away because I was too young. He remains my hero, and I still copy his sketches and paintings today, attempting to catch his spirit.
Perhaps unknowingly Schilling has taken Cather's advice to Reynard and "painted the scenes of your childhood." Armed with pencil, pen and watercolor brushes, he takes the journey to Catherland. It is easy to sense the pleasure in his portraits, and his pride of workmanship, both of which are gifts to the reader.
Now, does Schilling belong in this small club of distinguished Nebraska artists? Probably not, but the point is he is a good picture maker and one Nebraska should call its own. His picture making, explanation of techniques, note taking and personal commentary is entertaining and holds the reader's interest.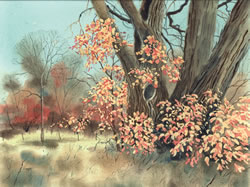 The best trait of a storyteller is to hold your interest, and Schilling does a good job of it. Each page presents the reader with a Cather quote, a painting and the artist's commentary. The watercolors are in the traditional style, and this story could not have been told with abstract paintings.
The French painter Eugene Delaquoix made a journey to North Africa in 1832, and he kept notebooks filled with combinations of pen-and-ink and watercolor sketches with written field notes. For 30 years Delaquoix used these remembrances to make paintings. In 1914 the painter Paul Klee made a similar journey to North Africa to sketch, paint and record his travels. Other artists don't need the stimulus of foreign territory but simply record their own familiar world. The American painter Andrew Wyeth comes to mind, and Renoir never did understand why Gauguin left Paris to paint in the South Seas.
In the case of Schilling's work, his note taking reminds me of the personal notes of Wolf Kahn, an American painter who paints in a nontraditional style, who writes in his journal, "Things to do: Go for a walk on a hazy day, gather mushrooms in wet woods, look out of windows on foggy mornings, rake leaves in the fall, take the ferry to Staten Island in the winter." Richard Schilling's focus is on taking the reader on such journeys, and his Catherland portrait collection has eight chapters devoted to country roads, water and seasons of the prairie, trees and even art in unexpected places. This artist traveler does it with a remarkable number of watercolor paintings, felt-tip pen sketches and a couple scratchboard illustrations.
His collection of Willa Cather quotes are a constant delight and, no doubt, a constant companion as Schilling raised some dust on the country roads of Webster County, listened to the prairie wind, gazed at the evening moon, felt the loneliness of the winter landscape and drank coffee at Cutter's Café in Red Cloud.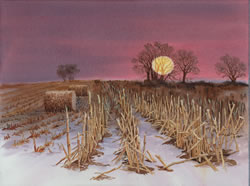 The "County Roads" chapter exhibits the best of the paintings in the book, and Schilling writes, "Roads like these are lonely and void of travelers, but for me, they are filled with promise as I eagerly anticipate the view from the next hill."
Here is a full representation of an artist giving it his best. Schilling gives insight to the book when he writes that he felt it was time "before the color fades" to paint his impressions of the prairie that was the creative voice in the life of Willa Cather. His expedition to Webster County and nostalgic return to his own mother's Red Cloud home will enlighten Cather faithful and charm history buffs and artists alike. We need to thank the University of Nebraska Press for adding this book to their collection of the Great Plains legacy of Willa Cather and the pioneer spirit. Read and absorb the paintings in this book, and you will want to journey to Webster County and Catherland.
The University of Nebraska Press can be found at www.nebraskapress.unl.edu.