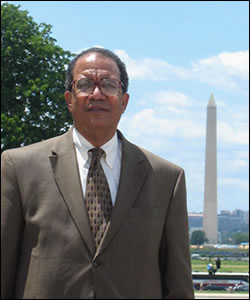 "Sonny's Corner" is a regular column in Prairie Fire, featuring commentary on civil rights and justice issues. Our friend and Omaha colleague, Joseph P. "Sonny" Foster, died suddenly at age 54 in August 2005. He left an uncompleted agenda, as did many of our civil rights and justice mentors and heroes. We shall attempt to move forward on that unfinished agenda through this column.
There are many ways to fight for our rights. My daughter is a captain in the United States Army. Ten months ago, my daughter deployed to Afghanistan in support of Operation Enduring Freedom. As her mother, I am painfully aware of the risks my daughter and her fellow soldiers face every day. One day I learned that servicewomen—as well as military wives and daughters and other female dependents—are denied comprehensive reproductive health care while stationed abroad. I never knew that by volunteering to defend our freedoms my daughter would be treated like a second-class citizen by the very country she risks her life to serve.
Military rules require that any time a service member (male or female) needs to go to the medical clinic, it must be approved by their next higher. For instance, if a PFC needs to go to sick call because he or she has the flu, he or she must still get permission from his or her chain of command. An officer or senior NCO can usually get away with going to the doctor his or her own, but a junior soldier generally always has to be accompanied by someone else. I can only imagine how hard it would be for a junior soldier to have to tell her chain of command she needs to go to the doctor because she thinks she is pregnant. It is hard to imagine frivolous use of medical services under such circumstances.
For nearly two decades, servicewomen and military dependents have been prohibited from obtaining safe abortion services on overseas military bases—even if they pay with their own money. If forced to seek medical help off base, women must often contend with a lack of adequate local health facilities or a lack of trained medical personnel, especially in remote or hostile areas. In countries where abortion is illegal, women may have no other alternatives for medical care. With little or no other option, sometimes servicewomen self-abort, putting their health at grave risk. This is simply intolerable.
To add insult to injury, this past May the House Committee on Rules even rejected an amendment to the fiscal year 2012 National Defense Author­ization Act that would have ended an unconscionable ban on insurance coverage of abortion care for military women and dependents in cases of rape and incest. The amendment was introduced by Rep. Susan Davis (D-CA).
We all may not agree about abortion, but we should be able to agree that a military woman facing an unintended pregnancy should have the same opportunity to make the decision right for her circumstances as the rest of us. Sometimes that decision will be to have an abortion; sometimes it won't. But that decision should be made by a woman with input from her family and her doctor—not by Congress.
Comprehensive medical care should not be denied to any member of our armed services, including those stationed far from home. We must no longer prohibit our daughters in uniform from exercising their fundamental rights to make health care decisions for themselves simply because of their military service and where they are stationed.
My daughter is fighting for all of us. It's time we stood up and fought for her.