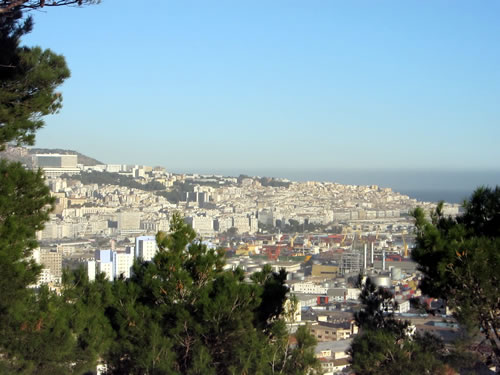 Our adventure in Algeria began when my spouse, Gwen Bedient, decided to apply for employment with the U.S. Foreign Service. In January 2010 we received notice that she had been accepted and was being invited to Washington for orientation. Because I have been working toward retirement after 41 years with the Bedient Pipe Organ Company, the timing seemed ideal because living outside of the continental United States had been a dream of ours. A sudden shifting-of-gear was necessary to set in motion the many arrangements that needed to be made prior to her reporting to D.C. for training on March 15. Shortly after arrival, she learned that her first assignment would be at the American Embassy in Algiers, capital city of Algeria on the northern African coast. My retirement plans were launched.
Gwen completed all necessary classes and French language training in time to begin her duties in Algiers on Sept. 2. I went for the initial two weeks and then returned to wrap up life in Lincoln, Neb. A lovely home had been purchased in West Sacramento and on Nov. 15, I moved the household to the new California home and rejoined Gwen in Algiers on Dec. 9.
Algiers, the capital city of Algeria, is located on the southern Mediterranean coast, and there are convenient flights there from Rome, Frankfurt and Paris, among others.
The mission as taken from the State Department website: Advance freedom for the benefit of the American people and the international community by helping to build and sustain a more democratic, secure, and prosperous world composed of well-governed states that respond to the needs of their people, reduce widespread poverty, and act responsibly within the international system.
I became employed part-time at the embassy, an opportunity that is typically offered to eligible family members as jobs are available. From my own experience I can unequivocally report that the quality of Americans selected to serve in the Foreign Service is very high. Furthermore, these quality, professional people are excellent representatives of the United States of America and could you observe the operation in action, you would undoubtedly be pleased and touched.
Upon our arrival, the ambassador to Algeria was David Pearce. His term just ended this spring, and Henry Ensher has just been approved, at the time of this writing, to be our next ambassador and is expected to arrive sometime in July 2011. More information is available at our Algiers embassy website: http://algiers.usembassy.gov/.
Embassies typically hire local people in numbers that dwarf the Americans. The resident Algerians are a valuable resource for everything from political advice to local connections to transportation to security to housekeeping. The interaction between the Algerians and the Americans is of incalculable value in terms of cultural and intellectual communication.
Where We Live
There is some housing within the embassy compound and about half the Americans live there. Others live in apartment buildings leased by the State Department and within short driving distance of the embassy. Some of us have private automobiles and some make exclusive use of the embassy motor pool transportation.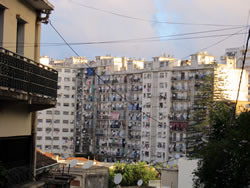 The vast majority of the Algerian population appear to live in apartment buildings of five to 12 to 25 (my estimate) floors. The weather is beautiful. AC is not really needed, although we have some room units in our "deluxe" apartment. A viewing of typical apartment buildings reveal balconies covered with drying laundry and dish satellite antennas mounted everywhere. Our apartment is the third floor of a four-floor apartment building that is less than 10 years old. Walls are plaster over soft clay molded tiles that are used to make dividing walls within a reinforced concrete framework of pillars, floors and ceilings. The woodwork is nicely executed from African mahogany, which is probably less available now because it is one of the African resources being shipped to China in large quantities. There are numerous windows, providing a light, airy, almost outdoors feeling on sunny days. There is a considerable amount of residential construction in our neighborhood. A disastrous earthquake in 2003 destroyed a lot of housing, and new construction was in full swing when the financial crisis of 2008 brought it to a halt. Even heavy-duty concrete and steel construction is done largely without the aid of sophisticated tools and technology. Elaborate forms are custom built and erected for each concrete pour. Sand, concrete and water are raised four or five floors using ropes, buckets and usually single pulleys. Worker safety seems to be of secondary concern.
The high and low temperatures are moderated by the Mediterranean Sea, and therefore the climate is quite moderate. Summer highs are in the 90s. Winter lows in the upper 30s. There is significant rainfall in the winter. The style of architecture is predominantly rectangular in form, often flat roofs or low-pitched ceramic tile roofs. White for reflecting heat is the predominant color of the chalk stucco exteriors.
A Short History
Because northern Africa served as a path for Europeans traveling to the Middle East and Middle Easterners traveling to Europe, a unique civilization developed that is a mixture of indigenous people and those who passed through from East and West. The unique mix of people known as the Berber culture was eventually pushed from the coast up into the Atlas Mountains. The Arab culture appeared around the seventh century and Islam spread throughout the country. Spain conquered western Algeria in the 15th century, and they were usurped by the Ottoman Empire in the 16th century.
America commenced political relations with Algeria within 10 years after American independence. Barbary pirates attacking American ships along the northern African coast necessitated interaction between the two countries, and we have had official diplomatic relations with Algeria since 1790. Essential bribes were paid to ensure safe passage of American ships until 1812 when American declared war on Algeria.
In 1832 France colonized Algeria, and it was considered "French soil" for the next 130 years.
In 1941 America stationed soldiers in Algeria and used it to organize a staging operation to invade Italy.
Algeria seriously began to protest French colonization in the years after World War II, and they believed that they would be granted their independence. When these hopes were not fulfilled, tensions escalated. In 1945 a small number of French were massacred at the hands of Algerians in the city of Sétif. A brutal response from France escalated the conflict, and a bloody war ensued. An organization called the Front for National Liberation (FLN) orchestrated the war for independence, which was granted in 1962. Sen. John F. Kennedy, soon after President John F. Kennedy, was outspoken in favor of Algerian independence. As a result, he and America were popular at that time, and a small square near where we live, Place Kennedy, was named in his honor.
During the past 50 years, Algeria has been ruled by competing factions within the FLN, other minor political parties, various tribal factions and a conservative Islamic opposition group officially organized in 1989 as FIS, Front for Islamic Salvation. Its goal: turn the nation into a fundamentalist Islamic state. A strong force in the mix has also been the remnants of the ancient Berber civilization, which is fiercely nationalistic and fiercely anti-Arab. Conflicts among these groups and the official government led to Black October in 1988 when 500 people died in religious and employment-related riots.
In 1992 the FIS won an election, but the candidate was not recognized by the FLN and not allowed to assume leadership. The years from 1992 to 2002 are referred to as the Dark Decade in which an estimated 100,000 Algerians died in civil conflict due to the disputed outcome of the election. The current president, Boutaflicka, elected in 1999 by the military-controlled government, has been in one way or another part of the FLN ruling power for 30 years. A newer faction, the Salafist Group for Proselytizing and Combat (GSPC), continues fighting. In September 2006, the GSPC formally affiliated with al-Qaida and became known as al-Qaida AQIM), with members living in the Lands of the Islamic Maghreb, the westernmost countries that fell to the Islamic conquests of the seventh century.
The current government is for all intents and purposes a dictatorship. Algeria faces many problems, such as lack of adequate transportation, lack of adequate housing, lack of adequate infrastructure, government corruption and lack of meaningful employment opportunities for the young generation. Some of the challenges and positive signs may discussed in future articles.
Algiers, the Capital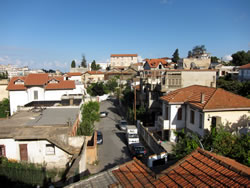 The population of Algiers is about two million, and the next largest city, Oran, approaches 400,000. Compare that with Cairo's seven million. The 35 million population of Algeria is concentrated along the northern quarter of the country, and the populated north is separated from the Sahara desert in the south by the Atlas Mountain range. One of the attractive features of Algiers, the capital city, is its topography. From the level of the Mediterranean Sea, one soon begins a rather steep ascent moving inland. We live in an area called El Biar, which is about 1,300 feet above sea level. Thus, when you walk from downtown to El Biar, a linear distance of perhaps two miles, you have also climbed about a quarter of a mile in elevation. This dramatic terrain results in amazing vistas throughout the city where one looks down to the harbor and out into the Mediterranean Sea.
The Casbah refers to the oldest part of a North African city, and it contained the citadel. The historic Casbah of Algiers was begun at the beginning of the 16th century and contains a few structures from earlier centuries. The white, rectangular, cascading array of buildings built into the steeply ascending hillside has historically been a spectacular sight from the sea. Algiers became known as the White City because of this phenomenon. Much of the Casbah was destroyed during the French colonial period to make way for 19th-century Third Republic-style structures, which were popular in Paris. As you descend the famous commercial street Didouche Mourad toward the harbor and glance upward, you see impressive white buildings with beautiful blue wrought-iron balconies. At street level you observe trendy street shops selling everything from the latest western fashions to traditional clothing to souvenirs to fine jewelry; you could truly be in a Paris of less prosperous times.
A good part of the ancient Casbah still remains, and there is a concerted effort to restore the area. It is a designated UNESCO National Heritage site, and there are a number of others in Algeria. A museum at the beginning of the Casbah called Bastion 23 is the first true restoration of some of the original buildings and hopes to serve as a model for future renovations.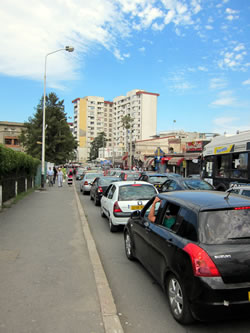 We have an automobile that was purchased from a party leaving the embassy at the end of their tour. Driving is tenuous, but the independence to travel in the city, to go to markets farther away from our area, to restaurants and events without depending on motor-pool transportation is a great advantage. Algiers, like many ancient cities, was never meant for automobiles. Downtown, where French standards were employed, often resulting in Haussmann-scale city planning, it is better, although the quantity of traffic is almost always astounding. In the more ancient parts of the capital, like El Biar and almost everywhere else, the streets are very narrow and wind circuitously, sometimes taking you to a dead end. Generally speaking, if descending in elevation, you are heading toward the Mediterranean or downtown. If ascending, you are heading for El Biar or El Mouradia. GPS is of little help because GPS mapping is a work in progress and not very advanced. GPS units are also illegal by Algerian law. Maps are of general help. One of the challenges is the lack of street signs and the ambiguity of signage. Streets that are marked are in Arabic and French. Many are not marked. Some streets that were named by the French were changed after the French were evicted. Traffic control is primarily by three means: roundabouts, traffic police in busy but otherwise uncontrolled intersections and by the seat of your pants. Usually it miraculously functions, but sometimes there are traffic jams. Drivers are for the most part considerate of one another but not always. Gasoline is inexpensive because of the vast oil resources of the country and also because it is artificially depressed for the benefit of the citizenry: one of the few they seem to receive.
There are occasional strange concepts that seem illogical to a western mind. Somehow the idea exists that if you turn on your automobile's headlights, it will ruin your car battery. Thus, the vast majority of drivers don't use their headlights at all until it becomes absolutely essential, and then they will often switch on only the parking lights and not the full headlights.
Although there is significant wealth in Algeria, it is concentrated in a small segment at the top of society. The middle and lower-middle classes, perhaps 15 percent or less of the population, have to work very hard to realize a reasonable life style. There is a large lower class segment that seems to have a very difficult time simply purchasing the essentials to maintain life. That has resulted in recent demonstrations when staple food prices have been seemingly arbitrarily increased. Algeria is a cash society. The currency, called the dinar, has a value of about 0.13 cents U.S. There is a cashier at the embassy, and we cash checks on our U.S. banks, which are converted by the cashier to dinars. Two hundred U.S. dollars nets about 13,000 dinar. There are a few ATM machines around the city, but they receive mixed/mostly negative reviews, so we take advantage of the cashier service at the embassy. A few places, such as the supermarché (supermarket), will take credit cards, but that is often questionable, even if they have the machines by the cash register and signs displayed indicating that they do accept credit cards.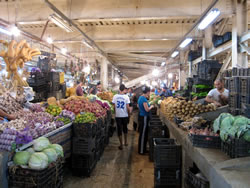 There are a limited number of French-style supermarché around town. There are wonderful produce markets throughout the city, and we have a very good one of moderate size, open every day, at Place Kennedy within easy walking distance of our apartment. There is a profusion of alimentation, or small independently owned French-style hole-in-the wall suppliers of produce, canned goods, basic household items and usually some produce. Near downtown at Place Premier Mai (named during the revolution) there is an enormous produce and dry-goods market that is open every day. It opens early in the morning, and the best fish and fresh produce is available. By 1:30, the market will be winding down and coming to a close. There is a butcher row with stall after stall of fresh meat of various types. There is an enormous tin-roof-covered portion that features a rambling assortment of vendors selling very fine-looking tomatoes, potatoes and other tuber-type vegetables. The market is seasonal, and by western standards it is quite limited in choice. Red onions are plentiful as are white potatoes. Don't bother looking for white or yellow onions or red russets. One finds mushrooms sometimes if one is lucky. An item might be available during one shopping trip and not ever seen again on subsequent trips.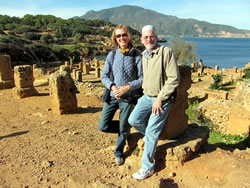 The citizens are a wonderful lot. You see small groups of friends stop on the street to have jovial conversations or to discuss politics like you would anywhere. At various public places there are concrete tables/benches where the elderly men engage in sometimes heated games of double-six dominos, extremely well polished from sliding on pieces of corrugated cardboard that the players bring with them and slap down on the concrete tables. I have regular conversations (in French) with merchants I patronize in the markets.
In possible future articles, I intend to give more details about life in Algiers, including the culture, language, religion and visits to other cities in Algeria.