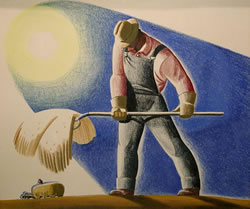 One of Nebraska's most famous artists, Dale Nichols (1904–1995) is the cornerstone artist of the collection of Bone Creek Museum of Agrarian Art. Almost since its inception the museum has sought to examine and explain the deviations in Nichols' art from his formal associations with regionalism, an art movement of the 1930s that sought to portray the unique culture of America. Early on it became clear to Mark L. Moseman, chief curator of the museum, that there was more to Dale Nichols than nostalgic pictures. History gave evidence that Nichols was indeed the fourth regionalist painter after Grant Wood, Thomas Hart Benton and John Steuart Curry. But it appeared that Nichols transcended the regionalist art movement to explore far-off lands in less representational styles. Since then much research, development and writing has ensued to further substantiate this thesis. Bone Creek Museum presents their findings in the exhibition and book "Dale Nichols: Transcending Regionalism."
One theme among many has become particularly intriguing within Nichols research: his artistic philosophies. In my research, I uncovered many wonderful insights into the mind of this nationally recognized but unknown artist. Nichols' deep philosophical ideas behind his paintings are unknown, unless you were fortunate enough to know the man himself.
Nichols' childhood formed the man that he would become. And in many ways the landscape formed the artist he would become. In his 20s, Nichols reflected on his youthful experience on the plains of Nebraska: "I trod, barefoot, the two miles of the dusty country road, or 'short-cut' on the crust of frozen, glittering snow which hid the tops of four foot fence posts, to attend East Olive Township Rural School."
Nichols knew from a young age that he was destined to be a great artist. Growing up on a farm in Nebraska, Nichols' greatest impressions were those of his regional experience. Thus he became famous for his red barn Americana farm scenes. Those were the paintings he "signed with the most confidence," he told a local reporter.
Yet, a sense of wanderlust kept him moving to different places and projects. Living longer than the other regionalists, Nichols traveled to and lived in Alaska, Arizona, Nevada, Louisiana, Mississippi, Texas, Illinois, New York, Mexico and Guatemala. How did these places impact his Nebraska paintings? Interestingly, very few of Nichols' Nebraska images were painted in Nebraska. Because Nichols largely worked from memory and imagination, he painted monumental Alaska scenes in a Chicago studio, vivid deserts from a boat in Mississippi and cozy Nebraska farmsteads from the tropics of Central America. (This explains why tropical vegetation and mountains can be seen in his Nebraska paintings.)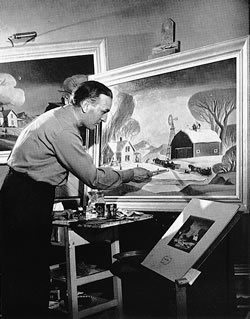 In his 60s, Nichols was settling down a bit. He began to record his thoughts, ideas and painting methods. Nichols filled notebooks and binders with bits of his life story and essays he had written about one topic or another, usually relating to current events. He mailed these folders to his friends and acquaintances in the states. Essays like "The Modern Haunted House" and "The Story of the Cakchiquels" filled the pages. His personal letters were full of humorous anecdotes about ants, musical symphonies and adventures with Ophelia Bumps, his Model A car. The art lessons that Nichols wrote to his niece Ruth were of particular insight to this project. Ruth Nichols, an artist herself, archived these materials and made them available for this research. More than any other theme, his "one source of light" philosophy shone through.
Nichols was a sun worshipper. His interest in the sun may have been one of the factors that led him to Guatemala and the study of the Mayan people, who worshipped the sun as one of their gods. To Nichols, the sun was the source of all life. It was ultimately the key to his theological understanding and philosophy of painting. He considered the source of light, determined light's effect on shape and form and considered how light portrayed color before and after any other element in his paintings. Nichols taught art by communicating the proper way to think about light. He could have taught his students "tricks" to achieve a desired outcome. However, he wrote that these tricks could not replace a fundamental understanding of the principles that surround the "one source of light" philosophy. All of his paintings, no matter the subject, contain his trinity of essential elements: light, order and love. His writings clearly develop these themes, which he applied equally to his art and life.
Had all of Nichols' travels and experiences changed him from a Nebraska farm boy? Surely, in many ways, they had. Early in my research I thought these philosophies about light, order and love were new ideas for Nichols, that they conveniently served as a framework to tie his love of art to his spiritual notions. Yet I was astounded to discover that his thoughts on the fundamentals of painting at age 70 were the same fundamentals he used in his 20s! He wrote about his most famous work, "End of the Hunt," painted in 1934, "Foundations of buildings are at eye level for cathedral effect. Female curves in snow banks, and other female symbols, especially in tracks and soft lines of snow on roofs and general shapes of trees, … these give the charm of female appeal which is the strength of women… The vertical lines of the man and his rabbit, including the trunks of the trees, are the strength of men… One source of light controls the shadows and color values. Time of day was late afternoon for long shadows to indicate where the life-giving sun was located." The consistency of Nichols' ideology over more than 50 years creates a remarkable foundation from which to examine his prolific career. Though his style expanded and he was forever exploring, he held firm to his ideological convictions about light. Paint the light, one source of light, was his emphatic command.
To learn more about the painting themes of Dale Nichols, visit the Bone Creek Museum of Agrarian Art to see "Dale Nichols: Transcending Regionalism" now through Nov. 18, 2011, and take home of copy of a book by the same title. Bone Creek Museum of Agrarian Art is located at 575 'E' Street, David City, Neb. For more information, call (402) 367-4488.