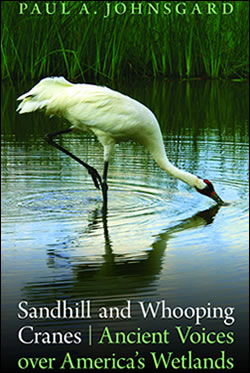 "Sandhill and Whooping Cranes: Ancient Voices over America's Wetlands"
Author: Paul A. Johnsgard
Publisher: University of Nebraska Press
In 1991 Paul Johnsgard authored Crane Music: A Natural History of American Cranes. The book told the stories of North America's two crane species—the sandhill crane and the critically endangered whooping crane, and underscored the importance of Nebraska's Platte River Valley, a critical sliver of habitat these species depend on during their annual migratory journeys. The book became a classic and sits on our bookshelf today at home alongside the other Johnsgard books that have become dog-eared and coffee-stained over the years with repeated use.
Now two decades later, Johnsgard dedicates one more book to North America's two magnificent crane species: "Sandhill and Whooping Cranes: Ancient Voices over America's Wetlands," published by the University of Nebraska Press. This book pulls their conservation stories forward to present.
Johnsgard has been captivated by cranes for half a century. As a famed ornithologist, Foundation Regents Professor Emeritus at the University of Nebraska and a passionate conservationist, few people are more qualified to write about the natural history of cranes than Johnsgard. In this book he does so with the passion and eloquent prose we have come to expect from Paul.
"Sandhill and Whooping Cranes" is informing, personal and introspective. A primary goal of the book is to bring readers up to date on the biology and ecology of both sandhills and whoopers as biologists understand them today, building upon the well-known natural history of the past with important new knowledge gleaned from recent research efforts that has helped fill gaps in knowledge about both species.
Sandhill cranes are one of the most studied birds in North America, yet Johnsgard shows in this book that we are still just beginning to understand the nuances of their lives. He writes about the intensive satellite telemetry studies conducted on the Platte and elsewhere that use small transmitters on migrating cranes to help scientists track and better understand the specific movements of birds along their long migratory courses up and down the continent from as far north as eastern Siberia to as far south as northern Mexico. In turn, the insights gained through this technology over the last several years will help drive conservation and management decisions for these birds in the future.
He also discusses important new genetic research that is beginning to shed light on how the continent's six different migratory and nonmigratory sandhill crane subspecies he describes in the book may have evolved and how they might be related.
He points out that while sandhills are the most successful of crane species on the planet and in some places expanding their breeding ranges (even into historical territories they have been absent from for more than a century, including Nebraska and Iowa), their migratory and wintering grounds are increasingly compromised with continued loss of wetland and grassland habitat, local crane-hunting issues and other pressures.
Whooping cranes are icons of the Endangered Species Act and have been clawing their way back from the brink of extinction since the mid 20th century. Still, their numbers are dangerously low with the only migrating wild flock numbering around 300 birds, moving annually thousands of miles up and down the Great Plains between northern Canadian wilderness and the Texas Gulf Coast.
Johnsgard carries the readers through the highs and lows of ongoing whooping crane recovery efforts by dedicated biologists, from the many well-intended but failed experiments that have been tried to restore more wild birds onto the landscape to using what some critics first thought was a hair-brained idea that now might just prove successful—to teach captive-raised whooping cranes to migrate by following crane-costumed pilots flying ultralight aircraft between Wisconsin and Florida, with the hopes of establishing a second self-sustaining wild migrating population in the eastern U.S.
This book finishes its natural history discussion with Johnsgard looking forward as the wise sage, cautioning us about the cranes' uncertain future, an uncertainty that in many ways mirrors our own. Today 12 of 15 crane species worldwide are now threatened or endangered. Continued population-growth pressures, dwindling natural resources, water issues and climate change either already surround these birds or loom on the horizon.
The book includes a treat of 19 beautiful ink drawings by Johnsgard the artist, capturing cranes' various behaviors in delicate pose, and three maps that help illustrate sandhill and whooping cranes ranges and migratory movements on the North American continent.
A significant appendix in the book lists 125 crane-viewing sites in the United States and Canada, with brief descriptions and contact information for each location. The book winds up with a list of references, suggested readings and online sources of information on cranes. The 148-page, softcover book is 5 ½ x 9 inches, which makes it perfect for travelling or for a nightstand.
The author of over 50 books, Johnsgard has mastered the craft of synthesizing scientific knowledge and research from multiple sources and boiling it down into articulate summaries for nonscientific audiences, but his books are more than that. Johnsgard's books carry a personal touch that goes well beyond the science and lets us see a bit of the man himself. What "Sandhills and Whooping Cranes" does is allow him a chance to pause and look back in his rearview mirror, acknowledging a wide circle of friends young and old who he treasures and with whom he has shared the experience of cranes, sunsets and wild things over these many years.
In the acknowledgements, Johnsgard writes, "There are now only two seasons in my personal calendar—crane season and the rest of the year… I would far rather see and listen to cranes than gaze once more on Arizona's magnificent Grand Canyon, or listen to a concert performed by the finest of the world's choirs…"
Those that know cranes know they represent a great many things to many people. They are revered as symbols of life, spirit and longevity. They are conservation ambassadors for the wetland and grassland habitats they need to survive. They are connectors, bridging habitats, people and cultures along their wanderings and migratory journeys.
Those that know Johnsgard know he often describes cranes as being magic. Very soon, this magic that Johnsgard has helped reveal to us over the years through his advocacy and artistry will be descending once again onto the braided channels of the Platte. With ancient voices, these magical creatures will uplift our spirits and remind us, as if we have somehow forgotten, why wildness matters and why cranes matter. No doubt Paul will be there, looking skyward, ready to greet them.