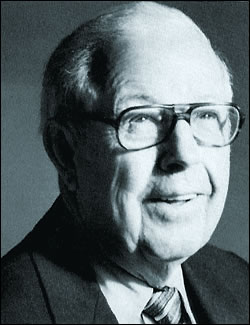 The Polk Progress was a Nebraska treasure that ceased publication in late 1989 after 82 years as a weekly newspaper. From 1955 until its last issue, the editor and publisher was the late Norris Alfred. In its last few months, the Progress had 900 subscribers in 45 states. Alfred was a remarkable Nebraskan with an uncanny eye for connecting the present with the future. Prairie Fire has collaborated with the Alfred family, the University of Nebraska School of Journalism and the Nebraska State Historical Society to locate and archive many of Norris's writings. We are capitalizing on our good fortune to present many of the Norris Alfred writings to our readership. We believe that his observations are as fresh and relevant to today's world as they were when originally written.
Unpublished Journal,
Feb. 15, 1992
Mother Alfred was 95 years old when she died. The final five years were spent in the Covenant Home in Stromsburg. Senility had a strong grip on her mind, and memories, distorted by that grip, became her reality.
She was a wonderful mother to her nine children and never lost her petite figure. She never weighed more than 105 pounds. Her trim slimness may have been caused by 60 years of living in a vertical, two-story house with 11-foot ceilings on the first floor and 9-foot ceilings on the second floor. The house set on a 3-foot foundation of cement blocks, and the basement had a depth of 8 feet below ground level. The flight of stairs to basement and second story provided plenty of exercise for removing any ounces of fat that may have accumulated.
Memories accumulate during 95 years of living until the capacity for storing them is full. Then forgetfulness trims the more recent experiences from the full pack, exposing those of an earlier, younger life.
During those final five years, I would visit mother every Wednesday afternoon. The Polk Progress had been printed, folded, addressed and mailed in the morning, and the afternoon was a time of relaxation, a necessary emotional ingredient if I was to have a successful visit with Mother Alfred. Patience is required, and a sense of humor helps.
One Wednesday afternoon I was a bit early, about one o'clock, and was walking down a long hall to her room when a young female attendant came down the hall toward me. She must have been newly hired because she stopped, looked at me and asked, "What are you doing out of your room?" Since I was still thinking of myself as young, about 60 years old, I was taken aback by the question. I explained why I was walking down the hall, but I don't remember her apologizing. I'm willing to live in Covenant Home, but I want to wait until I'm 90 years old.
On another Wednesday visit with Mother, I was in the dining room for afternoon coffee when Mother introduced me to a tall, angular Swedish lady who had befriended her. Mother introduced me with "This is Norris." "Yah! So," replied the tall lady, "is he your brudder?"