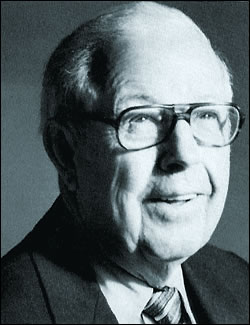 The Polk Progress was a Nebraska treasure that ceased publication in late 1989 after 82 years as a weekly newspaper. From 1955 until its last issue, the editor and publisher was the late Norris Alfred. In its last few months, the Progress had 900 subscribers in 45 states. Alfred was a remarkable Nebraskan with an uncanny eye for connecting the present with the future. Prairie Fire has collaborated with the Alfred family, the University of Nebraska School of Journalism and the Nebraska State Historical Society to locate and archive many of Norris's writings. We are capitalizing on our good fortune to present many of the Norris Alfred writings to our readership. We believe that his observations are as fresh and relevant to today's world as they were when originally written.
Prairie Fire recently acquired access to the unpublished journaling of Norris Alfred after the Polk Progress ceased, and we will be excerpting portions of his journal in the paper, much as we have been doing with his published work. Below is our first foray into this vast resource of Alfred's words.
Unpublished Journal, Feb. 15, 1992
Polk was only seven years old when Dad and Mom Alfred and their four children moved to the new town at the urging of Rev. F.E. Benjamin, pastor of Polk's First Baptist Church. Rev. Benjamin was a builder of communities and churches. The idea that there might be a "Second" Baptist Church and that Polk might become a city had a strong hold on the residents' hopes and imaginations. Reality finally set in, but that was twenty years later with the Great Depression and drought of the 1930s.
A 1906 map of Polk County, divided page by page into precincts, shows Polk as an existing village, though the lots weren't sold until Sept. 6. The next day, five miles west, lots were sold for the founding of Hordville in Hamilton County. Most of Arborville, three miles south of Polk, moved to Polk. The attraction was the Union Pacific railroad, which was extending its branch line west to connect with the mainline at Central City. Before this extension was made, the branch line ended at Stromsburg, ten miles east of Polk.
Looking at that map of Polk County which had the precincts divided into farms, I was struck by the numerous farms that were quarter-section (160 acres) and less. The 1910 Census divided the population of the United States as half rural and half urban. Before 1910, the population was more rural than urban. Now the rural farming population is less than 10 percent of the total.