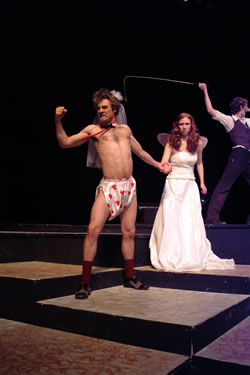 Few undergraduate theater programs field as high a percentage of their students in post-collegiate professional work as the Nebraska Wesleyan Theatre Department. Recent graduates of our program—virtually a professional theater company embedded in a liberal arts setting—have compiled an impressive list of credits. One alum landed roles in NBC's "Law & Order," the movie "It's Complicated" (alongside Meryl Streep) and the touring production of "August Osage County." Another played Tybalt at the Tony Award-winning Chicago Shakespeare Theatre. A third former student has completed several years as sound engineer at Nashville's Dollywood, while a fourth, working professionally for only two years, landed a lead in the touring production of "Hairspray." Another graduate managed the costume shop for the Palm Springs Playhouse in Palm Springs, Calif., and yet another began work as assistant artistic director of the Kansas City Repertory Theatre in 2009. Other program alums have delighted Shakespeare audiences in Cincinnati; have taught eager high school theater students in Omaha; directed technical work at the Lincoln Community Playhouse and stage-managed for the Oslo Theatre in Florida. One graduate even established her own actors' photography studio in New York and now casts and manages productions at the Stratford, Ontario Shakespeare Theatre. And other Wesleyan theater majors by the score pursue professional careers in such prestigious venues as the Virginia Shakespeare Theatre, the Kentucky Shakespeare Festival, the New Jersey Shakespeare Theatre, the Pasadena Playhouse, Disney Studios, the National Theatre in London, and major stages from Los Angeles and Denver to Chicago and New York.
How have they succeeded? Why are over half of Wesleyan's theater graduates in the last five years working regularly as professionals? Why did 90 percent of our graduates in 2009 find employment in the theater?
The answer is disarmingly simple: with a unified vision and hard-work ethic, our Nebraska Wesleyan theater faculty produces people the public wants. More precisely, our faculty creates opportunities for personal and theatrical exploration, resulting in artistic awakening, discovery and growth on the part of every student in the program.
That's quite a claim. Here are the facts.
Our year-round Wesleyan program annually mounts over 40 productions, involving nearly a hundred majors and over a dozen minors in theater. Fourteen full-length productions are faculty-directed, five full-length productions are directed by students under close faculty supervision and over 25 one-act or hour-long shows are student-produced. Department majors—in numbers over 15 times greater than those in 2000 and drawn from quality high schools in a dozen states—commit to a state-of-the-art educational system tantamount to that of a professional theater company.
Our program puts people on stage. Working within the department's "modified conservatory" approach and grounded in the university's liberal arts curriculum, every student among the nearly 60 women and 40 men majoring in theater gains experience in at least six shows a year, working and performing alongside seasoned veterans and among the most racially and ethnically diverse student group on Wesleyan's campus.
Casting is never by seniority. Students at all levels of ability receive opportunities both to act and direct based on their own needs for artistic growth. Department majors, closely advised by our faculty mentors, direct as early as their second year; and first-year students are on stage by October in an intense rehearsal process with a faculty director, immersed in a learning style most often associated with repertory theater. Members of our acting company often work on three or four roles at once and are exposed to a demanding litany of acting styles, methods and preparation. Major productions within the first two months of the fall semester invariably field casts in which half the actors perform their first college roles, shedding ineffective acting habits, gaining confidence and learning by example from senior students and experienced directors in a true laboratory program.
Often the laboratory experience of a rehearsal occurs within the context of an academic course focused on the stage history of a single play, such as last season's "Hayfever" or "Uncle Vanya." The former allowed the play to be double-cast, and each actor benefited from developing a character influenced by the creative choices of his/her counterpart. Often actors benefit from the expertise of dramaturgs collaborating with our department or from innovative opportunities reflective of avant-garde professional theater.
Wesleyan theater students work on stages world-wide. One major recently completed an internship at the Globe Theatre in London, while others studied in Finland, Italy, France and the Czech Republic. Still others traveled to Japan, Thailand, India, Costa Rica, Ghana and elsewhere, adding cosmopolitan perspective to their understanding of drama and reinforcing their academic backgrounds in the liberal arts. Moreover, many of our Wesleyan theater students, eclectic in their interests and closely advised by our faculty, not only engage the world but also complete second majors in such disciplines as English, religion, music, philosophy, business and communication studies—graduating with a traditional BA degree as well as a bachelor of fine arts in acting, or directing, or design and technology, or musical theater, or theater studies.
Wesleyan theater facilities are among the best in the region. Five rehearsal spaces support performances in three major venues. Our theater shop, one of the largest in the state, often building four sets simultaneously, is equipped with contractor-quality machinery and complemented by a mainstage with new lighting, new curtains, new battens, a new sound system and—over the next few years—new performance microphones. Our costume and prop libraries of 40,000 items each (the largest in the region) enable us to dress both actors and sets for whatever shows we stage.
Our Wesleyan theater department staff—Ph.D. and MFA-degreed professionals equipped with real-world experience and cutting-edge artistic and technical expertise—works together and works hard (year-round, with voluntary overloads) to create a common vision endorsed by students and faculty alike. Michael Reese, our professional scenographer, puts the company's philosophy succinctly: "The department creates theatrical events where art can happen." Department Chair Jack Parkhurst elaborates: "Our faculty works as an ensemble. Each faculty member can do it all—teach acting, design sets, cast shows, build costumes, and direct. The result is hand-in-glove communication among ourselves and our students which puts all of us in sync." Complemented by a master carpenter, a costumer, a library manager, a fight coordinator, a dance instructor and professional musicians, our theater faculty provides complete professional engagement for every major, far exceeding the experience of traditional academic theater. Students surmount the technical challenges of plays like "The Lieutenant of Inishmore" and "Moon Over Buffalo"; they achieve the linguistic challenges of "Macbeth" and "Much Ado About Nothing"; they conquer the social and ethical challenges of "Angels in America" and "Marat/Sade"; they master the musical challenges of "Man of La Mancha" and "Into the Woods"; they solve the challenges of character in "The Three Sisters," "Waiting for Godot" and "A Moon for the Misbegotten." Indeed, the work ethic of the company is evident in every production value: new sets immediately replace those that are struck; rehearsals are thorough, demanding, even inspiring and crews labor tirelessly to ensure the highest standards of technical theater, whether for lab-venue productions or all eight performances of every mainstage run.
As we cap each current season with a compelling major show (we ended this season with one of the first-ever college productions of "Rent"), our Nebraska Wesleyan Theatre Company at the same time looks toward new opportunities for "doing the art." Our 2010–2011 season once again offers a balance of contemporary and classic shows; traditional plays, musicals and one-acts; theatrical juggernauts and intimate pieces. In the aesthetic process these opportunities afford, our members "find the life" of professional theater—a life characterized at Nebraska Wesleyan by ensemble effort, a zest for truth in art and a seriousness of purpose tempered by the sheer joy of the work. Life is art in Wesleyan theater—where art also becomes literally the life of our graduates. All of our theater majors strike every mainstage show at Nebraska Wesleyan; and when they have struck their last set, they move with confidence—and with substantive experience in two dozen productions behind them—into graduate, equity and community work on the best stages in the country.
Art in its dramatic manifestation is ephemeral, but developing our students' ability to create it and live its professional values is the lasting commitment of the Nebraska Wesleyan Theatre program.