Snow! It's great if it falls where you want—on ski slopes or good sledding hills. It can be challenging if it falls in your driveway or roads. Getting snow to fall where you want, especially on cropland, can be good for both the soil and good protection for roads and travelers alike.
Dan Gillespie, no-till specialist for the Natural Resources Conservation Service (NRCS) and a farmer himself, says this winter you may have noticed good-road and bad-road differences when driving on highways or county roads but did not really known why. On soybean fields or fall-tilled cornfields that lack crop of stubble height, snow more easily blows across the fields into road ditches and onto roads. Fields with standing stalks trap snow and reduce it from moving.
No-till, the practice of leaving the previous year's crop residue on the soil surface over winter then planting directly into the soil without tillage, can provide these snow-trapping benefits plus many others.
Gillespie estimates one quarter section of cornstalks filled 12 inches deep with snow could hold 200,000 cubic yards of snow, helping to keep it off of county roadways and highways. That could save a lot of tax money paid out in snow removal. That trapped moisture also benefits the farmer in soil moisture.
That same 12 inches of snow could provide the farmer 0.8 to one inch of additional soil moisture in the soil profile. That moisture could make a difference of eight to 12 additional bushels per acre of corn yield. That moisture is especially valuable to dryland crops. The irrigation farmer benefits from reduced irrigation pumping costs, too.
Dave Shelton, conservation tillage specialist with the University of Nebraska-Extension at Concord, Neb., agrees with Gillespie's estimate on the moisture benefits of leaving residue to trap snow. In northeast Nebraska, there are thousands of acres of unharvested corn still standing in the field, some left over from 2009. The corn was not drying very fast last fall, then storms dumped snow, leaving standing corn. "While leaving the corn standing all winter isn't preferred, it certainly knocked a lot of snow down that will end up in the soil profile for next year's crop," stated Shelton.
Al Dutcher, state climatologist, in a 2006 University of Nebraska Cropwatch article, stated, "soil moisture studies at Mead NE, in the early 1990's found about 70% of moisture received from October through April, was captured in the soil profile." Precipitation during the winter recharge period of Oct. 1 to April 30 is critical to Nebraska crop production, he added.
Steve Chick, NRCS state conservationist in Nebraska, said, "NRCS, along with many partners, ag companies and others, have been promoting the many benefits of no-till farming for many years. So why isn't everyone farming this way? Change comes slow. Each farm is an independent business, all 45,000 to 55,000 of them. Each producer has to decide what works best for them and learn the steps in making the change. Thousands have made the change and more continue to transition each season."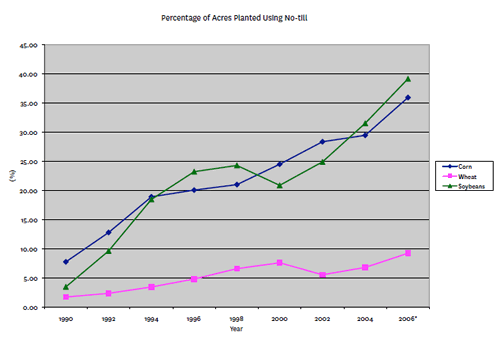 Data from the Conservation Tech­nology Information Center shows a continuing upward trend in no-till farming. Surveys have been conducted every two years since 1990 in Nebraska. Data shows the amount of corn acres planted with no-till has risen from 8 percent in 1990 to 36 percent in 2006. Soybeans planted no-till in 1990 were about 3.5 percent and now they're 39 percent. Small grains, like wheat, planted no-till have risen from 1.7 percent to 9 percent in 2006.
Noel Mues, Furnas County Extension educator, recently reported no-till uses a systems approach to crop production where crops are grown with minimal soil disturbance and soil is kept covered with crop residue. Too often producers think no-till is planting a crop one year without tillage. But it's actually continuously planting crops every year without tillage to get the full benefits of no-till.
Mues added that no-till is a systems approach of residue management, crop rotation, nutrient management, integrated pest management, equipment and its proper operation, and other cropping practices. Without the systems approach, planting a crop without tillage will have problems and the producers may likely fail, blaming no-till, not the lack of management.
Chick cited, for example, the Lower Elkhorn Natural Resources District (LENRD) in northeast Nebraska, which has for more than a decade offered an incentive payment of farmers to convert up to 160 acres to no-till. As part of receiving the payment, farmers had to annually attend two educational sessions to learn and share experiences with other farmers. Linda Unkel, with the LENRD, reports that since 1999, 313 farmers have enrolled nearly 39,000 acres of predominately highly erodible land into the program. Ninety-five percent of the acres have remained in a no-till system. The program is now expanding to offer an incentive for planting cover crops.
Leaving the crop residue on the soil surface, and maybe planting a cover crop in a soybean field, has many benefits. A recent University of Nebraska Cropwatch newsletter article stated that improved water infiltration, less runoff and reduced evaporative losses in no-till can save 5 to 12 inches of moisture per year. Better infiltration allows more water into the soil profile. Tillage destroys soil structure, breaking up the soil pores and reducing the amount of residue on the soil surface. Decaying residue feeds soil microbes and earthworms, cycling the nutrients and building soil structure.
"Snow in western Nebraska can vary in both amount and moisture content," stated Bob Klein, University of Nebraska-Lincoln (UNL) western Nebraska crop specialist at North Platte. "There is no doubt residue adds to moisture. Recently, in a plot test during one of our drier years, I conducted a soil moisture test in a field with taller residue and one across the road with shorter residue. In the field with 18-inch tall residue, I found moisture down to 39 inches. Across the road with residue 9 inches high, the moisture was only down to 13 inches. So residue, and height are factors in conserving moisture, said Klein.
A research paper by Dave Nielsen, research agronomist with the Agricultural Research Service at Akron, Colo., says a final crop yield is greatly influenced by the amount of water that moves from the soil, through the plant and out into the atmosphere through transpiration. The more water in the soil for plants, the greater the yield. In monitoring a five-year average at Akron, soil water recharge over fall, winter, and spring periods found nearly double the moisture in no-till wheat compared to conventionally tilled wheat residue (4.6 inches compared to 2.5 inches), according to Nielsen.
Retired NRCS soil scientist John Kimble reported in a recent Prairie Fire article about the value of crop residue in building soil quality. The article was carried because of the interest in Nebraska of using crop residue in ethanol production. In 2009, UNL soil scientist Charles Wortman reported in a Cropwatch article that "farmers need to know the nutrients in crop residue if they are removing it from the field and not just look at the dollars for the bales. Removing 5 or 6 1,200 pound bales would take about $60–80 dollars in nutrients (depending on fertilizer prices) in the residues that would go into the soil."
NRCS's Chick says there are other articles and research that compare no-till to conventionally tilled fields, documenting savings in tractor time costs, savings in planting costs, savings in fuel and savings in labor costs. The National Agricultural Statistics Service in February reported a continual downward slide in the number of farmers in Nebraska. Chick added that land-use inventories by NRCS show that, over time, the number of acres being cropped remains roughly the same at about 20 million acres in Nebraska. So, fewer farmers are farming the same amount of land. A no-till system provides a means to keep costs low and still crop the land.
Wildlife, especially birds, benefit from standing residue, said Tim McCoy, ag program manager for the Nebraska Game and Parks Commission. He says the residue provides habitat and food. With wheat residue, nesting habitat is especially beneficial.
No-till, said Chick, can provide benefits year-round. In winter, it can reduce blowing snow. In spring, it can reduce dust blowing off of unprotected fields causing "brown outs." In summer, residue can increase water infiltration, reduce evaporation and cut fuel, labor and operating costs.