The distinctive long-billed curlew glides gracefully over the grassland, head and characteristic long curved beak outstretched. When this shorebird alights, it almost disappears, with its mottled brown coloration blending in perfectly with the grasses. Few Nebraskans have had the opportunity to see the long-billed curlew, the largest shorebird in North America. Perhaps this is because it is limited to grasslands and hayfields in the Sand Hills and Panhandle. Perhaps it is because the bird is considered "at-risk" in our state and "critically imperiled" nationally. The Nebraska Natural Legacy Project uses an image of the long-billed curlew as a constant reminder that the Natural Legacy Project is designed to help individuals improve habitat for Nebraska's over 600 at-risk species in a manner that also provides valuable habitat for Nebraska's most common species.
The need to prevent more wildlife declines is at a critical threshold. The bald eagle has seen dramatic changes over the last century and is well on its way to recovery, but nearly 2,000 species are listed as threatened or endangered and thousands more are at risk of these labels. Many of Nebraska's wildlife populations have declined because of habitat loss, habitat degradation, diseases, and competition and predation from invasive exotic species. Once a species has declined to the point of being endangered, it is difficult and very expensive to bring it back from the brink of extinction.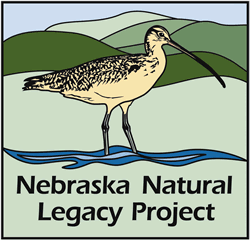 The Nebraska Natural Legacy Project strives to prevent further losses of the state's biodiversity and to maintain healthy, stable native wildlife populations for future generations of Nebraskans to enjoy. The Nebraska Natural Legacy Project is an action plan that joins natural resource professionals and landowners together to conserve the state's wildlife and natural landscapes. The Natural Legacy Project is Nebraska's only comprehensive wildlife conservation plan. It is strategic and has identified over 600 Nebraska species that are at-risk, 80 of which are nationally or globally dangerously close to extinction. The Natural Legacy Project also has identified 40 Biologically Unique Landscapes that contain these at-risk species and continues to identify ecological communities that have a high probability of persisting long term. Conservation work in the biologically unique land­­scapes offers the best opportunities for conserving our at-risk species while keeping common species common.
Improving habitat for at-risk species on private and public ground has been highly successful. In fact, biologists from many different biologically unique landscapes are scrambling to keep up with interest from landowners as the word spreads about land management practices that benefit both landowners and wildlife. There are seven Coordinating Wildlife Biologists across Nebraska working in the biologically unique landscapes, but the statewide success is attributed to the numerous conservation partners, land managers and landowners actively working to achieve the goals of the Natural Legacy Project. The partner biologists work together to develop habitat plans for landowners, often with a cost-share component, in a manner that both meets the needs of the landowner and benefits wildlife.
Habitat improvement needs to be flexible and adaptable for each situation and requires a variety of conservation tools. Prescribed burning is an effective and safe way to decrease invasive plant numbers, allow for the rejuvenation of native vegetation and offer habitat for at-risk species. Since 2007, approximately 40,000 acres were burned. Last year 52.2 acres of wetlands were restored in cooperation with the Natural Resources Conservation Service's Natural Legacy EQIP Special Initiative. Along the rivers, landowners that have a keen interest in waterfowl hunting have undertaken actions that also enhanced habitat for several minnow species and the river otter. Other conservation actions include invasive plant species removal, fencing to establish grazing systems, wetland enhancement, conservation easements, wildlife surveys and educational activities, such as landowner workshops and habitat tours.
In eastern Nebraska, tallgrass prairie remnants are being overtaken by invasive trees and shrubs like eastern red cedar. Birds, such as the greater prairie chicken and bobolink, and even butterflies, like the regal fritillary, need open grasslands. In 2009, nearly 7,000 acres of invasive trees, such as eastern red cedar, were cleared from grasslands in the southeast. Wildlife species are not the only ones to benefit; landowners have found that reducing invasive species increases range quality. "Clearing some of the invasive species enables landowners and producers to better manage our grasslands by increasing diversity and production. As a landowner, conservationist and livestock producer, I appreciate past, present and future support of conservation cost-share programs that enhance our biologically unique landscape as well as our bottom line," said landowner Rod Christen.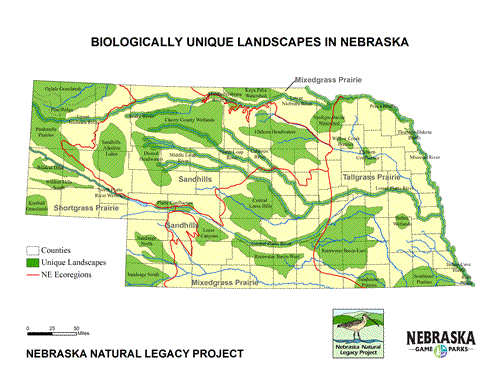 In Nebraska's Panhandle, pine-thinning restores the forest health of the Pine Ridge and Wildcat Hills to benefit at-risk species, such as Lewis's woodpecker, while reducing the risk of catastrophic fires. Other endeavors include fence removals to facilitate wildlife movement, golden eagle nest surveys, installation of ladders in stock tanks to prevent wildlife drowning, bird-banding demonstrations, and the distribution of educational posters and materials about the biologically unique landscape.
Wildlife conservation means not only putting habitat on the ground but also helping children and students become aware of the challenges that wildlife face now and will face in the future. The Nebraska Game and Parks Commission has joined forces with Audubon Nebraska to reach more people with the message of Natural Legacy. In fall 2009, over 1,300 fourth graders participated in Prairie Education Programs. The Prairie Festival and BioBlitz were important highlights of the year, giving individuals a chance to get involved, learn and even celebrate the environment.
The success of Nebraska's Natural Legacy Project is largely attributed to the Legacy Partnership Team. This team includes members from the conservation community, as well as the agriculture community, and has helped build the project. This team ensures that actions and goals not only will help recover our at-risk species but will also be compatible with landowners. Members of this team continue to guide conservation across the state, are engaged in local projects and help direct conservation dollars.
The Nebraska Natural Legacy Project is part of a nationwide effort to conserve at-risk species. Since 2005, each state implemented their federally approved State Wildlife Action Plan, designed to cater to specific wildlife habitat needs. Funding for Nebraska's Natural Legacy Project comes from multiple partners and the federal State Wildlife Grants program.
Funding for the State Wildlife Grants is supported through the Teaming with Wildlife Coalition, which aims to ensure that state wildlife agencies and their conservation partners across the country are financially equipped to carry out significant conservation projects. Teaming with Wildlife includes state wildlife agencies, biologists, nature-based businesses and initiatives, hunters, anglers and other conservationists striving to prevent species' extinctions. An astounding number of more than 6,200 organizations have joined Teaming with Wildlife to support increased public funding for wildlife conservation and recreation. State Wildlife Grants annual allocation support is always needed.
Many of Nebraska's conservation partners recognize that it is typically more cost-effective to prevent species' declines than to try to bring threatened and endangered species back from the brink of extinction. Therefore, agencies, organizations and individuals are collaborating statewide to achieve the Legacy Project's many goals, including habitat enhancement, monitoring of species and conservation education. For example, The Natural Resources Conservation Service's Environmental Quality Incentives Program (NRCS–EQIP) special initiative designated $1 million in 2008–2009 to create and enhance wildlife habitat in Nebraska's biologically unique landscapes. Funds from the Nebraska Environmental Trust, State Wildlife Grants, U.S. Fish and Wildlife Service's Landowner Incentive Program, Pheasants Forever, Inc., Quail Forever, Inc., Northern Prairies Land Trust, Rocky Mountain Bird Observatory, Nebraska Cooperative Fish and Wildlife Unit, Natural Resource Districts and other sources support implementation of the Natural Legacy Project.
Future plans: The upgrade
After five years of working to achieve the goals in the Natural Legacy Project, it is time to re-evaluate and revise, based on what has been learned. This revision process will take into account factors that may have been overlooked in the first edition and make relevant changes that will improve the Natural Legacy Project and ultimately its implementation for the state of Nebraska. Just as when the Natural Legacy Project was initially designed, the update will be accomplished using a team approach of stakeholders, landowners, biologists and conservation partners to determine and write changes that will guide better conservation actions within the state and identify potential for conservation across state boundaries. Anyone can have the opportunity to be engaged in the update process at the various public input meetings across the state. All meetings are scheduled from 6:00 to 8:00 p.m.
Beatrice: April 28, Beatrice Public Library
Lincoln: May 17, Lower Platte South Natural Resource District
Kearney: May 20, Yanney Park ERC Building
Omaha: May 26, Papio-Missouri River Natural Resource District
North Platte: May 27, West Central Research and Extension Center
Norfolk: June 2, Lifelong Learning Center
Scottsbluff: June 15, North Platte Natural Resource District
Chadron: June 16, Upper Niobrara White Natural Resource District
Valentine: June 22, Niobrara Lodge
Wildlife and their habitats play an integral role in Nebraskans' daily lives. Creating or enhancing wildlife habitat is beneficial in that it can add beauty and enjoyment to our lives. We benefit from wildlife and their habitats in aesthetic, recreational, social, educational, ecological and economical ways. It only makes sense to do our part to ensure the viability of Nebraska's wildlife habitat in 2010 and beyond.
If you would like more information about the Natural Legacy Project and its implementation, visit the Natural Legacy Web site at http://www.out doornebraska.org and follow the Conservation– Natural Legacy links or contact Melissa Santiago, Legacy biologist, at melissa[dot]santiago[at]nebraska[dot]gov or Kristal Stoner, Wildlife Diversity Program manager, at kristal[dot]stoner[at]nebraska[dot]gov. If you would like to support state wildlife grants, please visit http://teaming.com.
The Natural Legacy Partnership Team has been instrumental in ensuring successful development and implementation of the Natural Legacy Project. Members of the team are listed at http://www.ngpc.state.ne.us/wildlife/programs/legacy/pdfs/appendix1.pdf. Additional information about the Nebraska Natural Legacy Project can be found at http://www.wildlifeactionplans.org/nebraska.html.