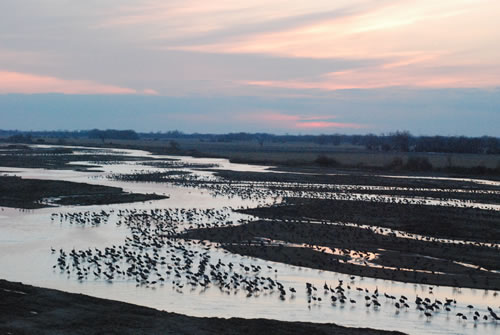 Audubon's Rowe Sanctuary near Gibbon hosts thousands of human visitors each spring, as well as hundreds of thousands of sandhill cranes. The efforts of volunteers are crucial in Rowe's continued ability to protect crane habitat and educate people about these magnificent birds. Though many of these volunteers initially came to Rowe to work on behalf of the birds, reuniting with the members of their tight-knit but far-flung crane family has become just as important to them.
As the icy resolve of winter begins to fade, sandhill cranes descend on the Platte River. First a few trickle in, and then thousands of others arrive en masse. This annual late winter/early spring influx has taken place for millennia, predating the political boundaries of what is now known as "Nebraska" and even humankind's existence in North America.
The exodus of cranes into Nebraska that persists today has its roots in antiquity but now a more recently formed migration coincides with the avian journey of Grus canadensis. It could be considered as inspiring, as wonderful and as rare. This miraculous natural event is the springtime return of "crane season volunteers" (Volunteerus craniacii) to Audubon's Rowe Sanctuary.
Rowe Sanctuary is 1,900 acres of Platte River channel, wet meadows, riparian areas and farm ground managed primarily as habitat beneficial to sandhill cranes. It is the premier destination for birders and other wildlife enthusiasts seeking to witness the largest gathering of any crane species on planet Earth. Fifteen thousand people from around the world visit Rowe each spring during a hectic six-week period known as "crane season." It's the busiest time of year at Rowe, when much of its annual operating budget is generated.
Bill Taddicken is Rowe's manager and knows firsthand the importance of volunteers to the operation of the sanctuary. "Volunteers are the lifeblood of what we do at Rowe Sanctuary. With only four staff members there is absolutely no way we could accomplish all that we do for cranes and the Platte River without the volunteers giving so generously of their time and talents. The volunteers are Audubon's greatest resource. Although many of the volunteers are better at being busy than actually recording the time they donate to Rowe in the volunteer log book, it is known that this group gives at least 5,000 man hours per year for the cranes and for Rowe."
Rowe's volunteer coordinator is Tony Docherty. His involvement at Rowe began when he answered an ad seeking volunteers several years ago. He's gone from being a volunteer to being part of the small staff, which gives him a unique view when it comes to happenings at Rowe. "Rowe Sanctuary is built on the foundation of our volunteers. The sanctuary would 'crumble' and deteriorate if not for the passion, commitment, dedication and enthusiasm of our volunteers," said Docherty.
But why would someone volunteer to flirt with frostbite along the icy banks of the frigid Platte River near Gibbon, Neb., each March and April to benefit a bunch of large gray birds? The answers are as varied as those giving souls that have answered the crane's call.
There's Phil Mesner, a native of Central City, Neb. He's volunteered at Rowe for each of the last dozen crane seasons. That's a monumental level of dedication in anyone's book. Even more impressive is that Phil has made each of those spring trips from his home in British Columbia, Canada!
Mesner admittedly has "a strong affection for and 'spiritual connection'" to the birds. And while it may sound extraordinary, all it takes is a few minutes with Mesner in one of Rowe's riverside viewing blinds to understand what he means.
After following him down a snow-covered trail, Mesner leads a group of visitors into an unheated, hollow plywood box on the south bank of the Platte River's. A dry winter wind laced with a stinging bite swirls through the room and around the 30 people, each of whom is aligned with an open window flanking the river.
Things settle down as Mesner gives his educational program prior to cranes returning to the river that serves as their evening roost. Mesner hints of what is to come with the final sentence of his speech: "You are going to see magic here tonight." With all questions answered, the blind grows quiet besides the continuous chattering of teeth. The sun descends, painting a watercolor canvas of pink, purple and amber; it seems to set into the river itself. As his visitors retract deep into the recesses of their coats and blankets, the escalating calls of sandhill cranes invigorate Phil Mesner. His eyes shine and his aged face creases with an eager and dignified smile.
Soon a single pair of cranes touch down upstream, and Mesner, with an excited rasp to his whisper, goes from person to person showing them where the action is about to begin. It seems on this cold evening that the solitary pair was the advance party for every sandhill crane in the valley. From that small sandbar, the river quickly solidified in a gray winged mass of tens of thousands of chatty cranes.
Ducks and geese joined the performance, and three whitetail deer paused among the crowd before swimming to the south bank and vanishing into a thin strip of cottonwoods. The seemingly automated call of a kingfisher rattled occasionally, and the commotion of a beaver's tail always managed to startle a few unwary sandhills. Multitudes of cranes and other bird species continued to splash down until well after the sun had submitted to the inky black of night. The call of a great horned owl serenaded the group as they exited the blind well after dark.
Mesner managed to temper his obvious excitement until the group returned to the Iain Nicolson Audubon Center, Rowe's nature center and office facility. There, appreciative visitors extended their hands, while others gave him hugs. One woman with an ear-to-ear grin had tears streaming down her face. For many of the visitors, it was their first time witnessing this magical event. Even though Mesner has seen it hundreds of times, his appreciation of this natural wonder is contagious. He takes no credit for the show that Nature provides but has pride in showing this to others. In one sentence and in his grandfatherly voice Mesner offers a glimpse into why he is part of the Rowe family: "This place is more than a sanctuary for cranes; it's a sanctuary for people, too."
Beverly Hof-Miller can relate to the spiritual connection between people and cranes; it's a bond she herself enjoys. "My first crane viewing experience was 1999. It was a moving spiritual experience and I return each year to the Platte with the cranes as if in pilgrimage. During my third visit to see the cranes I inquired about volunteering. I desired a more intimate experience, I wanted to learn more about cranes and I wanted to be near the river at night. The visual is certainly impressive, but the sound is what thrills my soul. 2010 will mark my 12th visit and my ninth season as a Rowe volunteer. After visiting Rowe three times, I had observed staff and volunteers. It is amazing what you can learn by observing. What I saw was a group of people that valued each other as well as cranes and all of Nature. I also saw a director who set the tone by valuing the gifts of staff and volunteers."
Paul Tebbel was the director of Rowe at that time; he recalls: "When I started at Rowe, we used volunteers sparingly and hardly at all during the crane season. It only took me one month to realize that volunteers would be our key to attracting more people to watch cranes and support the sanctuary. The work they did during my tenure exceeded my wildest dreams—and we all became a close, tight family." Tebbel lives and works in California now but still visits Nebraska and other places on behalf of cranes and to reconnect with the human friends he made while at Rowe. He adds, "Being part of the Rowe family will always be one of my fondest memories."
It could be said that the "face" of Rowe Sanctuary is its magnificent straw-bale constructed headquarters, the Iain Nicolson Nature Center. It's where people meet for their crane tours, where thousands of children begin outdoor education sessions each year, and where adventurers park to wander several miles of trails outside of crane season. It's also a good place to relax and watch the Platte's typically unhurried meanderings through the center's panoramic array of windows. That the building even exists is due in large part to one member of Rowe's volunteer family.
Iain and Margery Nicolson began traveling to Nebraska to see the cranes in 1990. Margery remembers that first visit: "It was very, very cold. All of the cranes lifted from the river when an eagle flew upstream." Even though the Nicolson's explored the world, backpacking in remote and scenic places like Nepal and Switzerland, she said of her first crane tour, "It was one of the best spectacles we had ever seen, and we've seen a few." The Nicolson's retired in 2000, and after 40 years of marriage Iain passed away the following year.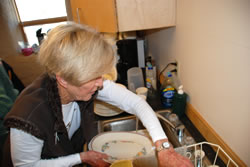 During those many excursions to Nebraska, Margery grew to know many people. One of them was Paul Tebbel, who at the time was the director at Rowe. When Tebbel learned of Iain's passing, he immediately called Margery and recruited her as a volunteer. She first pinned on the green Rowe name tag in 2002 and has made the long-distance trip from her home in Pacific Palisades, Calif., to south-central Nebraska every spring since.
She continues to visit because of a need to see the cranes, the staff and her fellow volunteers. She said, "We're pretty bonded; we share a common purpose in protecting the cranes. Each volunteer has something special to give, and I always feel as if I am doing something useful here; it's better than being out golfing with the boys." She takes immense pride in seeing visitors enjoy the building that is named for her late husband, and by returning to Rowe each spring, she continues the Nicolson's legacy of experiencing Nature's greatest wonders.
At the time of its construction, the 6,400-square-foot Iain Nicolson Aud­ubon Center was the second-largest straw-bale building in the Unit­ed States. Be­fore its completion in 2003, Rowe's of­fices and gift shop operated out of what would be considered the prototypical two-story American farmhouse. Margery's ded­­ication to the center goes beyond leading crane tours, cleaning restrooms and changing light bulbs; she donated more than half of the nearly $900,000 needed to build the riverside facility.
Rowe's dedicated corps of volunteers has members from Canada and California, as well as Iowa, Maine, New Mexico, Washington State, Colorado, Kansas and many other states. That so many people are willing to travel from such distant places to give of themselves says volumes about what a rare spectacle the crane migration is. It also says a lot about those people needing to reconnect with their volunteer family each spring.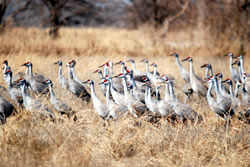 But there are "local volunteers," too. People from nearby towns, including Gibbon, Kearney, Grand Island, Heartwell, Hastings, Eustis and Minden, volunteer at Rowe as well, many of them being present at any time of year, not just crane season.
Although it's a three-hour drive for her, Carolyn Hall of Bassett could be considered a local volunteer by virtue of living within the geographical confines of the state of Nebraska.
When asked why she does it, she cracked a playful smile and said, "I come to Rowe to work, watch cranes, play, watch cranes, meet people, watch cranes, and work with the greatest volunteers and staff in the world."
And while that statement describes an important reason for her initially coming to Rowe—to watch cranes—Hall can be found doing just about anything that needs to be done. She enjoys helping visitors experience the largest gathering of sandhill cranes in the world but adds, "I help in the gift shop and reception area to raise funds to keep this sanctuary open."
Hall's impact over her 12 crane seasons and that of the other volunteers goes far beyond ringing up plush sandhill cranes, key chains and souvenir T-shirts on the cash register. Rowe's miniscule staff of four simply could not possibly do all of the habitat management, education, cleaning, weeding, maintenance, repair, mowing, guiding, phone answering, trail clearing, reservation making, dishwashing, painting, trash collecting, window washing, recyclable sorting, greeting, stump pulling, feeder filling … and everything else that the volunteers do so selflessly. It would take a large staff and an even larger budget to make do without volunteers. Not that they would want to; these guys are just so much fun to be around.
That is until you pack a dozen or so of them in that aforementioned farmhouse, which became volunteer housing once the Nicolson Center was built. Actually, Hall said, "We rarely have tensions in the farmhouse. It's just … a challenge learning how six or seven or more women plus an occasional man or two can live in the same small house with only one bathroom. We always have to be conscious of who has to get up for early blinds? When can you take a shower? Who's scheduled to make morning coffee in the Nicolson Center? Who has gate duty? Who is going to Gibbon, Minden or Kearney for groceries? And who is making dinner?"
Mealtime could be considered one of the most important and enjoyable aspects of being a part of this talented volunteer family. There's a standing rule at Rowe, and it may be the only one: "If there's food on the table, it's up for grabs." Many members of the group are fine cooks; there's always a pot of soup simmering, steaks sizzling on the grill or cookies baking in the
oven. Sugary treats, chips and breads of all kinds can be found on the counters and kitchen table of the Nicolson Center. The group often meets at local restaurants, and several times each crane season somebody shows up with platters full of sandwiches. Carolyn Hall particularly enjoys intimate Crockpot meals in the old farmhouse.
That two-story, four-bedroom crowd­ed house with a dozen beds, one bathroom, a small kitchen table and a dryer with a hasp bolted to its door to keep it closed is as cozy and conducive to bonding as any other. Like thousands of farm families that became close living in similar homes, the volunteers that share the Rowe farmhouse are a tight-knit group. That doesn't mean they wouldn't appreciate more spacious accommodations. Hall exclaims, "We need a volunteer quarters!" It's a project the staff would like to see come to fruition, but until the money can be found, Hall and the others will continue strategically planning shower times and making it a point to be in bed early so as not to disturb those leading morning crane viewing trips.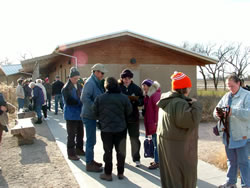 Volunteering at Rowe can be a lot of work. Squeezing 15,000 of the world's most dedicated birdwatchers through the front door of the Nicolson Center in only six weeks is a big undertaking. The days routinely run 17 or more hours from the time when guides prepare for the morning crane viewing trips until the final one of the evening wraps up, often after 9:00 p.m. But it isn't all work.
John Murphy is a long-time fixture at Rowe and a teacher at the Youth Rehabilitation and Treatment Center in Kearney. He is known for bringing groups of at-risk young men to Rowe on bird-watching trips. He said, "Some of these boys have never seen an eagle before, but they sure get excited the first time they do." Those young men also do some volunteer work. Recently a dozen of his students repainted one of Rowe's crane-viewing blinds—they did a wonderful job and had a great time doing it.
When you visit Rowe, Murphy is the guy with the high-dollar binoculars strapped to his chest, a fleece vest and a field guide sticking out of at least one pocket. OK, that describes a lot of people at Rowe—staff, volunteers and visitors alike. But Murphy has one thing the rest of those people have not—he's one of the few people on Earth to have the initials W.B.A. behind his name. He's a World Bird Authority.
John Murphy, W.B.A., has a network of bird people that keep him informed of avian arrivals in the state. If a cinnamon teal strays from its usual range and shows up at Fort Kearny, he gets a call. If a great horned owl is nesting in the cavity of a cottonwood within full view of passersby, he gets a call. And if a rare whooping crane decides to enter Nebraska airspace, yeah, Murphy gets a call. And then the fun begins.
Upon receiving a report, he hurriedly packs up his tripod and scope and heads for the door. Anyone he meets along the way is likely to be invited along. How many people can you fit in the cab of a four-door Chevy pickup? Nine is the answer. When whoopers are sighted, people are jockeying for position to tag along—you don't want to be among the unlucky ones to hear about it later. Rowe's office manager Kent Skaggs occasionally and only half jokingly reminds Murphy of the time he was overlooked for one of these trips a few years ago. With less than 300 left in the wild, whooper sightings are a big deal, especially to these people. Some­times a convoy of several vehicles leaves Rowe with Murphy's black Chevy leading.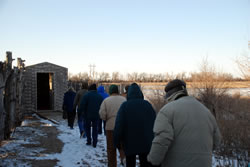 In addition to impromptu whooping crane safaris, the volunteers make time to take trips to the Nebraska Sand Hills to watch prairie chickens or to enjoy a trail ride. Or they explore back roads and enjoy visiting out-of-the-way restaurants, vineyards and museums. Besides being birders, this varied group has other interests. As a result, coffee shops, bakeries, antique stores, state parks, craft stores and camera shops are some of the other places they like to visit. One time, while a dozen Rowe volunteers were floating down a Sand Hills river in, of all things, livestock tanks, Rowe volunteer and Murphy's brother-in-law Brian Moody exclaimed, "Look, there's a wallet floating down the river! Hey, that's my wallet!" The family has picnics and barbecues regularly, too. No, it's not all work; this family that works hard together plays hard together, too.
Deb Hann hales from nearby Grand Island. Initially she came to Rowe because of her "love of nature and fascination with cranes." She said, "I keep coming back not only for the birds but because of the wonderful friendships I have made with other volunteers. When I began volunteering at Rowe, I had no idea that I would become a member of a very special family. Many of the fondest memories in my life are of times I've spent with the friends I have made at Rowe Sanctuary. Actually, it's as much socializing as it is volunteering when you come to Rowe. You get to spend time with people you love, doing what you enjoy, for a cause you believe in. It's more fun than work. If any one of us is in need of anything, we know we can always depend on each other. My Rowe Sanctuary family is a big part of my life and my life would not be nearly as rich without all the wonderful friends I've made through volunteering at Rowe."
The staff stresses the importance of the volunteers being professional when interacting with the public, and all of the volunteers are very professional. In fact, Docherty said, "Visitors to the sanctuary often compliment us on the knowledge, professionalism and welcoming hospitality of our volunteers, who instill a sense of wonder and provide a 'once-in-lifetime' and lasting experience to everyone who walks through our doors."
But is there such a thing as a Professional Volunteer? Is that an oxymoron? Well, not really. If you're Erv Nichols, the moniker "Professional Volunteer" personifies him well.
He lives a nomadic lifestyle, spending a few months here, then a few months there. Three years ago he met up with a kindred spirit in Sandra Noll. Now they travel around volunteering together. "Life revolves around three-month assignments. That's the typical length of stay at most places," said Nichols. "We figure it's possible to put up with just about anything for three months. We learn new things, meet new people and see beautiful places. And feel we are giving something back to the planet. So far we have worked in Alaska, New Mexico, Arizona, Texas and Nebraska. We have worked visitor centers, done interpretive programs, raised baby falcons for reintroduction into the wild and, maybe best of all, led sandhill crane tours on the Platte for Audubon's Rowe Sanctuary."
When Nichols told friends from sunny southern California four years ago that he was going to Nebraska to volunteer during crane season, they responded in disbelief. "What, you're going to Nebraska … in February? Are you nuts?"
Well, yes, he probably is a little bird-brained; you almost have to be to live the life that he does. And it's no surprise that he fits in well at Rowe Sanctuary; he feels that all of the volunteers are appreciated. "Our reception at Rowe has always been the best. In fact it's the main reason we come back. And it's not just the folks at Rowe but everyone we've met in Nebraska has welcomed us. One thing we have learned is volunteers deserve to be recognized for what they do. It's something lacking at some of our assignments. Since we're not making the big bucks, the occasional 'thanks for being here' or 'great job!' is very much appreciated and Rowe does this well."
Nichols recalled his first experience on the Platte River. "It was cold, snowy and windy. We were out traipsing through the elements way before dawn to huddle in a little plywood blind with 20 other people to see thousands of magnificent large birds leave their overnight roost. I thought, my friends were right—I am nuts. That morning, though, I learned why I was there. In a cacophony of flapping wings and ethereal primitive calls, the cranes flew off to the nearby fields silhouetted against the red-orange of the rising sun. It was amazing.
"You should all be so crazy … at least once."
Obviously, volunteers care deeply about the Platte River, the sandhill cranes and other wildlife, and Rowe Sanctuary itself. And they care about their volunteer family members. They travel from across the country and even other countries each spring to help with Rowe's busiest season. And they give of themselves financially. Not only through donations and estate bequests but also through filling their gas tanks each time they travel to Rowe or by using precious vacation time from their regular jobs to help out when they can. For most, it started with the desire to experience this one-place-in-the-world event, the sandhill crane migration. But for many, now, the need to reconnect with their springtime family is as strong as their need to see the cranes.
Carolyn Hall sums up well the collective reason why many of the volunteers feel the need to migrate along with their avian brethren to the Platte's shallow flows and Rowe Sanctuary each spring—it's really about each other: "Where else can I rub elbows with well-known photographers, lawyers, doctors, construction workers, truck drivers, teachers, visitors from 57 countries and … YOU?"
For more information about becoming part of the volunteer family at Audubon's Rowe Sanctuary or for information about the upcoming sandhill crane migration or Family Crane Carnival, go to http://www.rowesanctuary.org or call (308) 468-5282.