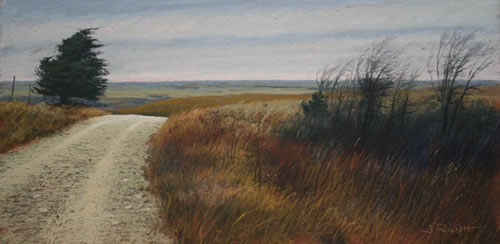 John Roush's work has been acclaimed in museum exhibitions as well as national art publications. Having followed John's work for over 10 years and participated in some of the same exhibitions, I know from firsthand experience that he's a great agrarian artist. While John is a master of modern realism, it's not his painting skill that sets his work apart. It's that he's interpreting subjects that other artists miss—subjects that are in his heart due to his agrarian experience.
According to Roush, "I paint my immediate environment and the places that I visit often. It is a selfish pursuit, for I only paint subjects that are significant to me." For Roush, these are primarily landscapes of farms and tilled fields from his native Kansas and his present country home in Missouri. He's one of only a handful of artists whose experiences permit them to understand agrarian subjects and to reinvent them as compelling pictures. Painting what he knows allows him to see what we miss and to give us the gift of his vision.
Roush's work has been compared to that of Andrew Wyeth. Many artists are attracted to mountains, canyon vistas and the like. John paints what is important to him rather than what is exciting and awe-inspiring to most people. Like Wyeth, Roush's subjects are part of him. He's therefore able to take ordinary subjects and make them extraordinary.
Many of Roush's paintings are derived from scenes near his Missouri studio. "Looking north out of my studio, I can pick out a handful of places that I've painted. Within a five-mile radius of here, there are dozens," he said. Again, note the similarity to Wyeth, who made most of his paintings within a short distance of his country home.
"Century Farm" is only one mile east of Roush's studio. Like a few farms from John's childhood, this farm has been in the same family for 100 years. Because this means something to Roush, he committed his time and talent to make this exceptional painting.
Many artists portray what is popular and comfortable. For "Century Farm," Roush braved the cold and hiked out into a snow-covered field to invest effort in a less popular subject, but one that spoke to him. John walked to the beat of his own drum. He took more risk than the typical landscape painter. Great skill in painting, linear perspective and careful editing were not just important, they were essential. To compose the work and make use of shadows describing the subject, he needed to be at just the right place at just the right time. Motivation and insight to be at that time and place came by painting what he knows rather than painting what is popular.
The result is a very compelling painting that arrests time and place. Man's presence—the corn stubble, the dwelling, the road and the farmstead—is subservient to Mother Nature. While most artists would focus on the farmstead, Roush puts this in the background so that the land itself gives meaning to the century farm. An artist's identity is hard to detect in many landscape paintings; however, because "Century Farm" is a heartfelt interpretation of what he knows, it's obvious that it came from the hand of Roush. That Roush's paintings come from the heart gives this and many of his other paintings a strong chance to stand the test of time.
"November Wind" is another example of a painting that speaks to Roush's agrarian experiences. Most of us haven't felt the sense of something almost spiritual in the presence of a cold fall wind in the open land. Because Roush has been there many times, he meditated on this subject and struggled to make a painting of it.
After following his heart in selecting this difficult subject, Roush's great picture-making skills came into play. He painted the wind by bending the cedar tree and the brush more than it appeared to his eye. John widened the format to impress us with the lonely outdoor expanse. He made this a gray day, not a sunny one. It took both his knowledge of his subject as well as insightful creative choices to let the viewer feel alone on a windy a road to an unknown distant destination. This is not pretty, but it is a strong, evocative painting. It's strong in large part because Roush makes artistic decisions by trusting his own intuition born of personal agrarian experience.
In Roush's own words, "It boils down to knowing your subject. Paint what you know… Unless you can do the scene better, you might as well leave it alone."
Seeing is believing. Roush's work is the headlining display at Bone Creek Museum of Agrarian Art. His masterful work in both oil and pastel paintings about burning prairie, county roads, grain elevators, work sheds, silos, corn bins, water tanks, cedar trees, work baskets, hay bales and the like, is a reinvention of the commonplace by the artist based on knowing these
subjects. View, think and ponder agrarianism through the eyes of one who knows and feels strongly about the land and its tenure. As you leave Bone Creek Museum of Agrarian Art, you'll see the country through the lens of Roush's images.
Don't miss "Solstice," which Roush gifted to Bone Creek. Years ago, the Butler Institute of American Art invited Roush to show this award-winning painting at a special exhibition of master pastel paintings. Afterward, Roush refused to sell the painting. He also declined my offer to trade "Solstice" in exchange for one of my best paintings. He did agree to trade another exceptional painting. However, since first seeing "Solstice," I haven't been able to get it out of my head. Now, on behalf of our board, I'm very grateful to John and his wife Stephanie for giving this masterpiece a fitting home in the collection of Bone Creek.
"Less is more" is often the case with great works of art such as "Solstice." While the graphics are subtle, the painting is powerful. White on white is used by artists such as Andrew Wyeth to explore the issue of life and death. One tends to ponder this when looking at Roush's treatment of white snow. In this painting, what is unseen captures the imagination. You can experience how Roush takes almost nothing and gives us both a visual and emotional journey.
Much of what I discuss in this article came from Roush's Dec. 12 talk, sponsored by Bone Creek, to enhance the exhibition.
"John Roush: Meditations from Missouri" will be on display through March 21, 2010. On March 19 at 7 p.m., the exhibit will be accompanied by free ballads with string and keyboard to celebrate Bone Creek's second anniversary, as well as provide the last chance to see the exhibit. Primary funding of Bone Creek Museum of Agrarian Art is by donors. The Nebraska Arts Council also supports this arts event through its matching grants program funded through the Nebraska Legislature and the National Endowment for the Arts. For more information, visit http://www.nebraskaartscouncil.org.