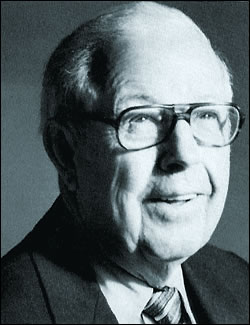 The Polk Progress was a Nebraska treasure that ceased publication in late 1989 after 82 years as a weekly newspaper. From 1955 until its last issue, the editor and publisher was the late Norris Alfred. In its last few months, the Progress had 900 subscribers in 45 states. Alfred was a remarkable Nebraskan with an uncanny eye for connecting the present with the future. Prairie Fire has collaborated with the Alfred family, the University of Nebraska School of Journalism and the Nebraska State Historical Society to locate and archive many of Norris's writings. We are capitalizing on our good fortune to present many of the Norris Alfred writings to our readership. We believe that his observations are as fresh and relevant to today's world as they were when originally written.
"Polking Around"
March 15, 1984
We won't have space for a birding story this week. Friday's snow and Saturday's early morning zero reading had us wondering about the ducks and geese on the rainwater basins and we drove south, Saturday afternoon, to see how our friends had survived.
In the Shiloh school basin area we found a tremendous concentration of geese, mostly snows and blues, plus a small flock of Canadians. The basin water was still frozen though the temperature was 42 degrees. While we were watching that huge snowdrift of geese on the ground, they decided to rise, en masse, and look for either food or open water. We were too far away for our presence to have caused them to fly.
Those thousands and thousands of geese circled several times, a slowly whirling mass of gray and white, tossing out V's and angle lines of geese, plus pairs, that flew towards us from the east, crossed the road directly overhead and flew on against the westering sun. They formed long, noisy, lacy patterns of geese, seen against the sun; one of the remarkable sights our planet provides for those taking the time to look.