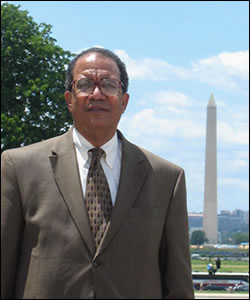 "Sonny's Corner" is a regular column in Prairie Fire, featuring commentary on civil rights and justice issues. Our friend and Omaha colleague, Joseph P. "Sonny" Foster, died suddenly at age 54 in August 2005. He left an uncompleted agenda, as did many of our civil rights and justice mentors and heroes. We shall attempt to move forward on that unfinished agenda through this column.
Throughout America, in urban and rural communities alike, an economic awakening is taking place.
Seemingly out of nowhere, America's 1.4 million strong charity sector has begun to recognize that, far from being "non" profits, they are now, quite often, the major employer in communities leveled by our country's economic downturn.
Whether they be the university or hospital—or in the case of Sheridan, Wyo., the legendary rodeo grounds—America's charitable organizations and the communities they do business in have begun to develop a clearer accounting of the economic role they currently play. Perhaps more importantly, some are also beginning to explore the role charities could play if viewed and subsequently supported as economic contributors on par with traditional businesses.
As I type, I am on the road from Ithaca, N.Y., where I spoke at a broadly attended community summit. At this event, it was announced, to much surprise, that nonprofit leaders made up one-half of the membership of the local Chamber of Commerce. In subsequent conversations during my three-day visit, many of the city's leaders and legislators took pride in detailing their volunteer activities, which often included both direct service and membership on local boards of directors. Many others acknowledged that they had cut their economic eyeteeth working for some of the city's numerous nonprofits. In this semirural community, powered in large part by Cornell University yet surrounded by communities withering for lack of jobs and investment, leaders from all sectors are beginning to ponder aloud whether re-examining and even redrawing the boundaries that used to demarcate for-profit and not-for-profit businesses could reveal an economic engine that could lead a community into an exciting era of productivity and prosperity.
Case in point: Challenge Industries, an amazing charity I encountered following a prior speaking engagement at Ithaca College. Challenge had historically trained and placed men and women with developmental disabilities or other barriers in jobs. Now, with the success of a revenue-generating "social enterprise" called Finger Lakes Fresh, they have become a major employer themselves, generating income, taxes and new jobs.
Currently located in a set of greenhouses donated by Cornell University, this hydroponic business produces a year-round yield of Boston lettuce, bok choy and other greens, and gives a few dozen clients not only a paycheck but job security that will allow them to thrive when their aging parents pass. Because of partnerships with progressive grocery stores, Finger Lakes is about to expand and employ even more men and women who used to be viewed as "unemployable." The success of their hydroponic business has inspired their board to make calculated investments in other businesses, setting Challenge on a path that could soon make them a major employer in the northern half of the Empire State.
Challenge Industries is at the forefront of a new era in America's economic evolution. It has benefitted from dynamic leadership not only from within its own shop but also from leadership in the broader community that wants to support more and more local charitable organizations as they grow in a similar direction—-away from the service culture and the fickle grant cycle of foundations that often leaves groups struggling and anemic—-toward organizations that partner, pool resources, get loans, do business and generate new revenue, while simultaneously addressing entrenched social issues with audacity.
The program I founded 20 years ago is a similar "social enterprise." On a daily basis, the DC Central Kitchen recovers almost two tons of food donated from local foodservice businesses, which is prepared into nutritious meals for city shelters, senior centers or after-school programs (saving our city millions annually). During this process, we also train unemployed men and women and former convicts or addicts for foodservice jobs. The Kitchen now runs Fresh Start, a revenue-generating catering company, which has allowed us to employ graduates, pay solid wages and purchase produce from local farmers (almost $500,000 worth last year), further leveraging our social and economic impact. Every day of the year, good food isn't wasted, residents get healthy meals, social service agencies save precious financial resources, the unemployed find work, the government gets payroll taxes and local farmers find a new market for their nutritious products. In the words of the excited widow at the Friday night church social—"BINGO!!"
But to take these experiments in community wealth building up a notch, we need to elect a new generation of political leaders who see America's charitable sector not as mere do-gooders but as potential partners that can help them achieve a bold vision for their cities and states and for our country.
America will elect 36 new governors in 2010. Can you imagine any candidate for higher office standing before the local Board of Trade or Chamber of Commerce without a detailed plan for how they would partner with businesses? Now is the time to advance a similar standard for the equally important nonprofit sector. And in that pursuit, America's nonprofits must begin to enter the political dialogue, not to endorse candidates or champion parties, but to insure that every candidate displays an in-depth understanding of the full assets of the com­munity and forwards a detailed plan for how they would utilize them to create jobs and expand the economy.
Charities in America generate almost one-tenth of the American economy and employ an equal proportion of our national workforce. For the sake of our collective economic future, we must now move beyond the historic and outdated divide between the two and consider the potential of merging charity and commerce.