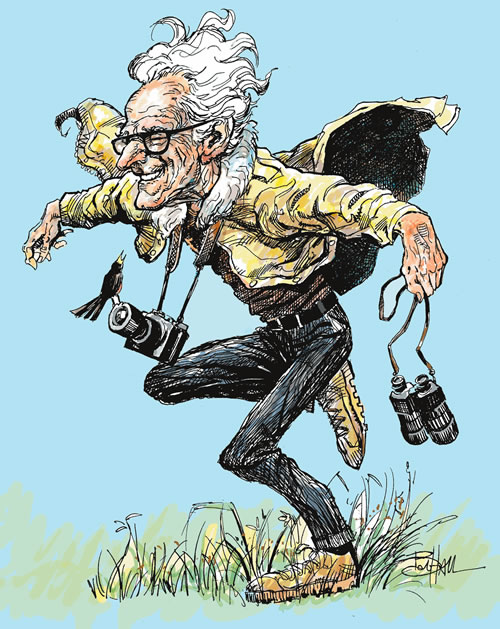 Paul Johnsgard has shown us the wonders of the natural world and our fellow inhabitants through his writing, photography and illustrations. His accomplishments are many. Our readers' enthusiasm for Paul's work, published in Prairie Fire and elsewhere, and repeated requests for a feature on the man himself have allowed us to provide this departure from our normal offerings.
While we are all endowed with special talents and gifts, it is vividly evident that Dr. Paul Austin Johnsgard has made the most of what he has been given. Like a true "Universal man," he built a prolific career as a scientist, professor, researcher, author, artist, photographer and activist. By chance, he came to Nebraska—fell in love with the state, the prairie and the wildfowl that are found here. His many works have helped us to know and appreciate the wild world that surrounds us.
Johnsgard has written more world monographs of bird groups than any other author.
The list includes cranes, grouse, quail, pheasants, waterfowl, shorebirds, trogons, bustards, pelicans and cormorants. He also has written on hummingbirds, stiff-tailed ducks, parasitic birds and arena birds. Other books by Johnsgard have focused on unique ecological communities or regions, such as the Grand Teton region of Wyoming, the biology of the Great Plains, the Nebraska Sand Hills, the history and ecology of the Platte River and the biodiversity of Nebraska. His 51st book, "Wind Through the Buffalo Grass," has recently been released. Some of his books are in second and third printings and have been translated into Chinese, Russian and Latvian. Internet booksellers still carry an inventory of the vast majority of his titles.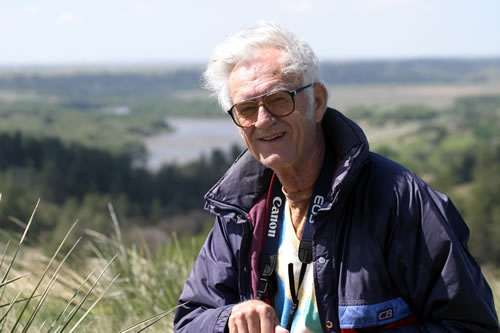 By reading a few of his book dedications, you can get a deeper understanding of this man, the depth of his sensitivity and his sincere willingness to acknowledge the work, influence and contributions of others. In "A Guide to North American Waterfowl," published in 1979, he dedicated the book "To Frank Cassel, who taught me the difference between seeing birds and watching them." Cassel was Johnsgard's faculty advisor at North Dakota State University in Fargo, where he majored in zoology and botany. His intention was a career in wildlife management. Cassel encouraged Johnsgard to pursue a career in "pure ornithology"—research and teaching rather than management. During a summer scholarship program paying $25, Johnsgard did a comprehensive study of every game refuge in North Dakota and prepared a bibliographic survey of the waterfowl distribution in the state, gathering data on other birds as well. That summer's work was the beginning of Johnsgard's meticulous methodology used in his later research.
It was Cassel who encouraged him to do a small booklet on the waterfowl of North Dakota, including four pages of drawings. The publication of that book in 1953 gave Johnsgard confidence in his ability to write and illustrate future works. Cassel was also instrumental in Johnsgard's decision to do graduate studies at Washington State University.
Johnsgard credits many others with influencing his appreciation for wildlife, and birds in particular. Johnsgard's mother was perhaps the first to encourage him, and tolerate his extensive collections of nests, dried plants and other things from nature. He still has a vivid memory of his first-grade teacher and a "stuffed" red-winged blackbird in a glass display case. That experience triggered a lifelong desire to learn more about birds. In 1999, he dedicated "From Earth, Water and Sky; In memory of my first grade teacher Hazel Bilstead, who gave me a precious gift, but did not live long enough for me to repay her." She died a few years after Paul was in her class.
While Johnsgard's father took him hunting a many times in the '30 s, it was his mother's cousin, "Bud" Morgan, a North Dakota game warden, who helped him learn to identify waterfowl on the water and on the wing. Each spring, Morgan would take Paul on his annual waterfowl surveys. After the first trip with Morgan, Johnsgard measured the winter months by how many days it was until the next spring migration.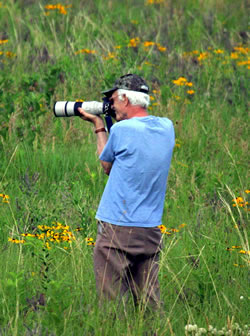 When he was 16, he bought his first 35 mm camera and began taking photographs of waterfowl. He exposed many rolls of film but got nothing he was proud of until Morgan, who had by then become director of the North Dakota game department, used his flying pintail courtship photo on the back cover of the agency's magazine. That encouraged Paul to spend hundreds of hours wading the marshes around Lake Traverse in northeastern South Dakota, a spring staging area for Canada and Snow geese. Those experiences made waterfowl his first love.
Charles Yocom, author of "Waterfowl and Their Food Plants in Washington," also encouraged Johnsgard to come and study waterfowl ecology at Washington State. Johnsgard's master's degree research was an ecological study of the pothole area in central Washington. Typical of Johnsgard, he also did many other ornithological papers, one of which described the courtship displays of ducks. After reading that paper in a publication, Professor Charles Sibley at Cornell University (no relation to David Sibley) wrote to Johnsgard suggesting that Paul should have referred to the work of Konrad Lorenz, a German authority on animal behavior who had published extensively on the behavior of dabbling ducks.
After making that critical remark, Sibley asked Johnsgard if he might be interested in doing his doctoral work at Cornell under him. Paul accepted the invitation and spent the next three years studying mallards, black ducks, Mexican ducks and Florida ducks. After an impressive piece of ornithological research, Johnsgard concluded that the six varieties represent only two closely related species, the mallard and the black duck. The other four types are merely sub-species of the mallard.
After completing his Ph.D., Johnsgard discovered another mentor. Sir Peter Scott, who founded the Wildfowl Trust in Gloucestershire, England, had just collected most of the 145 species of ducks, geese and swans. Johnsgard was offered a two-year post-doctoral fellowship at the trust, funded by the National Science Foundation and the Public Health Service. He studied 133 species of waterfowl, which culminated in what has since become a classic reference. "Handbook of Waterfowl Behavior" was published by Cornell University Press in 1965. The book was acclaimed widely as a major achievement by many reviewers and waterfowl experts such as British waterfowl biologist Hugh Boyd. Boyd wrote: "Paul Johnsgard knows more about waterfowl behavior than anyone else in the world. He has seen more species alive than Jean Delacour, and has applied the methods of comparative ethology to them more thoroughly than Konrad Lorenz." Sir Peter Scott wrote an introduction for "Waterfowl, Their Biology and Natural History," published in 1968. "In this book, Johnsgard has broadened his approach that will appeal to a very wide readership. Reading his masterly, succinct text and reveling in the superb collection of photographs, I know you will agree that the world's waterfowl are well worth saving." Johnsgard quickly went from virtual obscurity to a respected author in ornithological circles.
Near the end of his research in England, Sibley suggested that Johnsgard apply for a position that had opened at the University of Nebraska Zoology department. Johnsgard had never been to Nebraska, although he knew that it was a good state for waterfowl. In 1961, he applied and was accepted for the job without even an interview. It was the beginning of a 40-year teaching career and love affair with Nebraska and the Great Plains. Within a year, he was promoted to assistant professor and awarded tenure. In 1968, Johnsgard was promoted to full professor and became the first zoologist to receive the Distinguished Teaching Award, the University's prestigious Outstanding Research and Creative Activity Award, and the first to be named a Regents Professor. It is worth noting that no other biologist has since garnered all three of these awards. Upon retirement in 2001, Johnsgard was given the title of foundation professor of biological sciences emeritus.
Books were researched, written, illustrated by him and published at the average of one per year, a phenomenal pace, considering his full schedule of teaching responsibilities. Many years he had three or more book manuscripts going at the same time. Even today, in retirement, he has many projects in the mill and three computers going full time. Johnsgard admits to being "compulsive." Early on, he worried about his compulsiveness, deciding finally that it was best to exploit the behavior.
It wasn't until 1991 that Johnsgard wrote in the preface of "Crane Music" his first impressions of sandhill cranes on the Platte River in central Nebraska. "On a magical Saturday in March, 1962, I drove with Roger Sharpe, my first grad student, to see the spring waterfowl migration and staging of the sandhill cranes. At that time the cranes had received very little publicity as a birding spectacle, but I felt that I should investigate them nonetheless. It was perhaps just as well that I wasn't emotionally prepared for the sight of the countless cranes punctuating the sky from horizon to horizon, or gracefully wheeling about overhead as if they were caught in some ultra-slow-motion whirlwind, their vibrato calls drifting downward like the music of an angelic avian chorus. Not since the days of my boyhood, when I first saw vast migrating spring flocks of Snow geese and Canada geese dropping into eastern North Dakota's prairie marshes, was I so completely enthralled, and it was certainly on that particular day of epiphany that I realized that cranes would become as important to my wellbeing as my beloved waterfowl." To reaffirm his feelings, Johnsgard's dedication in the 1981 book, "Those of the Gray Wind," reads: "For our unborn children: may they too have cranes."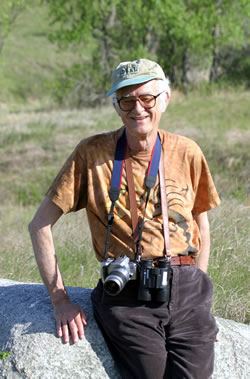 That experience cemented his adoption of Nebraska, at least it did "ornithologically." Since that day, Johnsgard has visited the Platte River to see the cranes every spring and has written several books on cranes. He is considered to be Nebraska's crane expert and is very much in demand as a lecturer and TV personality.
While Johnsgard's early books were technical and received many awards, something extraordinary happened in 1968 that changed the way he thought and wrote about birds. The dedication in his 1974 book, "Song of the North Wind," reads: "To the memory of Black Elk (1863–1950), his people, and their dream." He was giving credit to Nebraska author John Neihardt, who wrote "Black Elk Speaks." Johnsgard missed meeting Neihardt during a book signing in a Lincoln, Nebraska, bookstore, but bought an autographed copy a few days later.
Having never read any of Neihardt's work, he quickly became "mesmerized." It turned his mind "topsy-turvy" and he stayed up for hours that evening wondering how he could begin to write "lyrical prose" for his new book on snow geese. At 3:00 in the morning, when he couldn't sleep, he got up and started writing. The manuscript was completed in five weeks. All he had to do to finish was visit the snow goose nesting grounds and write the last chapter.
In writing the book, he began to look at birds through the eyes and writings of Native Americans and Eskimos. His passion for birds, especially cranes, became almost "mystical," and while he decried the use of "anthropomorphism" in the classroom, he began to use it in his popular writings. He later confessed that this prose style was more difficult to write than summarizing the "facts" and he had to be in the right mood to do it. Two other writers also influenced Johnsgard. In 2001, his dedication in "Prairie Birds," reads: "To the memory of Aldo Leopold, who transformed a decaying woodlot into a conservation theology, and to Annie Dillard, who made sitting beside an obscure creek a religious experience."
Some hunters were offended by passages in the snow goose book, but Johnsgard, who acknowledges the value of hunting, focused his criticism on those hunters who ring the perimeters of refuges and shoot anything that flies over, wounding many birds. In later years, showing his activist inclinations, Johnsgard encouraged nonhunters to apply for a limited number of special permits being issued to hunt prairie chickens in a small section of southeastern Nebraska where hunting had previously been prohibited. It was a very successful campaign, to the chagrin of the state wildlife management agency. Johnsgard also writes features for newspapers, one of which encouraged people to visit nature centers, wildlife management areas and prairies on Saturdays, instead of attending the ever-popular Nebraska football games.
Surprisingly, Johnsgard's bestseller is not a book on birds. "Dragons and Unicorns" was co-authored with his daughter Karin and published in 1982. It was dedicated "For those who still look for cloven hoofprints in mountain meadows and for smoke clouds rising from the mouths of caves." Still in print, it has sold over 50,000 copies.
Since birds and birdwatching are a passion with Johnsgard, a passion he shares eagerly, it is understandable that he would be instrumental in developing the Nebraska Birding Trails. Johnsgard selected, described and helped map over 400 public-access birding locations. The Web site is http://www.nebraskabirdingtrails.com.
While Paul Johnsgard is very self-assured in all of his accomplishments, there is a genuine humbleness to his nature. He openly showed that side of him in the dedication he wrote for "North American Game Birds of the Upland and Shoreline," published in 1975. It reads: "DEDICATED TO MY STUDENTS, who, while I thought I was molding them, have patiently remolded me."
In his retirement, Johnsgard is as busy as ever. While not speaking or lecturing, he has been curator of several exhibits on birds, Louis and Clark, Darwin and other subjects. Plans are underway for new book projects, even though he planned to stop publishing after 50 books. For Johnsgard, "trying to quit writing is like trying to stop going to the bathroom. I'm sure the voices of nature will speak insistently to me for the rest of my life, and I am compelled to respond."
Portions of this article are based on an interview with Dr. Johnsgard conducted by Thomas P. Lynch, associate professor in the Department of English at the University of Nebraska.