Floyd F. Nichols (1897–1958), whose retrospective exhibit will open May 22, 2009, at Bone Creek Museum of Agrarian Art, was an adventurous creative man. His exciting life story is important to examine in conjunction with his artwork. He joins the ranks of prominent American writers, poets, artists and musicians, who sought to find and express themselves through the arts shortly after the beginning of the 20th century. The creative voice inside of him was strong. Throughout his life, he searched to realize his vision. He was a craftsman of ingenuity. He created a wide variety of fine arts and crafts that were authentically American.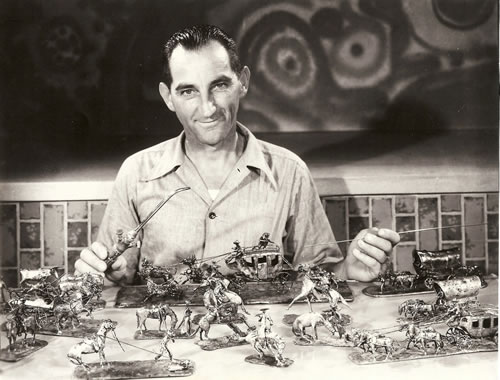 Nichols held in his heart a romantic dream of cowboys discovering the West. From an early age, the Western cowboy was an ideal to be achieved. This theme is clearly expressed in his small figurines carefully crafted with an acetylene welding torch and rod. The process was time-consuming and detailed as the figures were formed drop by drop. He lived out his dreams of the West through these metal figurines.
"He loved the West and created these figures to express that," said Ruth Nichols, guest curator of the exhibit and daughter of Floyd Nichols. Tying into this Western theme and his metal work, Nichols made jewelry with natural stones, including black onyx, moss agate and petrified wood. He also made caricatured wood carvings of Western and Mexican figures. A love for the West was expressed in all of Nichols' artwork.
From rural Nebraska, Nichols traveled through Europe and the West. Youth seeks adventure, and the experiences of new sights and places. From a young age, Nichols was aware of his inner drive for adventure. At the age of 19, he left home on horseback to homestead in Wyoming. Along his travels, he saw and learned many things astride his horse, Pet. He worked odd jobs and learned the reins of braking horses. He lived the life of a true cowboy. He loved and admired the Western man, but this hard work of homesteading did not fit the wandering spirit of his youth. He returned home and joined the war effort. He was stationed in France in World War I. In his adult years, he settled, married and raised five children in the same small town where he had grown up. He kept very strong ties to his place of origin.
Ruth Nichols remarked, "Now that I am older, I realize how much my dad sacrificed for his family."
As a tribute to his sense of place, several public sculptures by Nichols were installed throughout the area. Indians spearing buffalos on the prairie is part of the four panel cast sculptures originally installed as the Columbus Archway, now on view at Pioneer Village, Minden, Neb. In David City, the entranceway to the Municipal Park displays relief sculptures by Nichols depicting a World War I soldier and a sailor, the war in which Nichols served. No longer in the Consumer Public Power Building in Columbus, Nichols' sculpted drinking fountain "Aquabella," depicts a maiden with an uplifted face, surrounded by leaves, offering a drink for the thirsty.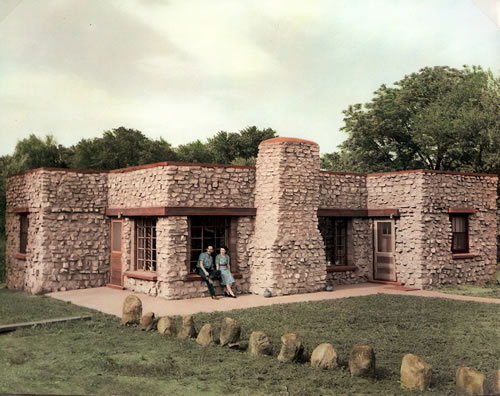 Another major sculpture of sorts in David City was the home and studio that Nichols designed and built from discarded concrete paving in 1949. It is symbolic of Nichols both as a cowboy and an artist. Inspired by the adobe-style homes of the Southwest, this architectural structure is one of a kind. The tactile quality of the exterior and the craftsman style of the interior reflect on the further ingenuity of this artist. It is located one block north of the David City Park on Highway 15.
Nichols became very well known for his individualized combat knives for servicemen of World War II. Each knife had a fitted sheath made by Alfred Cornish of Omaha, Neb. Families ordered these knives to make sure that their men were protected while they were in combat. Letters poured in from across the country from 1941 to 1945 requesting a knife for the writers' family members. The knives held a special meaning to each serviceman and his family. Nichols was honored to be able to serve his country by making knives to protect his fellow countrymen.
"They used to list the war causalities on TV, and my dad would watch that. He always knew if a serviceman was one that he had made a knife for. I am sure that this deeply saddened my dad," said Ruth Nichols.
The combat knives also held a personal meaning to Nichols, because he invested so much time and energy into designing and crafting them. Nichols may not have recognized the fine art in his knives. These knives are consistent with Nichols' Western theme. "I don't think my dad ever realized what a work of art his knives are. Today, they are desirable to knife collectors all over the world," said Ruth Nichols. "A touch of the West was put into those knives."
The knives are highly desirable because they are works of art, unique and personalized. Each knife is signed by Nichols stamping his last name into the handle. This adds to the handmade, tactile quality of the knives. Also, some of the first knives had an Indian head penny and later a buffalo nickel pressed into the end of the handle. This detail further exemplifies Nichols increased metal-working skills. A blacksmith making and repairing farm implement materials would not likely has been able to craft such a knife with detail and skill, proving Nichols' affinity for the arts. We now recognize that he was an artist who sculpted and shaped these knives into meaningful pieces of art. He handled metal to a high level of skill beyond his welding trade. He had a vision to form material, whether wood or metal, into works of art.
His brother, Dale Nichols, a nationally known artist in his own right, wrote of his brother's artistic skill, saying, "I had the deepest respect for Floyd… he was a master… his real recognition is yet to come," in a letter to Floyd's daughter, Ruth. His brother recognized the strong and unique artistic vision that Floyd had. Dale further affirms the talent and artistic vision that many others have also recognized in Floyd.
The definition of self that Nichols came to understand was deeply rooted in the land. He lived in small-town Nebraska most of his life and made a living creating artwork that supports and encourages the agrarian lifestyle that surrounded him. He made Western metal figurines, and was fascinated with the rugged adventurous spirit of the cowboy. Rolling his own cigarettes, he was never seen without cowboy hat and boots. He clung to a life of honest hard work and simple pleasures. He made a life of his creative impulses.
Nichols incorporated art in all areas of his life. As we consider and view Nichols' exhibition, we learn that art was not to be kept in a box or consigned to fine galleries, only acknowledged when a certain number of buyers have validated the artist. Floyd Nichols shows us that it is more important that art be personal, real and have potential to stand the test of time. Nichols' work now stands the test of time, because he was deeply invested in his subject of the West, and he expressed his subject with unique vision and use of materials. Viewers can learn from Nichols that art ought to vividly reflect life experience. Nichols broke the bonds of conventional art to say something significant about his life and times. Passion coupled with craft makes him a truly exceptional artist.
Nichols' work may be viewed at Bone Creek Museum of Agrarian Art, 575 E Street, David City, Neb., Wednesday through Saturday from 10 a.m. to 4 p.m. and Sunday from 1 to 4 p.m. Call (402) 367-4488 for more information.