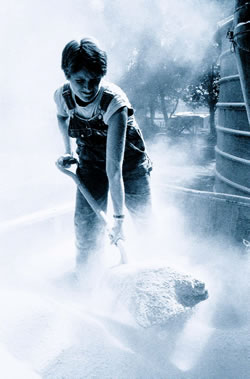 Voices of American Farm Women" is an exceptional impression of contemporary farm women living and surviving on their family farms. In 1991, the artist, Cynthia Vagnetti began traveling throughout America photographing and interviewing farm women. Her exhibit shows how and why farm women survive better that farm men in the face of recent decades of farm crisis. Bone Creek Museum of Agrarian Art, America's only museum devoted exclusively to agrarian art, is uniquely suited to present this unusual and compelling exhibition.
In the past, our views of farming and its influence on American life and culture have focused on the roles that men have played as farmers, while women's contributions to agricultural production were largely ignored, perpetuating the stereotype of the "farmer's wife." Vagnetti's photographic exhibition, which closes April 30, 2009, presents a contemporary perspective on women in agriculture. Vagnetti documents agrarian women from across the United States, whose farming techniques promote environmental responsibility, economic stability and community well-being.
The exhibition weaves together the power of image and word by featuring selections from oral interviews conducted with the subjects of Vagnetti's work. The 30 striking black-and-white photographs explore a diverse group of women and their relationship to the land. Their voices narrate a multifaceted view of work, family and community. Strong opinions on many topics—including farm work, child care and housework—dispel many misconceptions about women who work the land.
Vagnetti's exhibit shows that farm women have been more adept at surviving the farm crisis of recent decades than have farm men. Men are more likely than women to accept the notion that, in order to survive in farming, one must get bigger or get out of farming. Men tend to be more competitive, sometimes succeeding at getting bigger but often failing to be able to compete with corporate agri-business. Vagnetti shows that women, on the other hand, tend to look at alternative ways to stay on farms, often finding special markets in sustainable agriculture.
This view was reinforced at the February opening reception for the exhibit. Bone Creek Museum of Agrarian Art hosted a panel discussion by farm women from Butler County, Neb. They shared their reactions to the exhibition and their experiences of survival on family farms. The panel included Carol Albrecht of Blue Valley Fruits and Vegetables, Nancy Bohaty of Bohaty's British Whites and Karen Ostry of the Ostry family farm. This endangered species of family farmers confirmed that their experience is similar to that of the rare and special women depicted from coast to coast in Vagnetti's photographs.
The panel discussion was videotaped and can be enjoyed as part of the visitor experience at Bone Creek Museum of Agrarian Art. There are also other educational aids that accompany the exhibition, including videos and recordings made by Vagnetti. Books about agrarian life and sustainable agriculture are also available in a reading area that is part of the exhibition.
"Voices of American Farm Women" is part of a larger documentary project conducted by Vagnetti, who has a long-standing commitment to sustainable agriculture, rural communities and related issues. She has produced numerous multimedia projects and photography exhibitions, and she is co-author of "People Sustaining the Land." Her work in the past decade is inspired by the work of Farm Security Administration photographers, most notably Dorothea Lange and Russell Lee. Several of Vagnetti's photographs are similar to photographs made by Lange decades ago.
"Voices of American Farm Women" is curated by Janet Dykema, director of public programs at the Chippewa Valley Museum in Eau Claire, Wis. The exhibition is toured by Exhibits USA, the national touring division of Mid-America Arts Alliance, a nonprofit regional arts organization based in Kansas City, Miss., founded in 1972. The purpose of Exhibits USA is to create access to an array of arts and humanities exhibitions, nurture the development and understanding of diverse art forms and cultures, and encourage the expanding depth and breadth of cultural life in local communities.
In keeping with the exhibition theme, Bone Creek Museum of Agrarian Art is showing special selections from the Museum collection, of artwork either by farm women, or depicting farm women. This is an opportunity to see works not always on display. There are works by many well-known artists such as Winslow Homer; Anthony Benton Gude, grandson of Thomas Hart Benton; and Ruth Nichols, niece of Dale Nichols.
"Voices of American Farm Women" and the special selections from the museum collection will be on display through April 30, 2009. Bone Creek Museum of Agrarian Art is located at 575 E Street, David City, Neb., and is open 10 a.m.–4 p.m. Wednesday through Saturday and 1 p.m.–4 p.m. on Sunday. Appointments and tours are available. For more information, please visit http://www.bonecreek.org.