With over 15,000 musical instruments from virtually all of the world's cultures and historical periods, the National Music Museum preserves the largest and most comprehensive collection anywhere.
The Pressler Gallery features musical instruments from the Age of Louis XIV, including more than 90 Austrian, Bohemian, Dutch, English, Flemish, French, German, Irish, Italian, Polish, Spanish and Swiss instruments from the 16th, 17th, and 18th centuries. (Bill Willroth Sr.)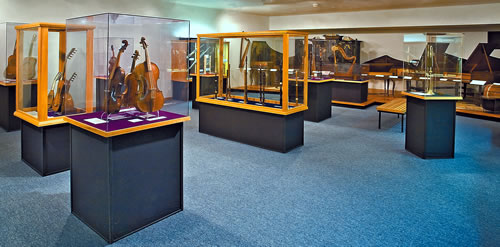 Eighteen keyboard instruments from the 17th, 18th and 19th centuries are displayed in the Abell Gallery, including the earliest surviving piano by a Portuguese maker and the earliest French grand piano (Louis Bas, Villeneuve les Avignon, 1781), both with Cristofori-style actions. A pipe organ by Christian Dieffenbach (Berks County, Pennsylvania, 1808) is exhibited so that its mechanism can be viewed while it is being played. (Bill Willroth Sr.)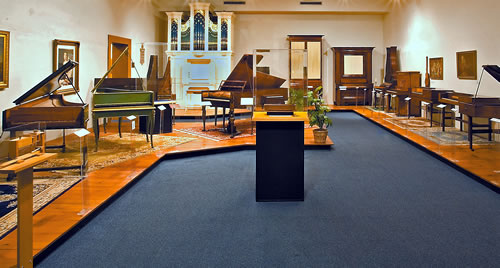 Goblet drum (klong ae), Thailand, ca. 1880-1897. (Bill Willroth Sr.)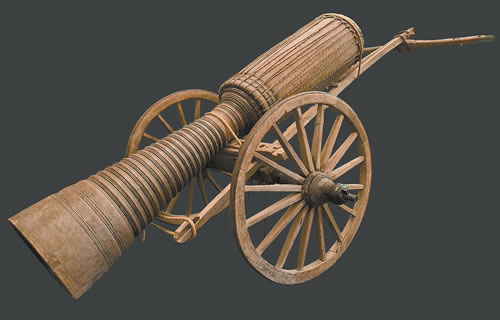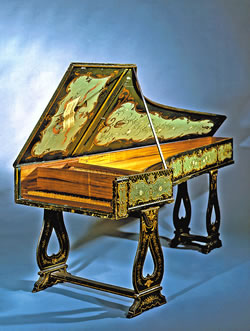 The National Music Museum is the only place in the world where one can find two 18th-century grand pianos with the type of action conceived by the piano's inventor, Bartolomeo Cristofori. One, built in 1767 by Manuel Antunes of Lisbon, is the earliest signed and dated piano by a Portuguese maker; the other, built by Louis Bas in Villeneuve lès Avignon in 1781, is the earliest extant French grand piano. 
The instruments and archival materials are key components of the academic mission of the National Music Museum at the University of South Dakota, which will admit its first Ph.D. students in the study and preservation of musical instruments in the fall, only the second such program in the world.
Top: Cornettino, Southern Germany, ca. 1600. Octagonal body of ivory with horn mounts at each end. Bottom: Cornetto, Southern Germany, ca. 1600. Octagonal body of ivory, upper part shaped in a diamond pattern. Engraved with foliate designs darkened with black pigment. (Simon Spicer)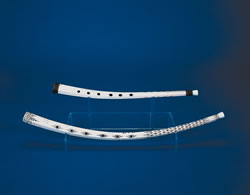 Nanaru a ting ting (vertical slit drum), Ambryn Island, New Hebrides, ca. 1900–1915. (Bill Willroth Sr.)
The Rawlins Gallery entrance. (Simon Spicer)