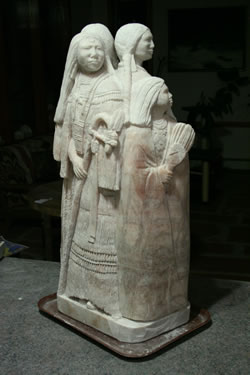 Art is process, and art is best viewed with knowledge of that process. This is the theory behind the Elizabeth Rubendall Artist-In-Residence program at the Great Plains Art Museum. Each year, an artist from the Great Plains region is selected to create a commissioned artwork for the Great Plains Art Museum's permanent collection. The interactive residency prescribes that the artwork is created live in the Great Plains Art Museum lobby. Gail Sundell, a stone sculptor from Cheyenne, Wyo., will be creating an original figure grouping of Plains Tribe natives titled "Women of the Plains," in alabaster. She will be working April 21–26, 2009, sculpting from 10 a.m. to 12 p.m. and then from 2 to 5 p.m. Tuesday through Saturday, and from 1:30 to 5 p.m. on Sunday. The public is welcome to observe and interact with the artist while she works.
Gail Sundell has been sculpting in alabaster since she was a child, cutting and sanding paperweights for her family's quarry just outside of Fort Collins, and eventually moving on to lathe-turned utilitarian art such as vases, lamps and bowls. Her work as an adult artist focuses on the legends, spiritual life and family connections of Native Americans. She draws from intensive research, her father's stories from his early life among the Cheyenne/Arapahoe Indians in Oklahoma, and the "special advantage to being a woman sculptor."
"The hours that I have spent caring for and nurturing my family and friends has enabled me to relay a depth of feeling to my work that speaks to those who view my creations and leads them to share in the wonder of life created from stone," said Sundell.
In the past, the program has featured oil painters, such as Andrew Peters and Michael Albrechtsen, and sculptors Martha and Delmar Pettigrew modeling in clay for their bronze works. Sundell is the first stone sculptor to be included in the residency. Due to some of the hazards of creating in her medium, the initial steps had to be completed in her home studio and filmed for visitors to view the full process.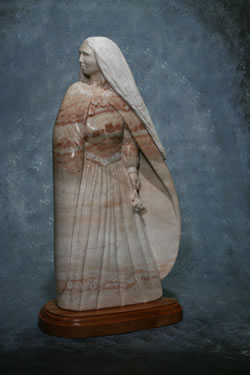 Sundell explains of her residency, "It is a challenging experience to work in front of an audience, and normally not a possibility in my dusty little studio in Cheyenne, Wyo. But because of the funding from the Elizabeth Rubendall Artist-In-Residence program and the encouragement and expertise of the staff at the Great Plains Art Museum, we are going to make it happen. Because I use power tools that create a lot of dust to rough out my sculptures, those initial steps of the process were videotaped for visitors' viewing: from taking the stone from the quarry to the point of hand sanding. The visitors will be able to watch me complete the last part of the sculpting process, which includes sanding, sealing, designing and engraving the sculpture. The sculpture is of four women from four different tribes of Native Americans: Osage, Blackfeet, Lakota and Apache. Its title is 'Women of the Plains.'"
The film of the artist working on the commissioned piece up to the point of the residency will also be on view at the Great Plains Art Museum during the residency. The film contains the quarrying process and the air compressor work on the artwork that led up to the hand work she will be completing on site. Visitors are welcome to take alabaster scraps from the original quarried stone and experiment with some of Sundell's hand tools to further experience the art process and create a work of their own. This will allow for a complete engagement of visitors with the process of creating artwork, and make viewing the final product more meaningful.
A solo exhibition of Sundell's artwork will be on display at the Great Plains Art Museum in conjunction with her residency. Her works will be for sale, and she has generously offered to donate 25 percent of her sale proceeds to the Great Plains Art Museum for future art acquisitions. One of the galleries will also feature artworks from past Elizabeth Rubendall residencies.
Examples of Gail Sundell's work are available at http://www.sundellsculptures.com/.
The Great Plains Art Museum is open to the public 10 a.m. to 5 p.m. Tuesday through Saturday and 1:30 to 5 p.m. Sundays. There is no admission charge. "Gail Sundell: Spirit in Stone" will begin April 21 and run until May 31, 2009, with a First Friday reception from 5–7 p.m. on May 1. Sundell will be sculpting from 10 a.m. to noon and 2 p.m. to 5 p.m., April 21–25, and 1:30 p.m. to 5 p.m., April 26. Groups may arrange tours by contacting curator Amber Mohr at (402) 472-0599.