The air and the earth are curiously mated
and intermingled, as if the one were the
breath of the other. —Willa Cather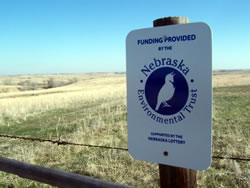 Five miles south of Red Cloud exists one of the rarest of Nebraska's environmental charms—the Willa Cather Memorial Prairie. Surviving what some have called an ecological genocide, these 608 acres of virgin, mixed loess grassland are thriving. Through help from The Nebraska Environmental Trust, the Willa Cather Foundation and its Prairie Management Committee have begun the important restoration of this native prairie. The committee has identified threatened plants, such as Fremont's Clematis, and uncommon wildlife, such as the smooth green snake.
And in late April, we'll burn it. Employing the ideas of rotational, patch-burn grazing, the Red Cloud Volunteer Fire Department will set fire to 200 acres of the land. Shortly after, cattle will be brought in to help graze this grass back to health. I invite you to come support and celebrate this rebirth of one of our most important treasures.
The importance of the prairie in shaping America's art, history and culture has been lost to much of the world. Of the millions of acres of grasslands that once covered the continent, only a small percentage still remains. Also gone are the strong affections many Americans once held for the prairie landscape and its myriad species of plant and wildlife.
I see the Memorial Prairie as part of a holistic approach to the study of America's art, history and culture through the works of Willa Cather, who was a great champion of prairie lands. As John Bergson observes in "O Pioneers!," "the land wanted to be left alone, to preserve its own fierce strength, its peculiar, savage kind of beauty, its uninterrupted mournfulness;" the Willa Cather Foundation strives to be a part of the land's struggle back to itself.