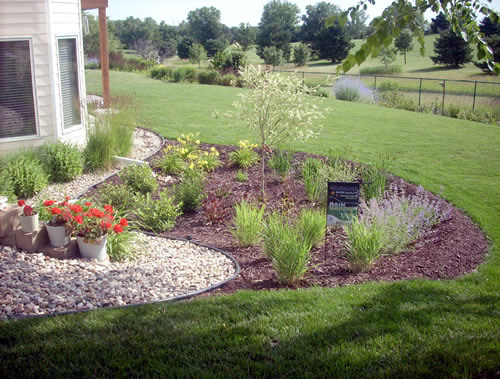 A new type of gardening is beginning to grow in popularity. This new method improves water quality, doesn't require additional watering or fertilizers, incorporates native plants and looks beautiful. What is it, you ask? A rain garden!
A rain garden is a garden of native shrubs, perennials and flowers planted in a small depression, which is generally formed on a natural slope. It is designed to temporarily hold and soak in storm water runoff that flows from rooftops, driveways, patios and lawns. Rain gardens are effective in removing up to 90 percent of nutrients and chemicals and up to 80 percent of sediments from the storm water runoff. Many cities throughout the country, including Omaha and Lincoln, Neb., are encouraging residents to install rain gardens on their properties to help improve water quality in local creeks, streams and lakes.
The Environmental Protection Agency (EPA) estimates that pollutants in storm water runoff (or non-point source pollution) are responsible for about 70 percent of all water pollution in lakes, rivers and creeks. The EPA requires all major cities and some small municipalities to reduce pollutants in storm water runoff. Since most property is privately owned, we all need to do our part to reduce this type of pollution. This includes properly disposing of household waste (i.e., automotive oil, paint), reducing fertilizer and pesticide use, picking up after pets and managing rainwater. Most of the time, more could be done to keep rainwater from flowing from your property during a rainstorm, picking up pollutants along the way to the storm drain, and eventually carrying the now polluted water from yards to our local creeks, streams and lakes
However, there are effective and beneficial ways of managing storm water runoff on your property—one of those methods is with a rain garden.
The major difference between a rain garden and a regular flower garden is that the bed of a rain garden is planted as a depression rather than in a mound or at ground level. Additionally, rain gardens incorporate mostly native plants that easily adapt to the soil and water conditions in your area. Installing a rain garden is relatively easy, takes few tools and takes so little time it can become a Saturday morning project. The most important part of installing a rain garden is its location—you want it to capture storm water runoff coming from your roof, driveway or patio, but not all the runoff from neighboring properties. This would overwhelm your garden. Though storm water runoff can be considered a major environmental problem, you cannot expect to capture all of it in a residential rain garden.
Last spring, the City of Lincoln, Neb., received a grant from the Nebraska Environmental Trust (NET) to encourage residents to join a community effort to improve water quality. The grant invited residents to apply to have a rain garden installed on their property with 80 percent of the cost covered by the grant. Thanks to the NET grant, the City of Lincoln is installing approximately 80 homeowner rain gardens and 10 school rain gardens over a period of two years. As part of this project, they also plan to monitor a series of rain gardens on homeowner properties for their effectiveness to reduce runoff and the pollutants therein. The popularity of this project was overwhelming, and the City is currently looking for new grant opportunities.
The good news is that you can install a rain garden on your own, even without grant support, because it is simple, inexpensive and doesn't take much time. If you need help learning how to do so, there are upcoming how-to classes and online resources available.
The City of Lincoln is offering a Rain Garden: Homeowner Edition class at the Lincoln Children's Zoo on May 16, 2009, from 8 a.m.–12 p.m., at a cost of $9. In this class, you will not only receive the information needed to design and build your own rain garden, but you'll also help install a rain garden at the Lincoln Children's Zoo. Register with Southeast Community College at 402-437-2709. Space is limited, so sign up early.
Live outside of Lincoln and want to bring a rain garden workshop or class to your community? Please contact The Groundwater Foundation at 800-858-4844 or e-mail info@groundwater.org. The Groundwater Foundation recently received a grant from the Nebraska Department of Environmental Quality 319 Program to provide up to three Rain Garden Demonstration Workshops in various locations across Nebraska. Call soon to learn more and nominate your community as a potential workshop site.
No time for a class? There's plenty of information available on the Web:
http://www.lincoln.ne.gov, keyword: rain garden
http://water.unl.edu/landscapes
City of Lincoln Libraries titles:
"The Blue Thumb Guide to Rain Gardens"
"Rain Gardens: Managing Water Sustainably in the Garden and Designed Landscape"
University of Nebraska-Lincoln Extension Publications, NebGuide:
"Stormwater Management: Rain Garden Design for Homeowners"
"Stormwater Management: Installing Rain Gardens in Your Yard"
"Stormwater Management: Plant Selection for Rain Gardens in Nebraska"