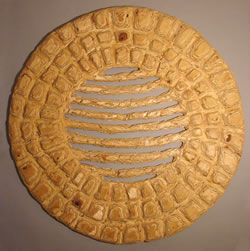 Lincoln, Neb., artist Dan Terpstra has always possessed an internal drive to express his creativity. Finding a media and process that he felt comfortable with would prove to be the most challenging aspect of his artistic journey. Terpstra began drawing and painting in the 1970s but found it difficult not to imitate the psychedelic art he saw on posters and T-shirts from that era. His frustration caused him to put his artistic pursuits on the back burner while he funneled his creative energy into collecting and listening to music from around the world.
In the 1990s, Terpstra became interested in African music, which led to his discovery of African wooden masks. After reading many books on this subject, he was inspired once again to express his creativity in the form of visual art. He bought a small carving kit and used it to carve masks from scraps of lumber or fallen branches he found around his neighborhood. His interest in carving was taken in a new direction in 1999 when an ice storm knocked down large trees and branches throughout Lincoln. Most in the community saw this as a natural disaster, but Terpstra saw it as an opportunity to create work on a scale that he had never attempted before. He spent the weeks after the storm collecting his new material, storing it in his backyard and attic. He soon realized that his initial carving kit was no match for these large pieces of wood. Instead, a chainsaw became his primary tool for sculpting wood.
In 2005, a local eatery that showcased new talent offered Terpstra an exhibit. On the initial site visit, Terpstra quickly noticed that the venue lacked the space for the freestanding sculptures he had been making but offered a vast amount of wall space. The owner of the establishment offered to put shelving above the tables to hold his work, but this wasn't quite what Terpstra had in mind. Instead of changing the restaurant to fit his sculptures, Terpstra decided to make a new body of work that would be better suited to hang on the wall. Terpstra chose plywood for this because of its inherent flatness, and this choice has influenced his art ever since. Terpstra says he "hated some of those first pieces" he made but "instantly saw the potential" of the medium.
Over the last four years, Terpstra has continued to experiment with carving plywood with a chainsaw. One thing that he enjoys most about this medium is how it seems to take on a life of its own. Because plywood is made of many layers of wood that are glued together, it is virtually impossible to control the way it will chip off as it is cut. Terpstra says the unpredictability of the process prevents him from focusing on being "a perfectionist." He thinks this is an important aspect of his work, since it allows him to bypass his fears, be spontaneous and take risks.
Terpstra's solo exhibition, appropriately entitled "Plywood Explorations," will be on view at Lux Center for the Arts from March 6–28 with an opening reception on Friday, March 6 from 5–7 p.m. He will be showing pieces that range from circular wall pieces to freestanding sculptures. Some of the pieces include elements of painted color, while other pieces are simply coated with polyurethane to show off the natural beauty of the plywood. Terpstra says all of his work has a "visual rhythm" that strikes a chord with viewers in much the same way those first African masks did with him years ago.