This September 2008 essay describes the current exhibit at the Bone Creek Museum of Agrarian Art in David City, Neb. The article uses guest artist Marilyn Bower's painting, "Drifts," to show how the artist sees what others miss and gives us potentially great art that may stand the test of time.
Bone Creek Museum of Agrarian Art is America's only museum devoted exclusively to agrarian art. The museum is hosting an exhibition of agrarian landscapes called "Lay of the Land—Tribute to Nebraska" by Marilyn Bower. After more than 30 years in Nebraska, Bower is relocating to the state of Washington to be near family. In the Bone Creek exhibit, Bower pays tribute to Nebraska landscapes that have inspired much of her work as a professional artist.
Marilyn Bower and I are fellow artists who traded paintings with each other in 1996. Back then I lived in Kansas City where I was hemmed in by cityscapes. I needed to be reminded of big outdoor agrarian spaces, as represented by Marilyn's painting called "November Sunset." Now that Marilyn is moving away from Nebraska, it is ironic that "November Sunset" helped me move back to Nebraska. Living in the city, the painting reminded me how much I needed what I'd taken for granted growing up on a Nebraska farm … experiencing great expanses of land and sky. Her painting was a symbol pointing toward my recent move back to Nebraska. While Marilyn adjusts to a new studio near Seattle, I'll be in and out of my new studio in a Nebraska farmhouse, surrounded by landscapes that Marilyn will dearly miss.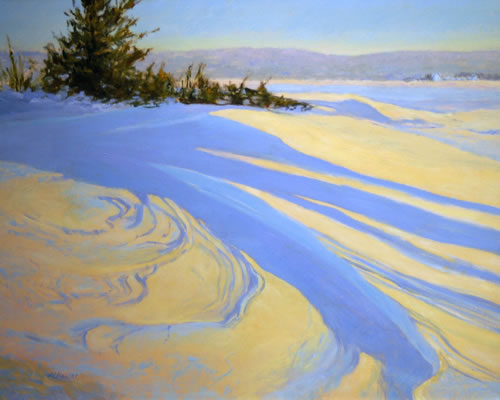 As an artist and museum curator, my favorite painting in this exhibit is "Drifts" (see illustration). It is a truly unique painting. No other artist had the vision to see this image. Marilyn not only saw it but then used all her artist abilities to express the vision. "Drifts" is the "home run" that we artists hope to hit sometime during our careers. In one single image, it epitomizes the artist's fully developed abilities and expression. Paintings with the qualities that are in "Drifts" are coveted by museum curators.
"Drifts" is exceptional in large part because it comes from the mind and spirit of the artist. The visual reference was almost nonexistent. One must be in the right place at the right time in order for fleeting shadows to define such ephemeral sculptural shapes as we see in this work. This landscape may only be there for one brief moment. Many winters deny us anything like the shapes in this image. It is only believable because many of us have seen something a little like it sometime in our lifetimes. "Drifts" is special because only Marilyn Bower had the insight, ability and commitment to make the painting.
Consider how rare it is to see something like this, much less to paint it. The shapes would be made by just the right combinations of repeated snowfalls at just the right times, sculpted by both wind and repeated freeze-and-thaw cycles at just the right times. Some years we only get a hint of this view, often obscured by dust and mud. Only in rare instances are such natural snow sculptures clean and present. Then there may be only one sunset in the winter when, for just a few moments, the light and the viewer are in just the right location for such an image to be revealed. Most of us aren't looking at the right time. Marilyn looks all the time. She saw what most of us miss, and reinvented it as a gift to us. This is a true is a measure of her artistry.
Not only is "Drifts" a special vision, it is beautifully designed. It has foreground, middle ground and background. Warm colors come forward in the foreground. Cool colors recede. There is great color as well as a full range of values. This is a beautiful composition with serene, soft flowing shapes against a counterpoint of dark, ragged cedar. The asymmetrical composition and the colors please the eye. The farmstead lightly expressed on the horizon is an essential element to the painting. It is a symbol of man's tentative presence, and is a wonderful discovery for the viewer.
The painting has mystery and ambiguity. It is both real and abstract. It allows one to look inward as well as outward. It is a spiritual piece. It affords one the opportunity to meditate. In other words, the painting works on many levels for many different viewers.
"Drifts" has something in common with much great art, including works of architecture, literature and music. Whatever the expression, the elements in most great works are generally only what is "necessary and sufficient" to make the expression. In other words, the artist gives us only what is essential for the expression. The pure essence of these expressions is often what allows them to become great works.
Making this kind of art look easy is actually very hard work. With great effort, the artist simplifies and eliminates nonessential elements from the expression. This is the case with "Drifts." The key here was to imagine, to create and to simplify using extreme effort. It often takes a lifetime of artistic experience for an artist to know what to include and what to leave out in order to express the essence of a subject. By this measure, "Drifts" succeeds and is a potentially great work of art.
The potential for "Drifts" to become a great work of art can only be realized by repeated public viewing and recognition. Bone Creek Museum of Agrarian Art is grateful to Marilyn for making the painting. We are also grateful to the Great Plains Art Museum for loaning the painting to us for public view. Being in a public collection with opportunities for further public exhibits gives this painting a chance to stand the test of time.
Most of the paintings in this Bone Creek exhibit have some of the qualities of "Drifts." A common element in these paintings is that Marilyn sees beauty that many of us miss. "Much of the beauty here is subtle," Marilyn says. "It asks the viewer to participate in the discovery. It asks little of one to be inspired by the drama of the mountains or seashore. To see beauty in the rhythmic patterns created by the plow, however, takes active seeing. I often choose to focus on the more uncelebrated subjects of our state." Marilyn not only sees nuances that we miss, she then crystallizes them for the rest of us to see.
There are other common elements in these paintings. Soothing tranquility is transmitted through serene curves seen in nearly all the paintings. Colors are rich but not jarring. There is no threat from the weather or from the natural environment. There is a timeless quality due to the absence of machinery and people. Human habitation is incidental and transitory. It is expressed by farmsteads with no activity, as well as by dirt roads, trails and patterns of cultivation that blend with the land. The exhibit's main impression is of man being in harmony with the land, rather than imposing his will on the land.
Bower's love for agrarian scenes stems from her childhood travels with her father, a veterinarian, on his country calls in central Kansas. Her appreciation of the smell of clover, the curve of a creek and the sound of wind grew throughout life. These feelings are truthfully expressed by the paintings in this exhibit.
Marilyn celebrates landscapes that most of us take for granted. She composes her landscapes in ways that allow us to see hidden beauty. She infuses her work with line and color that we don't see as we drive through the land. Marilyn takes the time to understand agrarian landscapes and present their beauty to us.
Look at the land as you drive to see the Bower exhibit here in David City, Neb. Look long and hard at Marilyn's paintings when you arrive. When you leave, look again at the landscapes you saw on your way here. If you really look and pay attention, you'll be rewarded by seeing these agrarian landscapes a little more like Marilyn sees them.
Bower's artwork is highly regarded. In 2009 she will be listed in "Who's Who in American Art." Marilyn's work is in major corporate collections, including Toyota Corporation, USA, and Burlington North­ern Railroad. In addition to having work in the Great Plains Art Museum, she also has work in the permanent collection of Bone Creek Museum of Agrarian Art.
The museum's permanent collection features work by many well-known agrarian artists such as Winslow Homer, John Steuart Curry and Dale Nichols. Bone Creek Museum of Agrarian Art is a nonprofit organization supported by donations. Admission is free. Tours of the collection are welcomed and readily arranged.
The Marilyn Bower exhibit runs from Sept. 17 through Nov. 9, 2008. Bone Creek Museum of Agrarian Art in David City, Neb., is a 30-minute drive north of the I-80 exit for Seward, Neb. It is a 90-minute drive west of Omaha, a 60-minute drive from Norfolk or Grand Island, and only a 50-minute drive from Lincoln. Contact the museum at 402-367-4488. The Web site is www.bonecreek.org.