Prairie Fire begins a focus on the lower Platte River with this issue. This month Rodney Verhoeff lays the background for the upcoming November conference. Future months will discuss the issues surrounding land and water uses in the valley.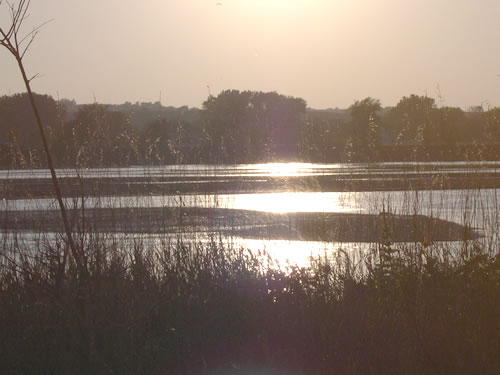 The wind whizzed by and the propeller turned so fast that it actually looked like it was standing still at times. How about the roar of the motor or the hairpin turning abilities? I was 13 and this was my first time in the Florida Everglades, and my first time on an airboat. Having seen several alligators on the trip, I was reluctant to take control of the craft from my dad when he scooted over. I was 13 and I hadn't even driven a car yet with its simple-looking steering wheel that moved in the direction you turned the wheel. But this … a stick that when pushed forward moved the airboat left and when pulled back moved it right. Or was it the other way around?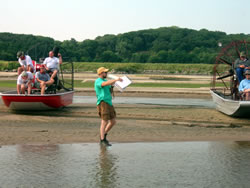 Regardless, I did not want to hit the banks or worse yet steer into one of those kid-eating alligators. Everything looks bigger and hungrier—especially to a 13-year-old Nebraska kid. Little did I know that some 25 years later, I would be planning airboat tours and taking these rides as part of my job. Only this time, it wouldn't be in the Everglades, rather in Nebraska on the Platte River—the lower Platte River—as the coordinator of the Lower Platte River Corridor Alliance (LPRCA), an organization created to focus solely on protecting and managing a very special and important resource.
The alliance
The LPRCA was formed over 12 years ago to ensure that the lower Platte River and other natural resources in the basin are managed in a sustainable manner. It represents a collaborative and innovative approach to management of a very complex river system with multiple interests and stakeholders. Comprised of three natural resources districts or NRDs (something unique to Nebraska) and six state entities, this partnership is neither regulatory nor advocacy in function but rather relies upon information, awareness, assistance and the power of persuasion to inform, empower and engage local jurisdictions, the public and other stakeholders.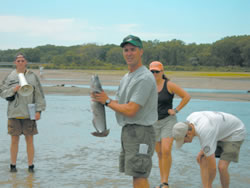 So why focus on the lower Platte River? What is so special about this area? The answers to these questions include scenic vistas, clean and plentiful water resources, exceptional biodiversity and sweeping landscapes. But beyond these inherent natural qualities, there are other more functional and human-dependent reasons, such as spectacular recreational opportunities, water supplies for a majority of Nebraskans, home to thousands of people and a livelihood for many. Because technically the Lower Platte River Basin includes the Loup River Basin and the Elkhorn River Basin, an area covering nearly one-third of the state, the LPRCA designated a focus area or "corridor" known as the Lower Platte River Corridor to make management and protection more feasible. The Lower Platte River Corridor includes the lower Platte River, the floodplain and riparian areas, adjacent public and private lands, and surrounding bluffs. This human-imposed boundary merely represents a way to target efforts in a vast landscape but does not indicate a disregard for whole-scale basin management, since those things occurring upstream and up-gradient have an impact on resources throughout the basin.
Tapping into the powers of the Nebraska Interlocal Agreement Act, which allows individual political subdivisions to create partnerships that can jointly exercise individual authorities, the LPRCA member organizations forged this collaboration in 1997 for a number of reasons: (1) need to collaborate and draw together independent efforts for efficiency and effectiveness, (2) recognition of the importance of the lower Platte River and need for a management entity focused on the area, (3) 1993 flood damage, (4) a rapidly developing watershed and the resulting impacts on resources, (5) competition for water resources and (5) a desire expressed by the public to be actively involved in management and protection—a bottom-up approach. A great amount of the strength and success of the LPRCA comes from the diverse makeup of its members, vast network of partners, wide-reaching technical expertise and a grassroots-driven approach.
With a staff of one and a board of nine, and a tremendous amount of resourcefulness, creativity and cooperation, the LPRCA has worked tirelessly to raise awareness of this lesser-known yet extremely important stretch of the Platte River. Although it is about a river, it really is about people—how people interact with each other and with the natural environment.
Unbeknownst to me some years ago as a college student, a natural resources degree did not necessarily lead to a lifetime of frolicking with the deer, splashing with the fish and heading up safaris across the plains like Marlin Perkins. Perhaps I watched too much "Mutual of Omaha's Wild Kingdom" or perhaps I just didn't realize at the time how important relationships and interactions would prove to be in managing natural resources.
Capitalizing on the realization and acknowledgement that people and their involvement is key, the LPRCA has developed some unique and successful approaches to river management and protection. These include: river obstruction removal, land-use assessment and analysis tool development, cumulative impact studies, water quality monitoring, creation of a geographic information system (GIS) available online to all stakeholders, and research on specific topics such as septic system impacts on water quality and best-management practices to protect water resources. Additionally, the LPRCA has relied heavily on information and education activities, some of which are quite unique, yet effective, including: airboat tours, river summits bringing all stakeholders together, a water quality open golf tournament that includes informational demos on various topics located on the golf holes, coffee shop meetings to create a forum for public input, and various workshops and presentations. Since day one, the LPRCA has been committed to providing all the necessary information and data so local jurisdictions, such as communities and counties, other management entities and the public, can make well-informed decisions steeped in good science.
What's on the horizon? Summit offers forum for engagement
In an effort to provide a forum for all stakeholders to come together and take advantage of the opportunity to manage and protect the lower Platte River, the LPRCA will hold its Second Biennial Platte River Summit on Nov. 6, 2006, at Camp Calvin Crest near Fremont, Neb. Partnering with the USGS, NRCS, National Park Service, the University of Nebraska-Lincoln and Prairie Fire, the LPRCA hopes this event will give anyone with an interest in the lower Platte River a chance to become involved, increase awareness and share ideas. The event begins at 10 a.m. with two tours: Pahaku—Sacred Pawnee Site and the Science Walking Tour. Following the tours, the summit commences at noon with a buffet lunch, art display and an anticipated riveting presentation by Michael Grunwald, Washington Post columnist, "Time" magazine correspondent and nationally acclaimed, award-winning author of "The Swamp: The Everglades, Florida, and the Politics of Paradise." There will then be a series of concurrent sessions and panel discussions throughout the afternoon focusing on land use and water resources. The event will be capped off with an evening buffet, string quartet and another highly anticipated presentation by Frank Austenfeld, environmental lawyer and executive director of both the Watershed Institute and the Watershed Land Trust, two conservation organizations based out of Overland Park, Kan. Cost is only $40 per person for the entire event. Registration will be open soon by going to www.lowerplatte.org. Space is limited, so please register soon. Contact the LPRCA at 402-476-2729 for more information.