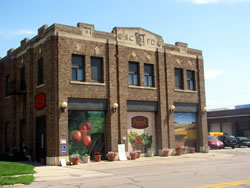 At last, good news from the Heartland: Woodbury County in northwest Iowa has mandated the purchase of locally grown organic food through its food-service contractor when departments serve food in the usual course of business. The program was started in 2005 by Economic Development Director Rob Marqusee, who saw the potential to shift some $300,000 in annual food purchases to a local farmer-operated cooperative, thus increasing local demand to spur increased food production and processing. It has become an award-winning success involving public institutions along with a countywide educational outreach on the benefits of eating healthy. Now all they need is more organic farmers.
Woodbury County, its county seat Sioux City, is like many others in the middle U.S. The county offers a 100 percent tax rebate of real property taxes to farmers converting land to organic production for five years (up to $50,000), and provides markets and cold storage for produce. When organic food does not keep up with demand, local nonorganic food may be purchased. This is a terrific opportunity for beginning farmers. The lack of affordable land and housing is being addressed in the county through incentive programs in the smaller rural communities. The mandate has turned into a low-cost, mutually beneficial program to keep the local economy alive and build greater self-reliance. The demand for organic products is there, according to Marqusee; the challenge now is to increase supply.
The Sioux City Sue Local Food Network was recently implemented to sell local food to restaurants in the region. Since its implementation, the Woodbury County Organic program has attracted participation by private institutions, provided growth in smaller county towns and increased soil-building organic farming practices inside the 100-mile Siouxland radius in three states. It has also caught the attention of neighboring Cherokee County and of the State of Illinois, both now adopting this model, as well as a $40 million organic soybean-processing facility in South Sioux City, Neb.
This innovative program comes about at a time when people are all but disconnected from their sources of food, with an average of 1,500 miles from field to fork. Large confined-animal feeding operations churn out meat and dairy products in factory-like settings. Farms have consolidated into huge operations, and costly chemical inputs and large amounts of water are used to grow just a few subsidized commodity crops. Water pollution and soil loss are common problems with large-scale agriculture; it is estimated we lose about 1 percent of our topsoil each year because of industrial-farming practices. As a UNL soil science professor once said, "We're treating our soil like dirt."
In contrast, small diversified farms using sustainable and organic practices encourage biological diversity, reduce soil- and water-quality degradation from erosion and run-off through conservation practices such as strip cropping and cover crops, and provide habitat for beneficial insects, birds, wildlife and soil organisms. Organic and locally grown food systems are generally smaller in scale, return organic matter to build soil and are operated without using conventional pesticides or petroleum-based fertilizers. Transportation costs for locally grown products are substantially reduced, along with fewer carbon emissions. There are also more opportunities for families to return to the land.
High food prices lately have made everyone aware how much we depend on oil for our food supply. Consumers play a huge role through their food choices, which in turn affects production. Organic product sales have increased 20 percent per year since 1990 because of consumer demand. Local food systems provide greater connections between people and their sources of food from locally accountable producers, provide employment opportunities and grow the local economy through the food-dollar-multiplier effect.
Woodbury County has recently been designated as a Regional Food Systems Working Group region for Iowa State University's Leopold Center for Sustainable Agriculture programs. They have a successful local-foods market, and received the 2008 National Association of Counties Sustainable Communities Award. Their programs have inspired citizens in Iowa, Nebraska and South Dakota to produce more local organic products for this growing demand. Woodbury County also joined forces with the Siouxland Chamber of Commerce and the City of Sioux City to promote their area as the capital of organic production and processing for the entire Midwest.
Other local governments in the Heartland would do well to pay attention to Woodbury County. Providing economic incentives to those willing to work in supplying local food pays off in the future through a stimulated local economy. According to Marqusee, up-front costs of tax rebates to convert farmland to organic production are quite low compared to the risk of competitive bids to attract manufacturing plants to the area. The area is rich with farmland; increasing the value of what it produces through ecologically sound methods is affordable and provides multiple benefits for the community.
Woodbury County's success came about because of one person's unusual idea for rural economic development and because other leaders in the community realized the potential. It's an exciting opportunity to consider—may it spread like a prairie fire!—for the land and its renewable bounty, for the people willing to become good stewards of the land through organic farming. Right now, they are the Heartland's (and America's) Most Wanted.
For more information, visit www.woodburyorganics.com.