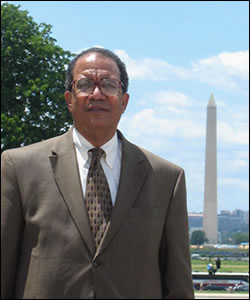 "Sonny's Corner" is a regular column in Prairie Fire, featuring commentary on civil rights and justice issues. Our friend and Omaha colleague, Joseph P. "Sonny" Foster, died suddenly at age 54 in August 2005. He left an uncompleted agenda, as did many of our civil rights and justice mentors and heroes. We shall attempt to move forward on that unfinished agenda through this column.
We hope this provocative essay stimulates future discussion in this paper, the corrections fields and beyond.
By Rebecca Gould and Jennifer Carter
There may be no greater issue facing us as a country right now than health care reform. The health of our economy, the health of our families and the health of our democracy will be greatly affected by our ability, or inability, to improve our current health care system in America. The current system is not affordable for families, businesses or government. Stories of Nebraska small businesses struggling to maintain health care coverage are far too common. Working families struggling to afford high deductibles and copays can be found in every community. Nebraskans with chronic conditions fear losing coverage through preexisting-condition restrictions or by hitting policy-spending caps. For a country that spends more on health care than the rest of the industrialized world, these problems are unacceptable. We need an American solution to secure our families' health and a healthy economy.
We were grateful for the opportunity to write about improving access to health care for Sonny's Corner because we view it as a social justice issue. Health care is one of our most basic needs. As citizens we cannot achieve the full potential of our freedom if we are debilitated by illness. Our economy cannot flourish if our productivity is limited by chronic illnesses that go untreated or if workers are prevented from moving to different jobs or starting a business for fear of losing health care coverage. The more time and energy we have to spend to meet our most basic needs, including health care, the less time we have to become educated and engaged as citizens in our communities and in our democracy.
All of us—individuals, employers and government—have a shared responsibility to bring about comprehensive reforms in our health care system that can put an end to the current problems and make our country healthier and more productive.
A serious discussion of health care reform has reemerged on the national slate for the first time since the Clinton Administration attempted to tackle the issue in the early 1990s. The persistent failure to address the flaws in our current system has led to the erosion of quality affordable health care in epic proportions. Now, we have a real opportunity for the new political leadership that takes office in January to make comprehensive health care reform a focal point for the first 100 days in office. Recognizing the urgency and opportunity for reform, several national organizations have developed national campaigns to ensure health care reform is on that agenda.
One of these national campaigns, Health Care for American Now! (HCAN) is working in partnership with organizations in all 50 states to organize millions of Americans to win a guarantee of quality, affordable health care for all. HCAN is grounded in organizations that can mobilize people at work, at home, in their neighborhoods and online. The campaign supports health care reform that would allow you to keep your current private insurance plan, pick a new private insurance plan or join a public health insurance plan. HCAN believes in reform that would set and enforce rules in the private market to ensure that the focus is on people rather than profits. It seeks to answer those who argue for solutions that would leave more of us to navigate the private market that, as it stands, doesn't always serve us well and often doesn't give us what we pay for.
Nebraska Appleseed joined this campaign because we believe that all of us benefit from healthy communities, where we all have access to quality health care from a provider of our choice at the time we need it and at a cost we can afford. We think that most Nebraskans subscribe to these common sense principles and recognize the need and opportunity to bring about necessary changes in our health care system now.
The call for quality affordable health care for all Americans cannot come from advocates alone, it must come from the people, from all of us. We need your help. To learn how to get involved please visit www.Ne Appleseed.org or www.healthcareforamericanow.org.
We not only have an opportunity in this country to improve our health care system, we have an imperative. We cannot afford to continue on our present path: fewer people covered, fewer employers able to maintain coverage and an increasing reality that the coverage you do have will not be enough when you need it. Together we have to look to the future and work for reform for the health of our families, our communities, our country and our future generations.