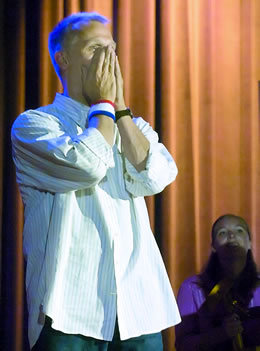 Deacon Gray of Denver won the first Great American Comedy Festival in Norfolk, Neb., on June 20.
"I like Norfolk," he told the festival's Showcase audience packed into the Johnny Carson Theater the next night."It's a place where if you have good manners they don't think you're gay."
A wave of laughter swept through the audience of mostly Nebraskans, mostly over 50. Here, surely, was the largest convergence of polo shirts ever seen. As I looked forward, I could see little else beneath the close-shorn male heads in front of me, and not a few female—row upon row of them.
We were blindingly white.
Twenty-four young comedians had come from all over the U.S. to Norfolk to compete. Like America, some were black, some foreign-born, both men and women. I looked backward over my shoulder from my fantastic front and center seat and wondered when, if ever, the comics assembled to perform that night would appear before a whiter, more Christian, more Republican, more heterogeneous audience than this one. What an experience for them and us. We, the audience, were mostly ethnically like Johnny Carson, but not as funny.
I'm so glad I was there; and if you missed it, you must never miss it again.
Put this on your calendar and you can still be present for Nebraska history.
*The 2009 Great American Comedy Festival will be June 14–21.
*The Norfolk Festival Committee plans to stage preliminary contests throughout the year, probably five events. Keep your eyes and ears open for dates and times. This festival is already growing. Norfolk intends to make Nebraska a U.S. comedy capital.
*There will be a new big-name headliner, as yet unnamed (if you didn't go this year, you missed Robert Klein—nyah, nyah, nyah!). 
Festival winner Deacon Gray was funny. He'd been in Norfolk a week, had 15 meals, he said, and no vegetables. He'd learned how to properly say "Noh-fork," leading him to speculate that everyone in town must be Chinese. He'd tested it in a local Chinese restaurant, he said, and, sure enough, the waiter said, "Nor-folk."
A Showcase starts with lesser-knowns and up-and-comings and builds to the big names and headliner. We'd already seen third-place ties, Drake Witham from Iowa and Jim McDonald from Los Angeles, and second-place winner, Erin Jackson from Washington, D.C.
They are representative of the field of hot young comedian competitors laugh devotees have seen on the Comedy Channel or "The Late, Late Show with Craig Ferguson," even "The Late Show with David Letterman." These are the shows that have stepped in to fill the TV gap left by Johnny Carson and Ed Sullivan. Some of them have been on Sirius radio, "Bob & Tom," in all the big-city comedy clubs we hear about but probably never go to (The Funny Bone, Catch A Rising Star, The Improv, Zanies, Funny Business), and in comedy festivals and competitions everywhere. And they open for and tour with bigger names if they can.
Then come the cooler young pros. They get their name and picture in the program. More assured and polished, tonight they are Nick Griffin and Jeff Caldwell. Caldwell has been a bona fide guest on Letterman. They are smooth and they are funny.
And then it's an improvisational troupe from Minneapolis, Brave New Workshop—three good-looking young people working comedy ideas ensemble. They were also working the crowd as we entered the hall, passing out flyers, inviting us to visit their web site and their show when we're in their town.
They weren't all we saw entering Johnny Carson Theater (actually the auditorium at Norfolk High School, the swankest you are likely to see in any Nebraska high school). It's a great venue and, on that Saturday night, a lively scene.
Norfolk's radio stations dominate the huge foyer, stickering people and promoting I-don't-know-what in connection with the festival. The stations were big supporters. That meant, I gathered from in-town manager Brian Masters, an exchange of air time for visibility in festival materials, but it was obviously more than that.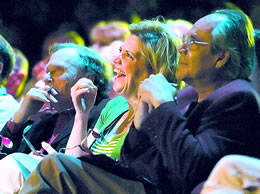 Best thing about the festival? The explosion of community spirit, Masters said. Worst thing? One of the contestants in amateur night had a flat tire on the way and almost missed the show. Wow! Really? The worst thing? This first year is just the tip of the iceberg, Masters tells me. I think he's right.
Also in the foyer: A huge table of free "Reader's Digest"s and an invitation to "Send us your best joke." Boy, "Reader's Digest" has changed a lot since it lived in our bathroom when I was growing up. Note: Please send in your best jokes. The ones they're printing are AWFUL. Go to rd.com/joke for details. Could be $100 in it for you, they say.
The lobby is dominated by the Academic Hall of Fame, not by athletics. I counted 10 smart Hall of Famers (yes, Johnny's one of them) and on another wall are the One-Act Play champs of 1996–97. Go NHS! This is remarkable and laudable.
Meanwhile, back at the Showcase, the evening is warming up and now we're getting to the meat of the thing. My personal mystery man, Eddie Brill, is up next. Who is this guy anyway? I've heard him mentioned many times over the years. I'm reminded that he is the audience warm-up and talent coordinator, selecting the comedians who appear on David Letterman's show. Paul Schaeffer and Letterman sometimes throw his name back and forth.
Apparently, Brill is a comic-talent lodestone. He's been the great external engine that made this festival work. But I didn't know, until now, that Brill is a three-time Best Male Stand-up Comic in New York City (as determined by the Manhattan Association of Cabarets and Clubs).
And he's on. He's so funny and so fast that I can't get a note down. He's hilarious. "You people are incredible—no accent. You all talk like news people," he says in his brisk New Yorkian. He's a head spinner. He launches into George W. Bush in front of this audience that must have voted for Bush by about 80 percent—TWICE—and has run George W. through the meat grinder into a pile of hash before some people realize he's started the sentence. Eddie Brill. He's something.
And then a change of pace. A dapper and well-spoken local attorney named Dennis Collins is called to the stage to introduce a charming three-minute video of highlights from Dick Cavett's stand-up and talk show past. Collins is the guy quoted in the Omaha World-Herald saying the festival went better than expected, reportedly saying he was afraid it was just going to be two guys from Pierce telling Swedish jokes. Funny. Great American Comedy Festival in Norfolk—cause or effect? Then Collins Esquire presents the first Comedy Legend Award to Cavett.
Cavett does a "For me?" shtick, humble boy from Nebraska that he is—and isn't. That's probably what makes him great. He's a well-educated raconteur with good timing and a knack for bringing thoughts together. Without the touch of Nebraska naïveté, he'd run the risk of being just an amusing name-dropper.
Patting his pockets almost continuously in search of real or imaginary prop notes, Cavett gives a rambling half-hour monologue in gratitude for the award, and we love it. He's a living comedy historian. It seems I may have heard some of these stories, maybe on Cavett's never-again-matched ABC talk show from 1968–75, later picked up on public television from 1977–82. But they're better here. His loose theme is "jokes I've written for other people."
First up, of course, is Johnny Carson: Cavett's stories often take background. Joan Crawford famously—and bitchily—in her Oscar acceptance speech thanked "all the little people." When Carson hosted the Oscars later, Cavett wrote and Carson said, "I'd like to thank all the little people behind the scenes without whom this show could have been produced cheaper, quicker and better." It was hilarious. I was watching and I remember.
Another for Carson: "I'm just back from Las Vegas. Say, did you know that Las Vegas spelled sideways is "salvages"? Cavett added, "We got lots of letters from older men in New Hampshire asking for more anagram jokes."
Also for Carson and needing background: Dorothy Kilgallen wrote in her popular gossip column that Johnny Carson had been seen quite inebriated at a party. Kilgallen, Cavett said, was commonly known to knock back quite a few herself. Carson delivered this Cavett line. "Having your sobriety commented on by Dorothy Kilgallen is like having your wardrobe criticized by Emmett Kelly." Cavett paused and added, "All you older people turn to the younger people and explain who Emmet Kelly is."
Cavett said he was sorry Carson had never used one of his favorite jokes. "I recently went to a wedding where the bride was pregnant and the guests threw puffed rice." He paused and added, "All you older people turn to the younger people and explain what puffed rice is."
Cavett said that a joke writer's greatest thrill is hearing his stuff come out of the mouth of a great comedian. But Woody Allen is a tough nut to crack. Cavett said Allen doesn't laugh but just comments, "Great joke." Here are a couple of Cavett's that got that far with Allen:
"I went to a really cheap wedding. I don't know much about caviar but I do know you're not supposed to get pictures of ball players with it."
"You know in New York we have all kinds of mixed ethnicity restaurants—Bolivian-Ecuadorian, Cuban-African, all kinds. There's even a Chinese-German restaurant. Trouble is, an hour later you're hungry—for power."
Moving toward an end, Cavett began telling other stories. One time, for instance, he said, he found himself in an elevator with the great Jack Benny and a group of tourists. The tourists asked Benny a string of expected questions: "Do you really pay Rochester so little?" "Do you really play the violin?" "Are you really married to Mary Livingston?" Mr. Benny answered graciously and affably. As Benny and Cavett walked away, Benny said, "You know, kid, what happened back there… you just want to tell them to go f*** themselves."
A writer friend of Cavett's told him his best line was when they were working together and noticed another writer they both held in contempt leaving the bathroom. "What do you suppose he was doing in there?" the friend asked. "Oh, that's where he puts his best work on paper," said Cavett.
Cavett said when he speaks at colleges, he's often asked to end with an inspiring thought. He no longer remembers the origins of the one he shared with us in parting: "It is not enough in life merely to succeed. One's friends must fail."
With that, the genial and graceful Mr. Cavett took his leave to a standing ovation.
And then, the night became blistering hot, comedically speaking, for the legendary Robert Klein. Klein had been genial and somewhat bumbling, reading from little cards in his hand, respectfully welcoming and bidding off other comedians, but he now took full command of the stage. Resplendent at 66 years of age in a cream-colored suit and cranberry shirt, he seized the crowd at 9:45 and held it, laugh-bound, for a full hour. He ran, danced and jumped across the stage, even crawled on the piano in an amazingly physical display for one of America's brainier comedians-actors-songwriters-authors.
Making strength of his age, Klein played straight to his audience, mocking aging but sprinkling topical humor like glitter over time-tested material. With musical sidekick Robert Stein in support, he held forth with a surprisingly smooth stage voice on his Emmy-nominated song "Colonoscopy" ("at 53 it opened up a whole new world to me").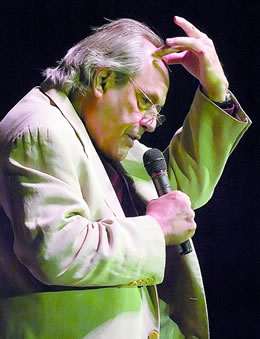 Klein was particularly funny (and a smart marketer to boot) as he worked reviews of his own sometimes-obscure movies into his performance. He mentioned "this awful movie 'Goosed'" where Joan Rivers played his wife and Jennifer Tilly played his daughter. And "People I Know" with Al Pacino. I'm sorry to say that even Netflix doesn't have "Goosed," but I have gone out of my way to see "People"—pretty good. I hope Mr. Klein made at least a few cents. He was terrific in a pure dramatic role.
Like the consummate professional he is, Robert Klein polished off the show and sent us out into the beautiful June Norfolk night holding our aching sides from laughing so much.
Later in July, I phoned Norfolk to try to get a backward view of the festival. It's always hard to know from the outside who really did the work and who just picked up the kudos, but it seemed as if Comedy Festival Chair Kent Warneke, editor of the Norfolk Daily News, and Lora Young, director of the Madison County Convention and Visitors Bureau, had done some heavy lifting.
They were both out of town the day I tried to reach them, but Ms. Young's office leaked her cell phone number and I caught her at O'Hare Airport in Chicago on her way to Just for Laughs Film Festival in Montreal. This is one of the world's largest and most important comedy festivals. She's already scouting for next year's festival in Norfolk, especially the New Faces of Comedy, and meeting with agents. She's getting the hang of the business, she says.
She tells me there were 6,500 attendees for all the events at the Norfolk festival. Some folks went to more than one event, but still, that's impressive. There were 900 in the audience for the Saturday night Showcase. There were 700 people at a 6 p.m. Wednesday performance, and that knocked the young comedians out. That doesn't happen in comedy clubs. Both Cavett and Klein told her they were very impressed with the whole festival.
Young told me people came from all the states surrounding Nebraska, and she pulled an incomplete list of other states from memory that included "Tennessee, Washington, Maryland, Oklahoma, Ohio, California…" How did people find out? Mostly the Internet and word of mouth, she said.
I asked her how important Eddie Brill had been. Young said he's absolutely integral to the festival. He'll be back. He's been in and around these big comedy events, but he'd never helped produce one, she said. He loved it. "He's genuine, absolutely great to work with," she said. Not to mention he knows David Letterman and "David Letterman knows about us," Young said. Letterman is "a very private person, just like Johnny Carson, but he knows."
And how did Norfolk find Eddie Brill? "I found him," Young said, "I did some research online and e-mailed him. All I wanted him to do was show up and do a workshop." But he's that kind of guy. He got intrigued and hooked Norfolk up. The rest is history … and prologue.