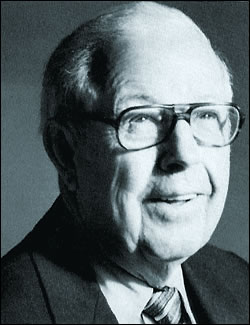 The Polk Progress was a Nebraska treasure that ceased publication in late 1989 after 82 years as a weekly newspaper. From 1955 until its last issue, the editor and publisher was the late Norris Alfred. In its last few months, the Progress had 900 subscribers in 45 states. Alfred was a remarkable Nebraskan with an uncanny eye for connecting the present with the future. Prairie Fire has collaborated with the Alfred family, the University of Nebraska School of Journalism and the Nebraska State Historical Society to locate and archive many of Norris's writings. We are capitalizing on our good fortune to present many of the Norris Alfred writings to our readership. We believe that his observations are as fresh and relevant to today's world as they were when originally written.
"Polking Around"
Sept. 4, 1980 
The time has come to go fishing and to try and detect, from the nibbles on the hook, whether it is a three-foot northern or a five-inch perch. Our fishing partner, Lyle Dornburgh, needs another lesson in how to land a walleye after accidentally hooking one. Meanwhile, we'll both sit in the boat and settle the problems of the world to our satisfaction by ignoring all problems we can't solve.
We remember a course in differential equations we took at Doane College. The instructor, Miss Hawks, praised shortcut calculations to the correct answer. With fellow student Allen Franta, we devised shortcuts. Since that time we have forgotten all we knew about differential equations. The only bit we retain is the praise for shortcut calculations.
Determining the correct answer mathematically is easy. The correct answer to a nonmathematical problem is not easy because there are no shortcuts. Sometimes, defining the problem is even more difficult than finding the answer. That sentence is a measure of our wisdom. Our wisdom is more negative than positive. We are more inclined to don't than do; to no than yes.
Our inclination is to leave alone realizing the harm generated with gung-ho exploitation. Of course, "not doing" is a rationalization of creeping age and muscles that no longer respond with youthful zest. We would rather sit than stand, walk than run, forget than remember. That is why we are looking forward to a week of fishing. It is accomplished sitting down. The fish keep moving and, consequently, get hooked.