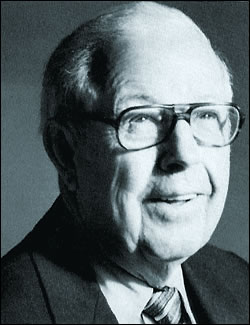 The Polk Progress was a Nebraska treasure that ceased publication in late 1989 after 82 years as a weekly newspaper. From 1955 until its last issue, the editor and publisher was the late Norris Alfred. In its last few months, the Progress had 900 subscribers in 45 states. Alfred was a remarkable Nebraskan with an uncanny eye for connecting the present with the future. Prairie Fire has collaborated with the Alfred family, the University of Nebraska School of Journalism and the Nebraska State Historical Society to locate and archive many of Norris's writings. We are capitalizing on our good fortune to present many of the Norris Alfred writings to our readership. We believe that his observations are as fresh and relevant to today's world as they were when originally written.
"The Sense of Belonging"
Sept. 11, 1986
"Your newspaper is about people. Polk is about people. Our newspapers, and big cities, are about institutions, organizations, and events. Urban people are nameless, faceless statistics, folks caught up in what Thoreau called 'lives of quiet desperation.' Big cities are loneliness factories; the Polks of this world are cottage industries that turn out men, women, and children who have a sense of belonging. Even should they leave Polk, the sense of belonging has a way of sticking. That's why I subscribe, anyhow.
"Bernard L. Fontana"
For it isn't power, but affection, that must prevail if we are to survive on this pea of a planet—a shining jewel in dark interstellar space. We must love one another. We must not be suspicious of one another. We must not degrade one another. We must never forget our transcendency.
Our "home" is the planet Earth (religious convictions aside) and we must maintain it, as we do our houses in Polk, as a livable place for the children of the future. That's been our wandering among our thoughts this week after receiving that letter from Bernard L. Fontana.
Sept. 10, 1987
There is yet much beauty in our physical world and some of that will rub off in our mental world, if we pay attention to our surroundings. To see beauty is to think beauty and it comes in an infinite variety of form and material. To see a patch of purple poppy mallow in a prairie hay field is an always remembered spot of living color, tucked away in that wrinkled gray matter. The sight of a western tanager, brilliant in sunshine, will never be forgotten. An indigo bunting in full spring breeding song is a melody of joy to experience. An individual cottonwood tree of massive girth and towering height, with huge branches spread as though to encompass all the flat prairie around it, stirs the senses, refreshes dull spirit and inspires more than routine thought.
We only live once. No one has proven there is a second time around on this pearl of a planet. Appreciate the change; understand the rarity of life in this universe; tread lightly and leave no tracks.